Today I drove Goldie—my 1969 MGB—to work. Yes, she runs again! Below is an e-mail excerpt marking the occasion.
Last night on my birthday I got Goldie running (don't know if I mentioned it, but in April 2001 the engine blew, so in my free time this year I pulled the engine, got it rebuilt, then put it back in myself and finished last night). Then I drove her on the streets of Fremont for the first time in 14 months. What a b'day present!
A few days later I'd have a more traditional birthday celebration, including a joint birthday party with Tori attended by wonderful friends. (Click here for Adam's photos and write-up of that.) But getting my favorite sports car back on the road after she had been dormant for over a year was a great way to spend my real birthday…
If you enjoyed this article, please consider receiving my weekly newsletter. I typically write about endurance bicycling, world travel, self improvement, Colorado living, marathon running, and epic adventures.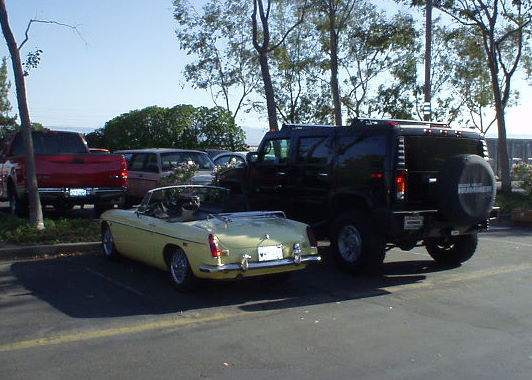 Articles related to Goldie Gets Back on the Road