Considering my passion for cycling, it may surprise you that I didn't have a single two-wheeled non-motorized vehicle that was designed and built in the 21st century. Until this year. I actually skipped a whole decade (the 2000s) and, in late 2010, purchased a heavily discounted Litespeed Archon C2 frame. It would become the basis for my Super Bike.
Litespeed is famous for their legendary titanium frames, but aside from a brief foray into using carbon fiber between 2002-2006, never used the black magic material until their 2010 Archon C1, C2, and C3 range. After years of development and leveraging some carbon fiber and aerodynamic know-how from its sister company Quintana Roo (a triathlon bicycle maker), Litespeed came out with a unique product that not only is sexy in its lines, but boasts a number of features that distinguish it from other carbon fiber bikes coming out from Taiwan.
Below is a list of modern day features the Archon incorporates (some are proprietary, where noted). In the column next to them are what my Cannondale 3.0 features in order to compare and contrast some of the advances in bicycle technology made between 1992 and 2010.
| Item | Litespeed Archon C2 | Cannondale 3.0 |
| --- | --- | --- |
| frame & fork material | high-modulus T40 carbon fiber | TIG-welded 6061-T6 aluminum |
| tube shapes | Aerologic* | round |
| fork steerer | unthreaded | threaded |
| stem | threadless | quill |
| headtube | 1-1/8″ top, 1-1/2″ bottom (a Cannondale innovation) | 1″ straight |
| headset | integrated | pressed-in cups with ball bearings |
| bottom bracket | BB30 (a Cannondale innovation) | English threaded with 68mm-wide shell |
| seat post | integrated | conventional |
| chainstays | asymmetric | symmetric and cantilevered (a proprietary design only used on the Cannondale 3.0 and 2.8) |
| rear axle spacing | 130mm | 126mm |
| shifter bosses | cable stops on headtube | downtube shifter bosses |
| electronic provisions | holes for wires to make it DI2-ready | none |
*Aerologic is Litespeed's proprietary tube feature set that includes "invisible" water bottle shrouds, bowed out fork and seatstay tubes for reduced airflow pressure and increased comfort, and Reactive Pressure Moulding.
As you can see, about the only things the 2010 Litespeed Archon C2 and 1992 Cannondale 3.0 have in common are 1) the basic double-diamond frame shape and 2) having replaceable, aluminum rear derailleur hangers (which I think was another Cannondale innovation back in the 80s).
To complete the Super Bike, I mounted SRAM components (mostly Force) and other lightweight goodies as listed in the table farther below.
Despite having an aerodynamic frameset, the Super Bike currently weighs only 15.0 lbs. with pedals, compared to the Cannondale's 19.0 lbs. That's a four pound difference, and for the future I still have a couple tricks up my sleeve to drop the Super Bike's weight below 15 (which would even make it UCI "illegal")!
Components
I cherry picked all of the components, all from online vendors (particularly eBay). Huge dollar savings came from Real Cyclist, which at the time seemed to be one of Litespeed's preferred blow-out distributors.
Item
Component
Weight, pounds (grams)
Comments
Frame
Litespeed Archon C2, medium
2.54 (1150)
1190g with uncut seat mast
Fork
Litespeed C2
.86 (390)
415g uncut
Headset
Litespeed integrated
.18 (80)
Integrated seat mast topper
FSA ISP aero
.39 (178)
Spacers (2)
.01 (5)
.18 (80)
Front wheel
Yishun YS-AL27C
1.41 (640)
27-mm alloy clincher, bladed spokes, with cloth rim tape
Rear wheel
Yishun YS-AL27C
1.82 (825)
27-mm alloy clincher, bladed spokes, with cloth rim tape
Quick-release skewers (pair)
Dixi Ti
.09 (42)
red anodized
Shifter/brake levers
Sram Rival
0.71 (320)
Left: 155g; right: 165g
Crankset
Sram Force BB30 compact
1.37 (620)
50/34 chainrings
Bottom bracket
Sram BB30
0.14 (65)
Brake calipers (pair)
Mr. Control CNC brakes
.50 (225)
red anodized
Rear derailleur
Sram Force
.39 (175)
Front derailleur
Sram Force
.19 (85)
Cassette
Sram Red 11-26
.39 (175)
Chain
Nashbar 10-speed (by KMC)
.54 (245)
Stem
Ritchey 4 Axis 44 Pro
.33 (150)
11cm; was supposed to be 134g
Handlebars
FSA Wing Pro anatomic
.64 (290)
alloy; supposed to be 265g
Saddle

Selle Italia SLR Carbonio Flow

Specialized Romin Evo Pro
.36 (165)
Replaced in April 2014
Tires (2X)
Michelin Pro 3 Race
.90 (410)
700x23c; 205g each
Tubes (2X)
Continental
.40 (180)
90g each
Handlebar tape
Fizik Microtex (only used half)
.07 (30)
red; did not cover bar tops
Cables
.09 (40)
for brakes and shifters
Cable housing
.21 (95)
for brakes and shifters
Bar plugs
0 (2)
Pedals
Speedplay X/3
.46 (210)
stainless steel axles
TOTAL
15.0 (6792)*
*all weights are actual weights confirmed with digital scales
Specifications
My C2 is a size Medium (M).
| Size | S | M | ML | L |
| --- | --- | --- | --- | --- |
| Top Tube Length (cm) | 52.5 | 54.0 | 56.0 | 57.0 |
| Head Tube Angle | 72.5 | 73.0 | 73.0 | 73.0 |
| Seat Tube Angle | 74.0 | 73.5 | 73.0 | 73.0 |
| Seat Tube Length | 71.0 | 73.0 | 75.0 | 78.0 |
| Chainstay Length (cm) | 39.5 | 39.5 | 39.5 | 39.5 |
| BB Drop (cm) | 6.7 | 6.7 | 6.8 | 6.8 |
| Fork Rake (cm) | 4.3 | 4.3 | 4.3 | 4.3 |
| Head Tube Length (cm) | 11.0 | 13.0 | 16.0 | 18.5 |
| Seat/Chain Stay Angle | 61 | 65 | 68 | 70.5 |
Ride Impressions
After I first put together the Litespeed and rode it, I couldn't immediately tell if it was any faster than my Cannondale—a little surprising considering the above technological "advances" listed above and a weight of several pounds less. And though the ride felt different, I wasn't even sure if it felt any more comfortable.
But after riding the Super Bike in 300km, 400km, and 600km brevets in Colorado, I am a believer in its weight, stiffness, and comfort advantages. After the end of those rides, I felt more fresh than I ever remembered being on the Cannondale, and my times for those distances were superior as well.
Regarding the supposed aerodynamic advantage, however, I cannot confirm it either by subjective feel or objective numbers. Litespeed claims a 20-watt savings at 30mph at various yaw angles versus a conventional bicycle, but in unscientific coast-down tests, I actually think the Cannondale goes faster. (For example, going down the north Horsetooth Dam in Fort Collins, I routinely can exceed 50 mph on the Cannondale, whereas the one time I went down it on the Litespeed I only hit 46 mph.) Whether this is because of weight—particularly the C'dale's significantly heavier wheels—or because the Cannondale has less frontal area due to a smaller-diameter headtube and handlebars, is up for speculation.
Her Most Epic Rides
In August 2011, I rode the classic Boston-Montreal-Boston 1200km (750 mile) course, which included over 30,000 feet of climbing, in 3.4 days. The Litespeed did great.
Then in June 2015, we did the 4,233-mile Trans Am Bike Race. Despite getting Shermer's Neck, I finished in 8th place. The race was too much for my body but not too much for the bike!
Her Name
I've named all my wheeled machines, and thought of names like Litey and Speedy. But the name that stuck over years was simply "the Super Bike."
If you enjoyed this article, please consider receiving my weekly newsletter. I typically write about endurance bicycling, world travel, self improvement, Colorado living, marathon running, and epic adventures.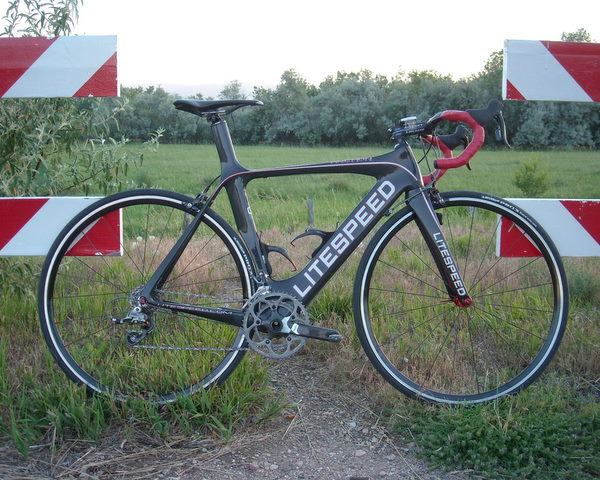 Related Articles