EPIC. It's an overly used word in the ultra-endurance world, but that's the first word that comes to my mind when thinking of the Furnace Creek 508. It included 10 mountain stages including many 10-25 mile climbs; 15% grades; 510 miles; and in my case, just 10 minutes of sleep and 39hr15min of biking. My stellar crew of two—Raquel and Tori—barely slept more than I.
Yet it turned out to be one of the greatest races I have ever done, one I got to do while taking in the stunning desert scenery on a magical 27-year-old French bicycle, with two of my closest friends following in a spunky eco-friendly Ford Focus behind. It culminated in an age group Classic Bike course record, and was an adventure for the ages filled with memories that will not fade any time soon.
Eventually I will write a full report, but in the meantime you can read the Twitter feed below to get a sense of the race as posted in real-time by the Crew Goddesses.
From https://twitter.com/#!/_felixwong :
Asiatic Wildcat has the smallest support vehicle! Crewing goddesses waiting to hand gatorade bottle off 24+ miles in. #fc508 – October 8 at 8:26am PST

The second smallest vehicle is also from Colorado: totem Black-Tailed Jackrabbit. Woohoo! #fc508 – October 8 at 9:36am PST

Asiatic Wildcat approaching 43 miles. Looking strong. Nice flat reprieve after hills @ beginning. #fc508 – October 8 at 10:06am PST

10:30 AM 49.5 miles in. About to start climb up to windmills. Smiling still!?! #fc508 – October 8 at 10:32am PST

Asiatic Wildcat done with stage 1. 12:40 PM. 83.6 miles done! #fc508 – October 8 at 12:42pm PST

Two women have been following me in a car for 3 hours. Stalkers. Climbing Townes Pass now. Steep. #fc508 – October 8 at 9:12pm PST

Stage 3 in Death Valley Natl Park. The crew says I kick butt on hills. #fc508 – October 8 at 9:20pm PST

Just passed a Spotted Ass on the pass. #fc508 – October 8 at 9:26pm PST

Still on pass, passed by Spotted Ass. Giddyup! #fc508 – October 8 at 9:52pm PST

Finished Townes Pass last nite at 10:38 pm. #fc508 – October 9 at 9:16am PST

Completed stage 3 Sat morn at 1:15 AM. #fc508 – October 9 at 9:18am PST

Finished stage 4 at 8:00 AM. Strong climbing on Salsbury. Smiling again after some snacks and caffeine. Working on stage 5 now. – October 9 at 9:21am PST

Clydesdale and Asiactic Wildcat playing leapfrog approaching Baker #fc508 – October 9 at 10:58am PST

Asiatic wildcat checked in and left baker ts5 at 11.20a…off to the next hill #fb #fc508. P.S. My crew rocks! – October 9 at 11:31pm PST

Asiatic Wildcat and crew in race for 29hrs so far, working their way up to Kelso. #fc508 – October 9 at 12:12pm PST

What's up with the busted up road to Kelso..goes on forever. Busted up road on classic bike = so not fun. #fc508 – October 9 at 1:46pm PST

Asiatic Wildcat through TS6 at 2:11 PM. Working up mtn section nine now. #fc508 – October 9 at 3:08pm PST

Watch out for a sandy descent in stage 7. #fc508 – October 9 at 3:34pm PST

@torifoco and @raquelnotrachel are the best support crew ever – October 9 at 4:51pm PST

Asiatic Wildcat checked in TS7 at 5.05p, took a break and started the final stage at 5.30p. Taking this one nice n easy. #fc508 – October 9 at 6:12pm PST

Asiatic Wildcat working up sheep hole summit as our 36th hour on the road passes. Last mtn section! Hooray! #fc508 – October 9 at 7:06pm PST

Moon and temps perfect for the riders still working the field! #fc508 – October 9 at 7:08pm PST

Asiatic Wildcat crew just saw Felix polish off the final mountain stage. Twentynine Palms lights visible from descent. So close. #fc508 – October 9 at 8:06pm PST

Furnace Creek 508, done. Asiatic Wildcat did great! #fc508 – October 9 at 10:32pm PST
If you enjoyed this article, please consider receiving my weekly newsletter. I typically write about endurance bicycling, world travel, self improvement, Colorado living, marathon running, and epic adventures.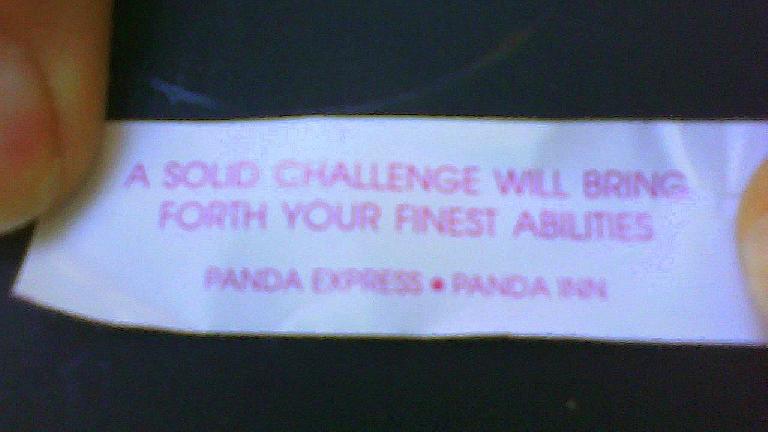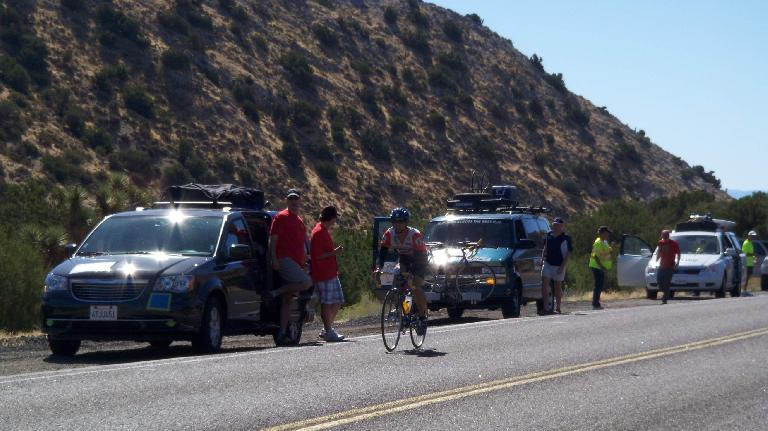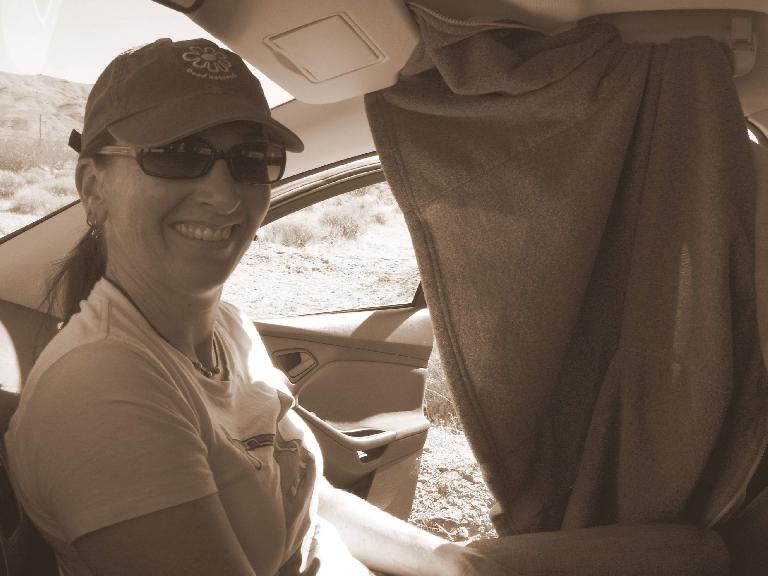 Articles related to Furnace Creek 508: We Did It!