Ever since my Reevu helmet with integrated rear-view mirror cracked in multiple places due to multiple crashes during the 2008 Tour Divide, I've been looking for a new bike mirror solution. The Reevu cycling helmet, unfortunately, was discontinued due to poor sales in Europe and not being CPSC- or Snell-certified for sale in the U.S., so I had to find something completely different.
Eyeglass- and helmet-mounted "Third Eye" mirrors were unsatisfactory (too small and too prone to being moved by airflow at high speeds), as were brake hood-mounted ones (too large and still prone to movement). Not to mention they are quite Fred-like, the pocket protector accessory for bicyclists. Which left me to mirrors that inserted into the drops of the handlebars. And I believe I have found the perfect one.
Italian Road Bike Mirror
The mirror is the $30

Here it is installed. Notice that it is so well integrated and aerodynamic that it is even stealthy enough for the Super Bike.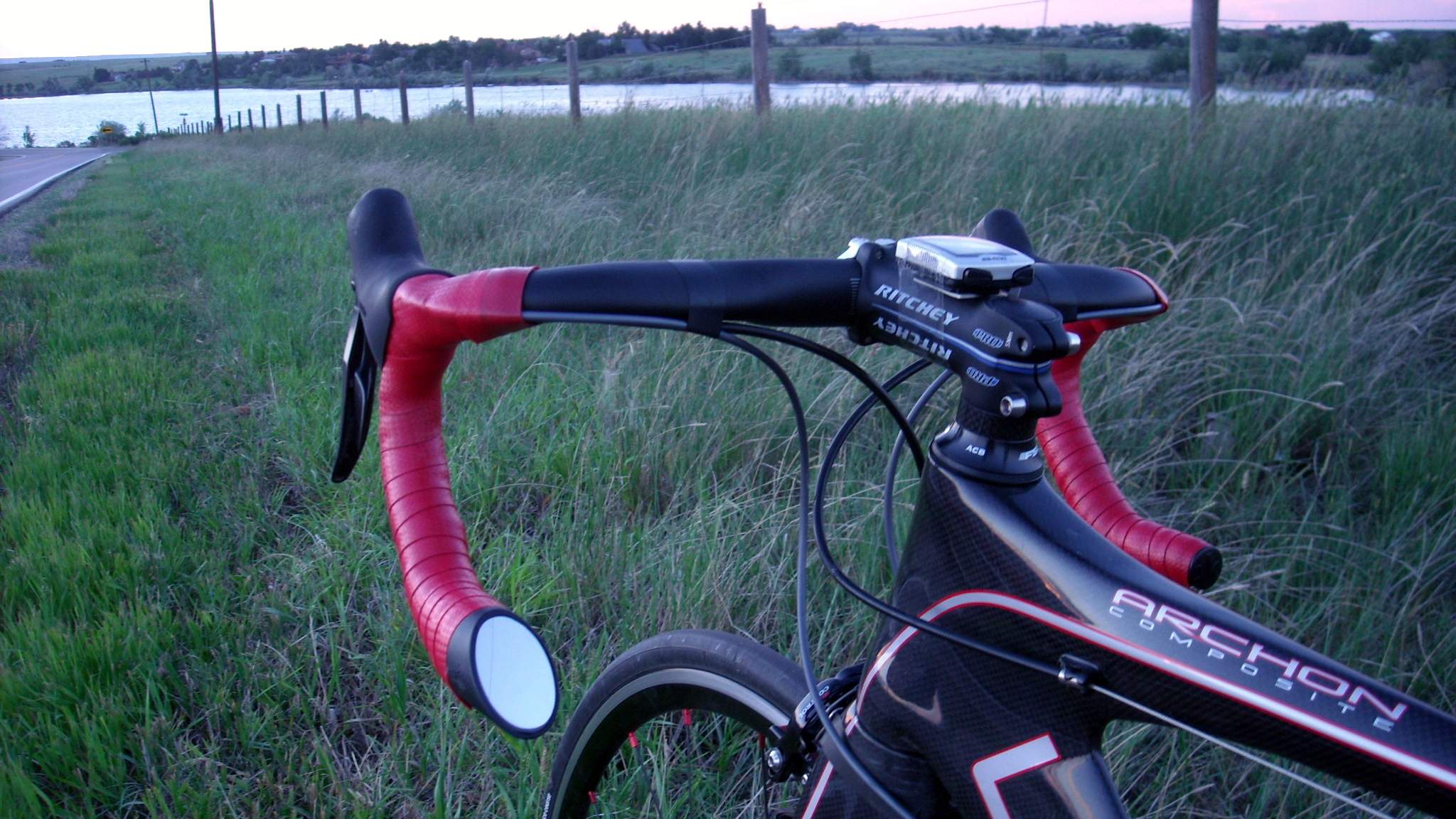 As it is non-adjustable, once you get it set in the correct position and secure it, it will never move. Then it's just a matter of glancing down to see behind you.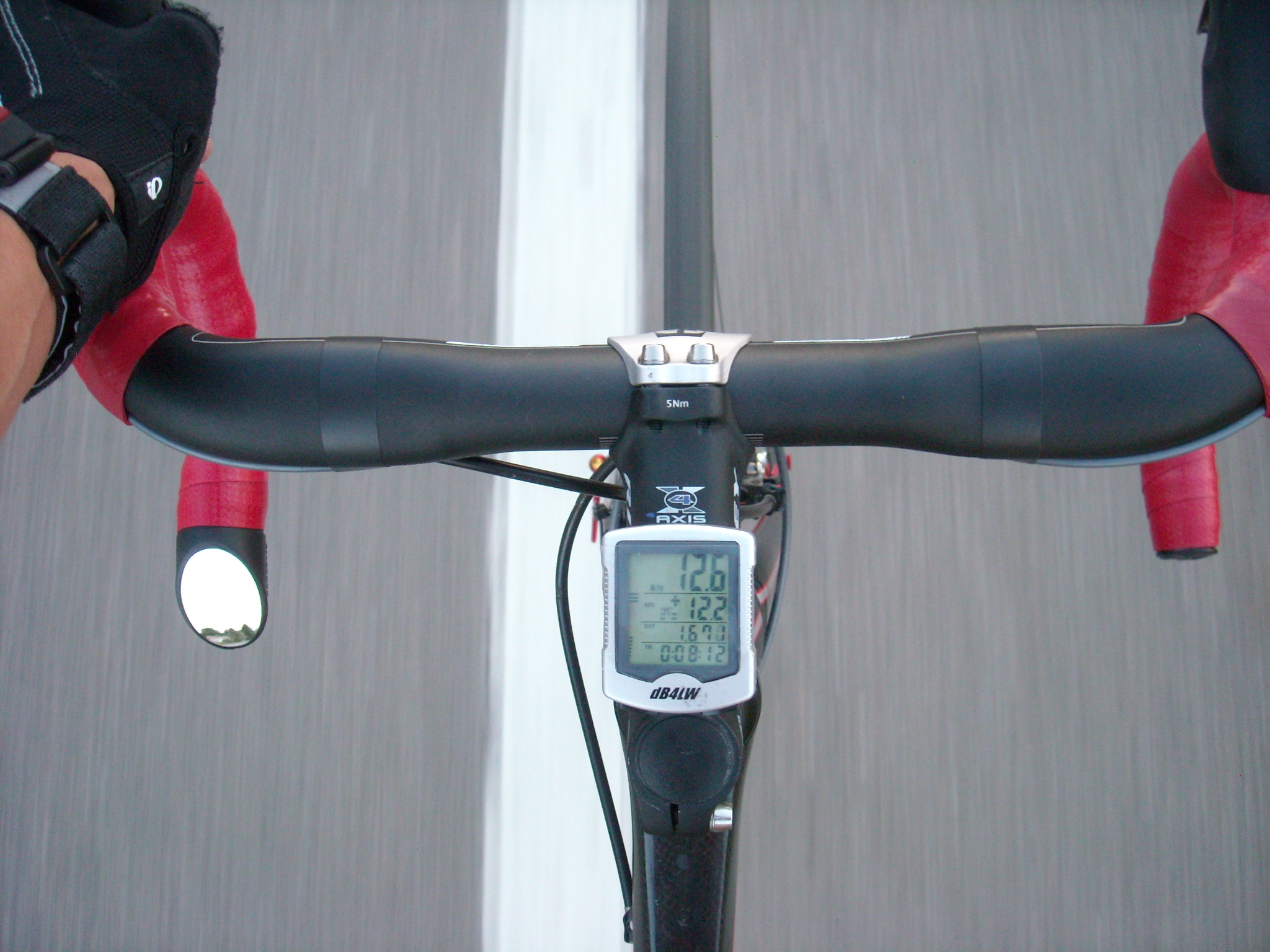 The mirror is made of convex glass, and the optical quality is superb. There is no fuzziness or distortion that sometimes occurs with plastic mirrors.
Once you set the mirror in a position where you can just see the outside of your thigh in the far right of the mirror, you will be able to see perfectly behind you. This is an actual photo I took while stopped, but it would look just like this when you are riding.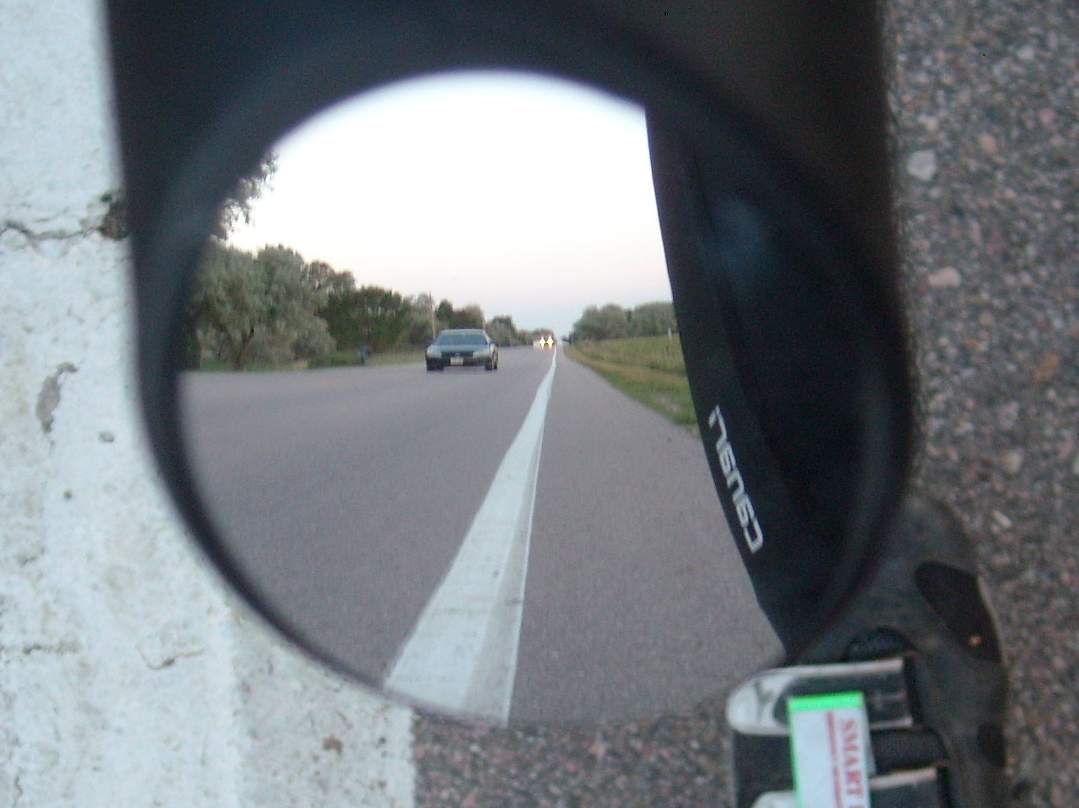 The mirror weighs 60g (0.13 pounds). This is about 20g (0.7 ounces) more than some plastic bar end mirrors that are adjustable, but its superior optical quality, slightly smaller size for greater stealthiness, and never moving out of place—even when you lean that side of the handlebars against a wall—wins out in my book.
In conclusion, I believe the

is the best cycling mirror option available—at least the best I've tried and/or researched. I think it is even better than the aforementioned Reevu helmet rear-view mirror, which worked great but sometimes caused me to have to strain my neck upwards while riding the drops or aero bars in order for my vision of the road to not be obscured by the helmet visor.
Related Articles