This Could Have Been My Head!
The Tour Divide was such a grueling race that it seemed like every piece of equipment I used took a beating. Even those not part of or attached to the bike.
For example, take a look at my European Reevu helmet. I just fully inspected it today. It was a helmet I used for the last five years—one I was reluctant to retire because it has a novel embedded mirror that was by far the best rear-view bicycle solution I have ever seen or used, but it is no longer made or sold anywhere anymore. Guess it is time to retire it now.
Click on the image below for a larger view: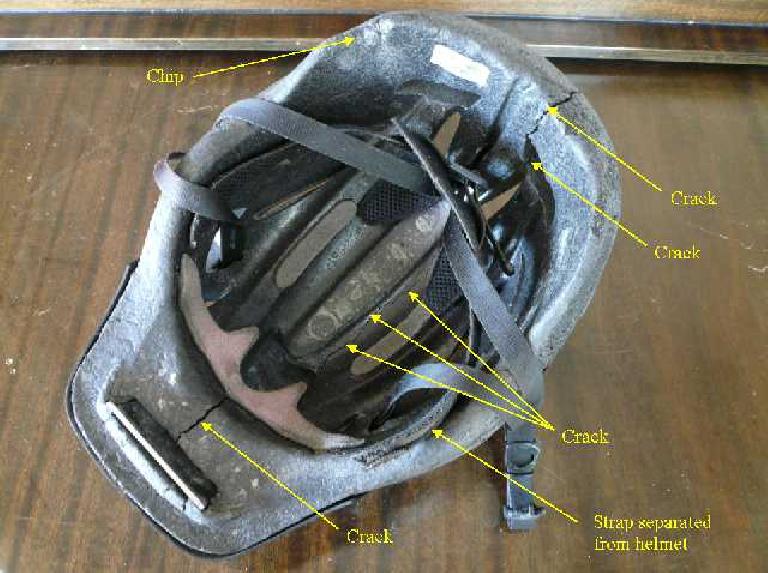 I suspect the cracks were from my last crash on Day 26 (July 8th) of the Tour Divide. I was in the middle of the Gila Wilderness of New Mexico during a monsoon and night time had befallen, but I was determined to carry on in a desperate attempt to reach a town (Mimbres, NM) that carried food for the first time in 200 miles—that is, until I toppled over the side of a rut I completely didn't see, my headlights not being quite adequate for the torn-up, rain-battered trail.
Too bad—this means I will need to acquire a "normal" helmet now and look for (or develop my own) another rear-view bicycle solution. Without some sort of mirror, I'd now feel somewhat naked particularly when commuting in traffic.
Ah, well—I guess this is an opportunity to wear a helmet that looks a little more fashionable and less Darth Vader-like. And at least my skull is still intact!
Update
July 2, 2011: Three years later, I have finally found the solution: the Italian Road Bike Mirror. In contrast to the Reevu helmet, this mirror inserts into the drops of the handlebar (replacing a bar plug). You set it once and as it is non-adjustable, remains in place. To look at it, you merely glance down. The view is about the same while riding the hoods, handlebar tops, or drops.
I don't consider this looking down motion to be any more time-consuming than rolling the eyeballs upwards (to look at the Reevu visor-embedded mirror), and it gives you the added benefit of using a lighter and better-ventilated helmet that doesn't obscure your vision with a bulky visor when you are riding the drops or aerobars.
Kudos to the inventor of the Italian Road Bike Mirror.