I can't say I hadn't been warned. A month before the race a friend who had raced the OKC Memorial Marathon before quipped that "the race directors seemed to have found every single hill in Oklahoma City." The day before the race, Venus, Ryan and I drove much of the course and I saw first-hand how the route undulated about as frequently and wildly as Ambak's stock.
Yet, with no hill being even close to as steep as the Empire State Building or as long as one of Fidel Castro's speeches, I remained optimistic that even with my meager training, I could somehow hold it together enough to finish the 26.2-miler in one of my better times. That illusion went out the window about as quickly as the 3:20 pacer passed me after an hour-and-a-half into the race, and I hadn't even made it to the halfway point yet.
This is what I had to report to some running buddies when I returned back home to Fort Collins:
I thought the course and conditions were hard! No hill was particularly steep but there were some every mile. Worse was the wind. In the second half, there was a 30-40 mph headwind for a couple miles by Lake Heffner starting at Mile 13. That slowed me down to a 10-minute/mile crawl. I was able to recover from that but then a couple miles later, had to run in the same dreadful headwind for 3-4 miles down Classen Ave.

It didn't help that my calves were on the verge of cramping from Mile 17 onward. Even after turning off Classen Ave. and out of the wind, I could not muster better than a 9-minute mile after that. Well, except for the last 0.2 mile… there I was able to sprint and catch a dozen or so people. Hurrah! Just too little and way too late!

Lots of celebrities were there, either running, speaking, or spectating: Joan Benoit Samuelson, Shannon Miller (she's native to OKC), Miss Oklahoma, Bill Rodgers, Dick Beardsley, etc. I'm sure they all would have beat me except for maybe Miss Oklahoma.

Personally I thought that was the second toughest marathon course I've done (after Pikes Peak)—and more difficult than Boston and even Knoxville—but perhaps I just haven't done enough really hard ones.

Conclusion: maybe I should have trained :O
On the plus side, the race was very well-organized, with water stops and aid stations every mile. I shouldn't have bothered to wear my gel belt, as it turned out to be completely unnecessary weight.
Spread along the course were 168 banners memorializing each of the victims of the 1995 Oklahoma City bombing. As the banners fluttered under the powerful gale forces of the day, I reflected on how the tragedy had affected this proud community even to this day (14 years later), and how the human spirit had managed to overcome and move on from utter devastation and adversity.
It made my own struggles against the hills and the winds of the morning seem pretty trivial, and maybe I shouldn't call the race "hard" after all. Just don't expect that the course is pancake-flat because it is in Oklahoma…
RunPix.com Results & Statistics
Click here for a graphical summary of my race results, courtesy of RunPix.com.
Time Splits
Mile 1: 8:13 (stopped to use the port-a-john; clearly, I did poor pre-race planning)
Mile 2: 7:31
Mile 3: 6:51
Mile 4: 7:13
Mile 5: 7:23
Mile 6: 7:40
Mile 7: 7:35
Mile 8: 7:15
Mile 9: 8:27
Mile 10: 8:05
Mile 11: 8:10
Mile 12: 8:05
Mile 13: 7:55
Mile 14-15: 18:06 (9:03/mile)
Mile 16: 9:16
Mile 17: 9:13
Mile 18: 9:03
Mile 19: 8:35
Mile 20: 9:06
Mile 21: 10:09
Mile 22: 10:52
Mile 23: 10:55
Mile 24: 10:44
Mile 25: 9:49
Mile 26.2: 11:05 (9:14/mile)
Total time: 3:47:13
Overall finish: 179/2417
If you enjoyed this article, please consider receiving my weekly newsletter. I typically write about endurance bicycling, world travel, self improvement, Colorado living, marathon running, and epic adventures.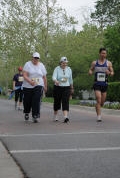 Articles related to Oklahoma City Memorial Marathon