I wasn't going to do the Polar Bear Run & Plunge this year… and then my friend Jennifer won a free entry from Raintree Athletic Club into this event that was formerly dubbed the "Front Range Freeze." So I ended up signing up a few hours before online registration closed.
The Run
There were actually two race options: five kilometers and one mile. Like 631 other folks, I chose the former, thinking that "longer is better."
It certainly was hillier. The first hill came before completing the first mile:
There were a couple more undulations before the turnaround point around the halfway mark. My legs were feeling pretty good, but as usual, my lungs were starting to feel pretty taxed. It felt like a whole army of dudes wearing light blue Manic Training t-shirts were gaining on me too. Then the second-place woman, Virginia, passed me.
The final ascent came shortly after. I kept pace with Virginia going up it, and it was steep and long enough that we were going only 8:30/mile for a few moments. After that was a half-mile descent to the finish. I used that opportunity to pass Virginia and also put some distance on the Manic runners behind.
With about 200 meters to go, I looked at the Garmin and it read something like 19:38 had elapsed. That gave me a little extra motivation to sustain the surge. Could I finish in under 21 minutes for a second five-kilometer race in one week?
As it turned out, no! The official chip time was 21:01, so I missed sub-21 by two seconds. I also finished one place (and a mere five seconds) out of an age group award, and one place out of the top 20. One kid who was 12 years old or younger beat me too.
It seemed like near-misses all around. But I was pleased with how I ran the race. This course was much hillier than last week's Fossil Creek Park 5k and also featured quite a bit more dirt. Yet, the final time was only seven seconds slower.
And the funnest part of the day was yet to come.
The Plunge
An hour after the race came the opportunity to run into the Horsetooth Reservoir wearing nothing but shoes and a swimsuit in January. While the air temperature was comfortable and in the 40s (Fahrenheit), the water was still cold enough that volunteers from the Larimer County Dive Rescue Team had to push some of the ice, shown below, out of the way.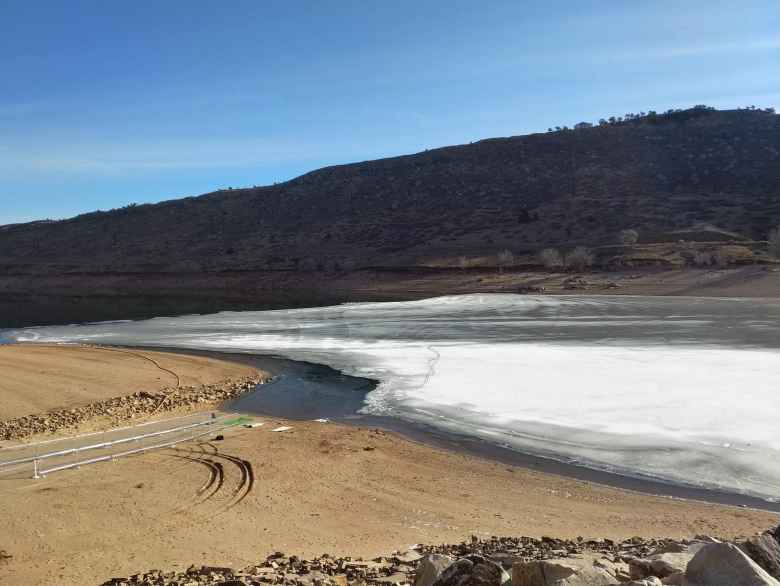 They also took a water temperature measurement: 36F! (2.2C)
This could explain some of the conversation I overheard in the men's changing tent while changing into a swimsuit:
"That was the worst frickin' idea I've ever had in my life," said one guy, laughing. He was dressed in some sort of shark outfit.
"So cold so cold so cold," replied another, breathing hard.
After finding my friend Jennifer, we got in line for the plunge. For a few moments it looked like we were going to be the very last ones to go in, but then a few more ladies came over and I asked them to join us.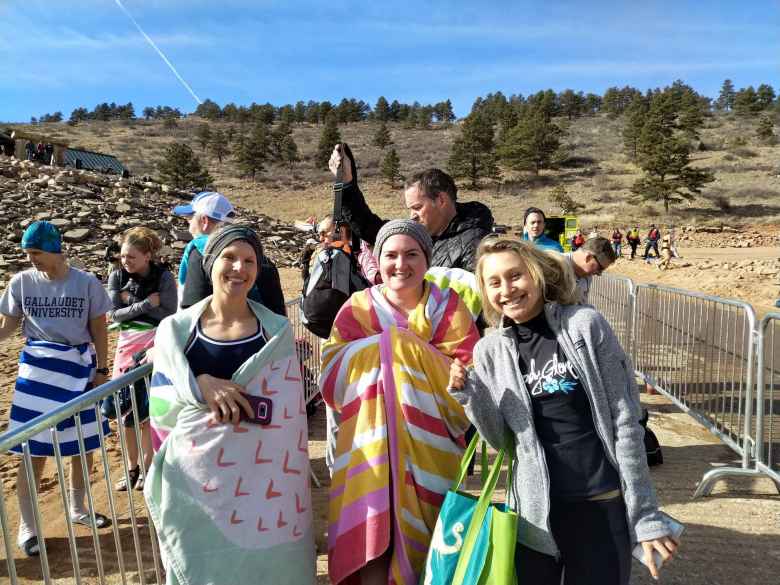 When our turn came, I think our strategy was to get in and out of the water as quickly as possible. At least, that looked like what Emily and Kristina were ready to do in their "race start" pose!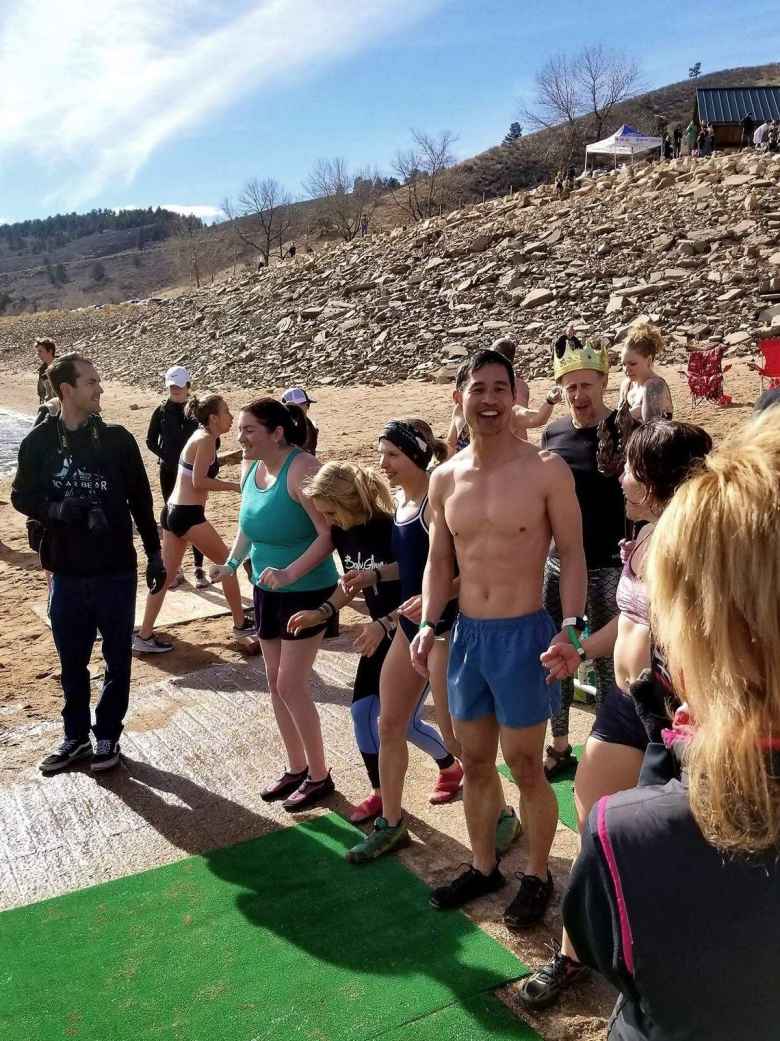 In truth, running into—and then fully submerging ourselves—into the water felt more refreshing than frostbitingly cold. The water did not elicit a shock or a gasp—unlike, say, my daily cold showers. Kristina, apparently, even stayed long enough in the water to give each of the Dive Rescue dudes a high-five. Perhaps it was adrenaline that made it seem easier.
Whatever the case, we were all smiles at the end.
"We should do this again next year," Jennifer said.
"Maybe every year!" I replied in agreement.
I might not even wait for Jennifer to win a free entry the next time around. Green Events, the local race company that has organized the Polar Bear Run & Plunge for the seventh year in a row, puts on some of funnest athletic events in town, even when they are not truly freezing.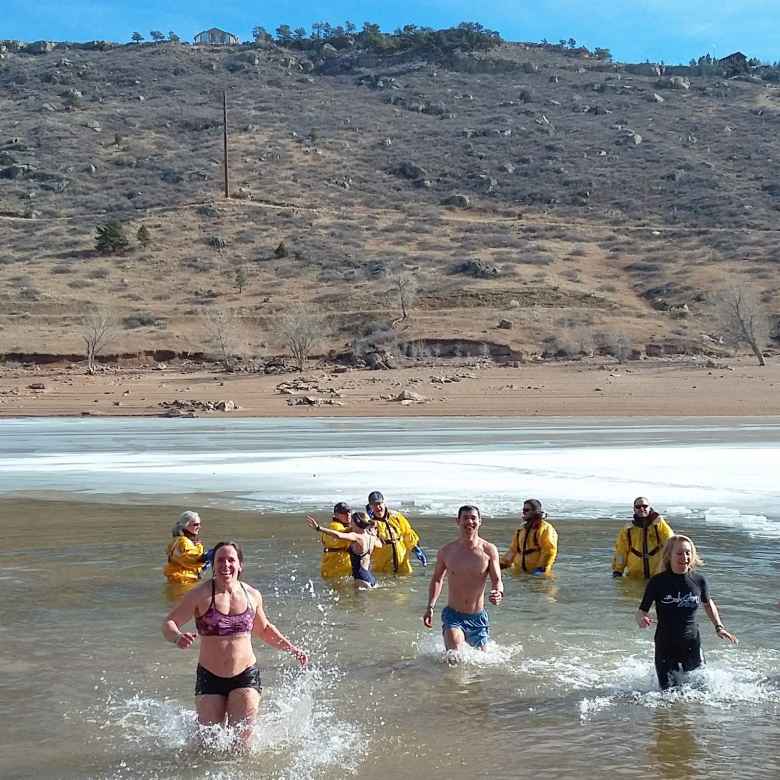 Race Data
Official time: 21:01 (6:46/mile)
Division place: 4/41
Overall place: 21/632
Official results