Ah, the MG… To "The Faithful," these two magical letters define the term "sports car." The marque's legendary style, grace, durability and even idiosyncrasy has charmed even the most demanding enthusiast, despite its wonderful simplicity and affordability. It has been said that every Brit has owned or driven one of Morris Garage's driving machines at one time or another. Considering that over 513,000 MGB's were sold (still the all-time sports car record) and over 100,000 MGA's were made (once the record), this is not too difficult to believe!
Happily, in high school I had been fortunate enough to acquire a '74 B, the last year of the desirable chrome bumpers and unfederalized ride height. I bought it as a project, and recently I sold it as, well, a project, after 275 hours of well-spent labor.
Still, my ailing MGB, or Migbee as I dubbed her, provided me with some of the most memorable experiences of my life, be it driving down Hwy. 99 on a cool, starry night, tinkering with a torque wrench under her bonnet (or hood to you Yanks), or listening to her gloriously loud and mellow roar of an exhaust note. Not to mention attracting the attention of cops with the vast quantities of blue smoke that came with it, James Bond style…
Alas, she now is owned by a delightful family consisting of an electrical engineer, who actually worked at a MG warehouse in the 60's, and a couple of lovely blondes that go to the same high school I did. But I shall never forget ol' Migbee, and one day there will be another MG in my stable once again…
In the Beginning
As you can see, she was not in very good shape. (What do you expect for just over $1000, I guess…) I also put in somewhere from 250-300 hours of work into her, and was misdiagnosing problems left and right. I must have removed the cylinder head at least 4 or 5 times. However, I learned a lot from the experience.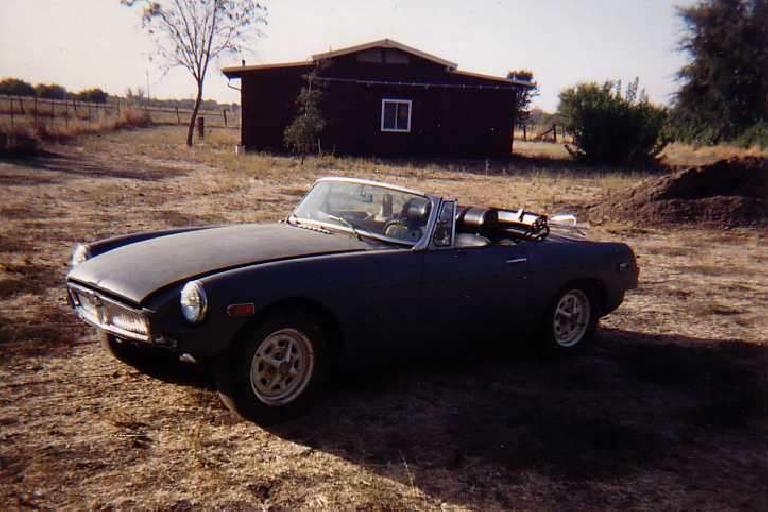 First of all, when I acquired Goldie, my 1969 MGB 3 years later (after I sold Migbee in September 1995), I knew where just about everything was, and how to fix it. This was instrumental especially when the fuel pump died just 2 weeks after I got the car! Secondly, having all of the hands-on experience and knowledge enabled to ace ME130 (Internal Combustion Engines) at Stanford fairly easily my senior year. That was one of my favorite classes.
From the Logbook
An entry about a blown head gasket:
"…woah, lots of smoke coming from the exhaust pipe. Uh-oh, when I put water in the radiator it leaks out the resonator in the exhaust pipe. This is when I first notice the holes in the resonator and muffler. No wonder the car is so gloriously loud! I better replace that exhaust pipe and resonator and muffler, though.

"After I push the car back into the barn, I diagnose a busted head gasket. Shoot, a new head gasket would only cost $20, but I don't know how long it will take to put it in!"

23 Sep 1992 (Wed)
An entry about a fun drive—one of the final ones before heading off to college a month-and-a-half later:
"Today seemed like such a nice day that I decided to take Migbee out for a drive. Migbee started right up like last time, one month ago, and had the same old beautiful, mellow exhaust note. I didn't rev her past 2200 rpm because she still has that old bugaboo–blue smoke. When she was travelling in 3rd or 4th the smoke wasn't too bad. Though cars behind her that were going considerably faster on the straights would gain on her, Migbee would lose them all in the corners. She didn't even have to brake through the twisty roads of Foppiano Lane–she powered right through them!"

05 Jul 1993 (Mon)