Removing a Stuck Seatpost
A seemingly not-too-uncommon problem encountered by bicycle enthusiasts is a stuck seatpost. This is almost always a consequence of not putting grease (or, better, anti-seize compound) on the seatpost before inserting it into the seat tube, and over time, the seatpost virtually "fuses" with the seat tube via oxidation.
My friend Dave had this problem recently with a near-new Ibis frame. He attempted the following (all of which were suggested on USENET newsgroups) to no avail:
Lubricant (e.g., WD-40)
Attaching an old saddle to the seat tube and banging it with a hammer
Ammonia (as in Windex, to react with any internal rust)
Dry ice (to chill the seatpost and make it contract) while keeping the seat tube warm (to make the seat tube expand)
He then came over to my home for the two of us to give it a shot.
The method we then successfully used was attaching a long (approx. 3-foot) square tube (e.g., from Orchard Supply for under $5) to the seat post via the seat post clamp: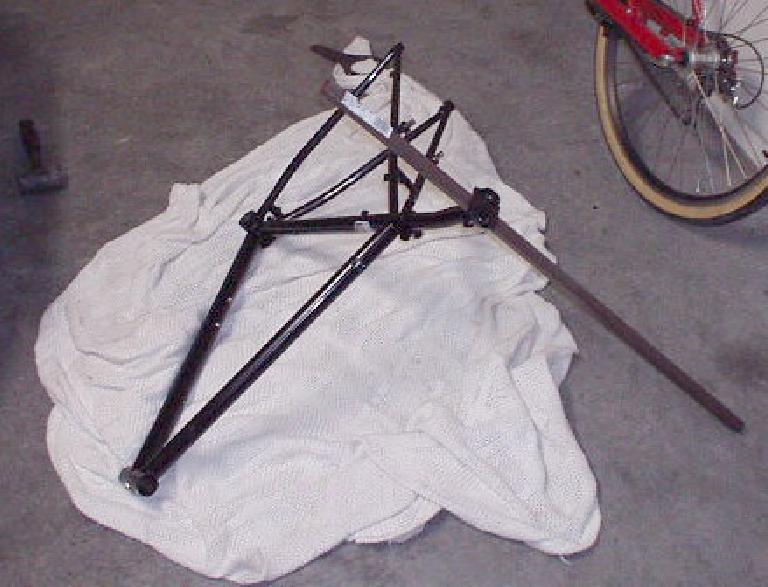 Then, while Dave held the frame firmly on the ground, I used my strength + the tube's leverage to turn the seatpost. At first the seatpost would only turn very "notchily": the rotational action was not smooth at all. We then applied more WD-40, though, and kept turning the seatpost (via the square tube) in a counterclockwise direction. It then fairly easily came out. See the photo at the top.