Fort Collins-Hwy 14 East 100, CO
This self-supported 100-mile bike ride starts at the new Stonehenge in Fort Collins, Colorado and goes out and back on Highway 14. Unimaginative, yes, but there are only a handful of stop signs and is reasonably flat for time-trialing.
The most scenic parts are actually in Fort Collins. As you head east, the scenery becomes more drab and wide open. Through Severence and Ault you may smell a whiff of some sheep farms, but only for half-a-mile or so.
Heading back towards the mountains also is pretty nice. The shoulder is very wide almost everywhere, but beware of rumble strips. Since this is a highway cars do pass you (the farther east, only once every two minutes or so) at 60 mph but I didn't find it unnerving due to the width of the shoulder. Actually I thought this was a very pleasant course!
Route Sheet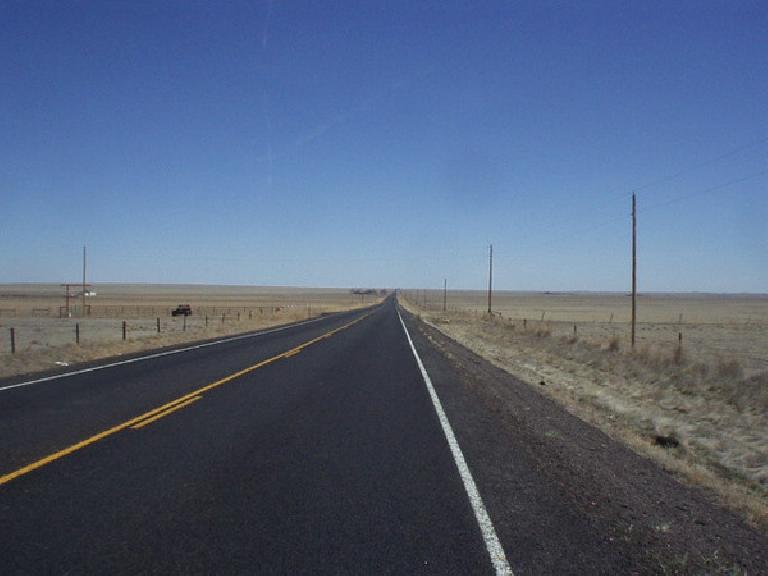 From the Logbook
March 24, 2006 (Tue)
I've been experimenting with liquid nutrition (instead of solid food) for IM AZ, specifically a product called Carbo-Pro (+ Gatorade). Today I did another 100-mile ride, easy-intensity (since I'm supposed to be tapering with the race just 12 days away), and the results were encouraging: 1) felt strong the entire way and not hungry, 2) the mixture tasted good (actually, exactly like Gatorade since I guess Carbo-Pro is tasteless) with no digestive problems, 3) quickest average speed for a 100-mile training ride (18.1 mph) despite going less than race intensity. The latter was probably because of favorable winds and only a few stop signs, but much more encouraging than that ride to Boulder a few weeks ago where I only averaged 16.7! Also tried using one of those Profile aerodrink systems today (like a Jetstream). Seemed to work well.