Fort Collins Fort Collins 5k
"Hey, there's a 5k race this weekend," I said to my buddy Nick. "Something about benefiting the volunteer firemen departments of Fort Collins. And it's free!"
What a concept, a zero-cost race! Heck, even the Fort Collins Running Club's Tortoise & Hare races aren't free, although at $5 (for members) they are practically so since they include breakfast at Gib's Bagels afterwards.
What was the justification for the no-charge of the Fort Collins Fort Collins 5k? (That is not a typo; that was the actual name of the race.) Here it is according to the official website:
The fire departments of Rist and Poudre Canyons receive no state or federal funding for their efforts. They are the only fire and medical protection for our local foothills and the hundreds of people that live there. The only way they receive funds is through local fundraisers.

We need racers this year so we can get this event off the ground and make it something that businesses will sponsor in the years to come.
Whatever the case, in this day and age where the price of gasoline is already topping $4/gallon in some American cities, the U.S. dollar is going the way of the peso, and stagnation is on the horizon, free sounded good. So on this Saturday morning, Nick and I found ourselves at the Colorado State University oval along with over 100 enthusiastic runners (most of whom were college kids), muttering something about yes it was unusually cold, but at least we weren't paying money to potentially embarrass ourselves.
Actually—despite the lung-searing cold air, the fact that Nick hasn't been running much this year, and my own legs' weariness from running 20.5 miles a few days ago along with an 8-mile tempo run before that —we were spared humiliation even though neither of us would perform up to potential today.
This is because many of the "serious" runners in Fort Collins were no-shows due to the Horsetooth Half Marathon tomorrow. This had some curious effects on today's race—such as finding myself leading the field from the start and around the CSU oval. In fact, I was in front and alone (a few feet behind a bicycle pacer) for the first five minutes until Mercedes Gil—a petite and quick woman in her mid-40s who can be found running in nearly every race in Fort Collins—caught and dropped me along with a CSU sophomore right in her wake.
After a few more minutes, one more college guy passed me but I kept him in sight for the rest of the race, mostly about 40 feet behind—at least until the near the end of the race as we started to round the CSU oval again. Here I picked up the pace and commenced a sprint 100 meters out.
Too late—by the time I was just a few meters behind the guy, he had heard me, picked up the pace himself, and I ran out of track. I missed out on 3rd place by one second.
Not that this really mattered as, understandably, there were no awards at the end. After all, this event was free! And despite the no entry fee, there were lots of good, free food including bananas, grapes, and delicious biscuit-and-chicken sandwiches courtesy of Chick-Fil-A. Prior to the event I had never even heard of Chick-Fil-A (an east coast chain), but at least now I know how to pronounce it.
I liked their sandwiches and the great stuffed cows they were handing out: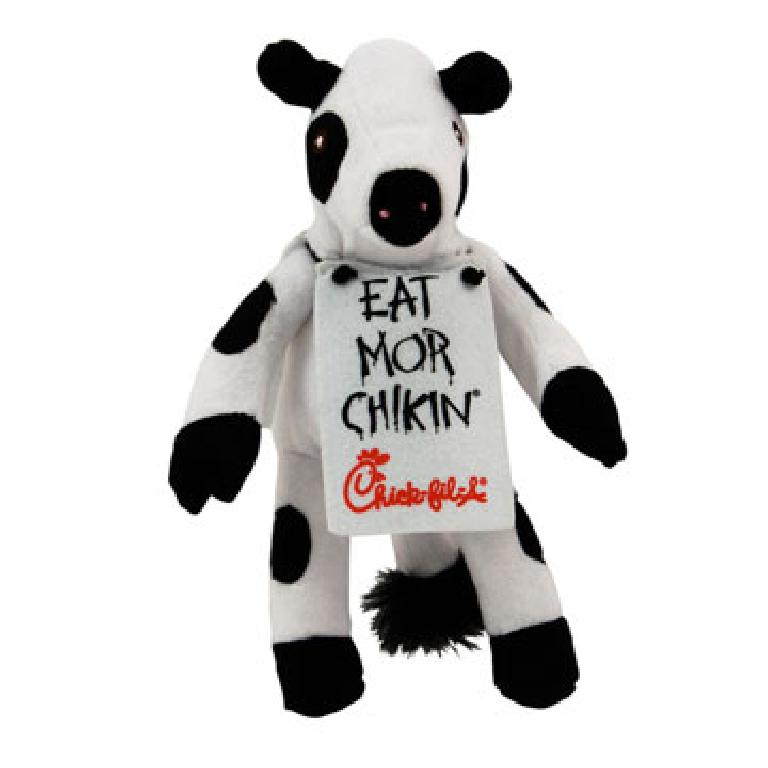 Funny, yes? And these were FREE too!
Results
Total Time: 20:35 (6:38/mile)
Age Group (30-39): 1/7
Overall: 4/109
Official Results