When I arrived in Antelope Wells on Thursday, July 10th and completed the Tour Divide mountain bike race, I thought I had just finished an adventure of a lifetime. It would only register a little later that just getting home was going to be a little adventure in itself.
First, when I arrived at the Border Patrol Station at 8:37 p.m., it was apparent that it was closed for the night and that no one actually lived in Antelope Wells except wildlife and the border patrol guy. I suspected the house next door was his but this not being urgent, I left it alone. In addition, there was no pay phone outside and my cell phone did not have a signal. So I just set up my tent by the side of the road to escape the mosquitoes, ate Spam wrapped in flour tortillas, and fell asleep in my down sleeping bag while animals parodied the sounds of a lamb. Loneliest finish ever.
Tim, the friendly border patrol guy, was there the next morning, but there was still the matter of getting home to Fort Collins. After all, there wasn't a single bus, plane, or rental car terminal within a 90-mile radius of Antelope Wells, and I almost would have given my bike away just so I wouldn't have to ride it anymore.
Thankfully, there was a twice-a-day Mexican shuttle going from Chihuahua, Mexico, to Phoenix, Arizona, that would stop here and then pass through Lordsburg, New Mexico (90 miles north of Antelope Wells) which had a Greyhound station. I waited and talked my way onto the next one that arrived. Never mind that no one on the shuttle spoke English and that there was about three square inches of unoccupied seat space inside. Hablo español and by this time, I was so happy to ride anything powered by not my own legs that I didn't mind sitting on top of a wheelwell.
At least there was plenty of room for Cranky the Cannondale in the trailer behind (featured photo).
An hour and a half later, I arrived in Lordsburg and immediately bought a ticket for the next Greyhound bus to Fort Collins. But there was one dilemma: how was I going to get my bike home? The Greyhound station didn't have any bike boxes, and there was not a single bike shop in this town of less than 3,000 people.
So I rode over to the Family Dollar store two blocks away, bought a roll of packaging tape and a knife, and collected as many cardboard boxes that the store would give me: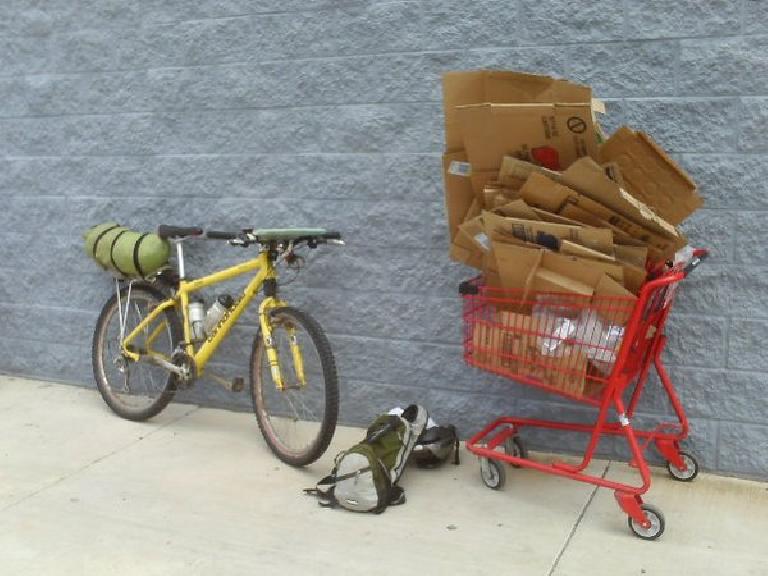 Next, I constructed one large box from the dozen little ones like a two-year-old trying to force together pieces of a puzzle. I had to run into the store twice more to buy more rolls of packaging tape and some string (to augment the string I used to hang food while camping in bear country), and two hours later my bike was disassembled and packed.
I then started to haul the comedy of a bike box over to the Greyhound station with my bare hands. If this had been before the race, I could have easily done so, but in my dehydrated state with atrophied arms, I couldn't move the box even ten feet before having to put it back down. Fortunately, after three more feeble attempts, a passerby with a truck took pity and drove me the two hundred (or whatever) feet over to the Greyhound station where I paid an additional $25 for oversized luggage.
At 3:15 in the afternoon, a Greyhound bus arrived. But the driver matter-of-factly informed me that there was room for me, but not my bike, on el autobús! At that moment I was glad that I had left the SPOT satellite personal tracking device attached to the bike as I boarded the bus sans Cranky, who was left alone in the Greyhound station (which was about the size of a shed) to be delivered to Fort Collins at a later date.
Ultimately, I arrived in Fort Collins after 18 hours. And the bike? FOUR DAYS! But at least she made it with the bike box in one piece.
Well, sort of: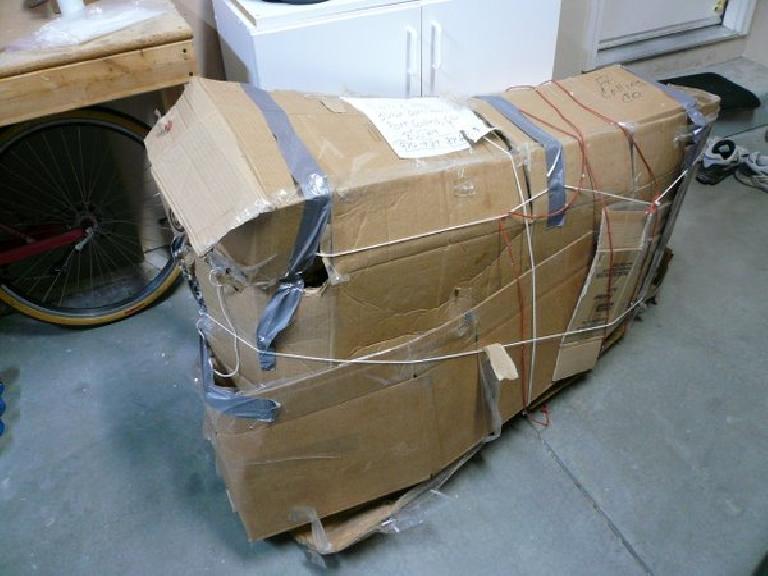 (The additional pieces of duct tape were thoughtfully added by Greyhound at some point to keep this absurdity together.)
Just this week—almost 1.5 weeks later—I finally unpacked the box. Cranky will need to have everything cleaned, rebuilt, or repaired. Since I am buried in work that will have to wait, and the bike is actually laying in the Garage Mahal 2 not in one piece but rather many pieces. But she will be back, faster and better than ever.