Recently I've been noticing cracks the size of the Hayward Fault in people's windshields around Northern Colorado, and I wondered when my Audi TT's would experience its first boo-boo. Well, it finally happened. On the way to Denver's airport, a bunch of stones kicked up by a semi-trailer flew at my car including one the size of an orange. The last rock hit the windshield squarely in the center resulting in a dollar-coin-sized, half-moon-shaped bruise.
I had a plane to catch so all I could do was stick on a windshield bandage (essentially a clear, round sticker) I had in the glove compartment, courtesy of my auto insurance agent. In theory, the bandage was supposed to keep out dirt and moisture, but not prevent the crack from spreading. I then parked my car under covered airport parking and hoped for the best. Thankfully, by the time I returned from my four-day trip, the crack had not grown.
The first morning back in Fort Collins, I brought in the car to Novus Auto Glass in the south part of town. One of their technicians took a quick look at the "bruise" and said "I can fix that." He then did so in a mere 20 minutes.
Here are the results: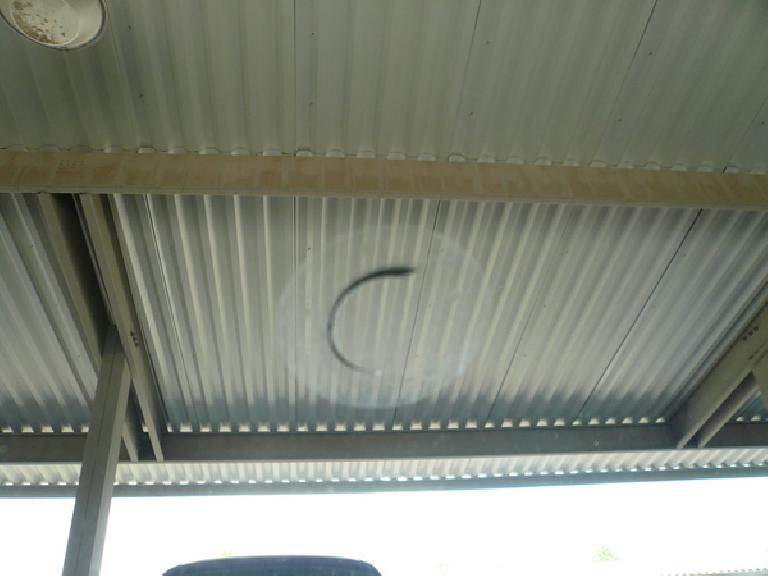 As you can see, the repair did not eliminate the crack completely, but did restore clarity and should prevent the crack from spreading. ("Novus guarantees its windshield repair will not crack further and will pass vehicle inspection in all states, for as long as you own your vehicle, or upon inspection, we will refund the price of the original repair," the receipt stated.) The dark crack was reduced to a white sliver, and the three 2-millimeter holes the technician had to drill look more like specs of dirt upon a cursory glance.
The total cost of the repair was $45. A competitor in Fort Collins I called the day before would have charged $99, "although we can do it for just $79," its female staffer told me. It pays to call around.
Auto insurance usually would pay for these type of repairs too if you had comprehensive coverage. In my case, my deductible far exceeded the cost of repair, so I paid out of pocket.
The key is to repair the crack as soon as one can before temperature changes and vibration causes the crack to grow. Such a repair is far more economical and convenient than replacing the entire windshield.