"I got you one of these because they are impossible to kill," said Lisa six years ago after I opened a housewarming gift she sent. A lucky bamboo plant!
Lucky indeed. I'm not sure how long the plant was sitting in its UPS box on the porch before I discovered it, but we figured it was at least a week in the freezing cold without sunlight or water. Yet it was still alive. She might have been onto something about the "impossible to kill" part. She even suggested that I name it "Old Ironsides" due to its apparent hardiness.
For the next few months he was living up to his name. He even had me send this message to Lisa to boast about his physique:
Hi Lisa, Old Ironsides here. I just wanted to show off the new leaner me. Over the weekend I went in for some minor surgery and liposuction and am doing great. Then I went to the barber for a leafier livelier 'do so that I can look more like my hero, Bart Simpson. In addition to all of these changes I have also resolved to drink a little bit more water and shower at least once a week. Things are even fine with that moron I mean my caretaker what's-his-name. Oh, Phelix I think. Anyhow hope you are well. -Old Ironsides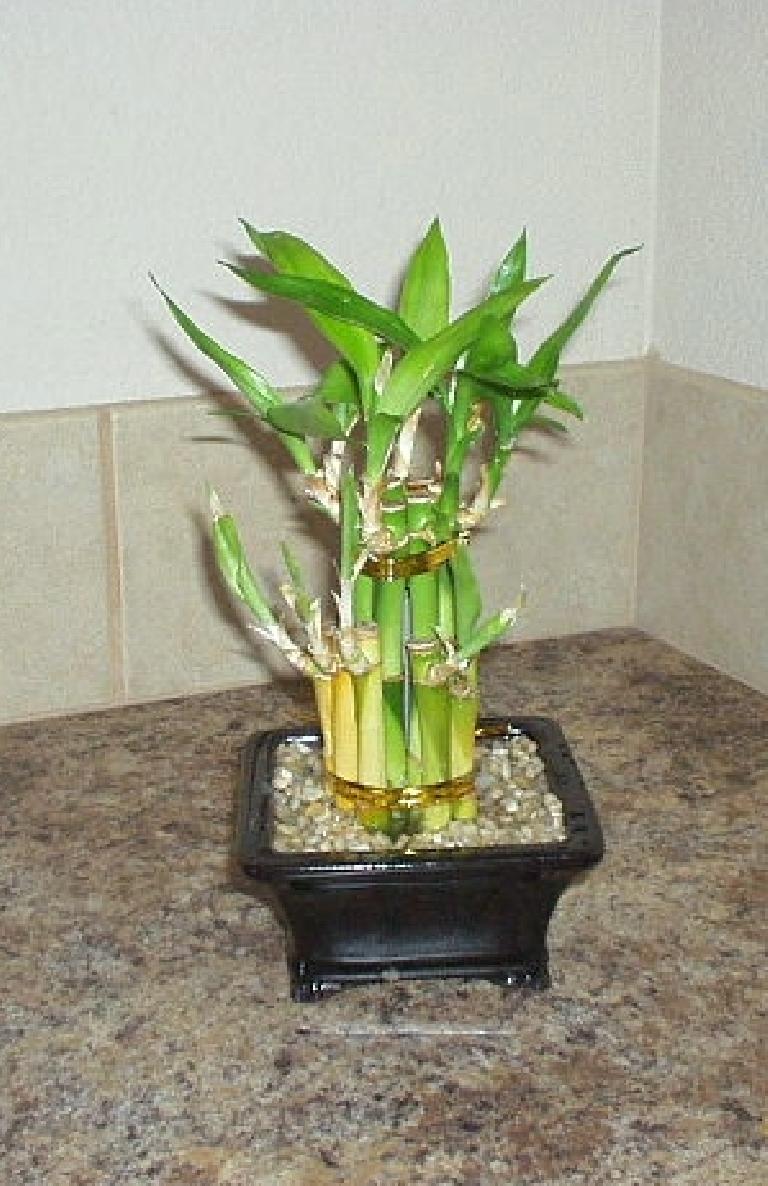 Alas, six months later—after extended bouts of neglect due to myself being away—Old Ironsides finally succumbed. Not to rust or oxidation but probably lack of moisture, and the poor bamboo plant became as shriveled up as a chain-smoking octogenarian who had baked under the sun for too long.
A year later, Stacey came to visit. She quickly decided that my home needed more plants (er, make that a plant) so she picked up another bamboo plant for me one day. She also mentioned something about them being impossible to kill, but I don't think she was aware of my history with green CO2-osmosing things. Needless to say, she was also proven wrong within a matter of months.
Four years afterward, I was given a bamboo stalk at the Denver Home & Garden Show. I still had the base for Lisa's original bamboo plant so I plopped it in there with plenty of water. This one I was determined to keep alive.
Here's a photo of it. Lisa thought it looked pretty spiffy.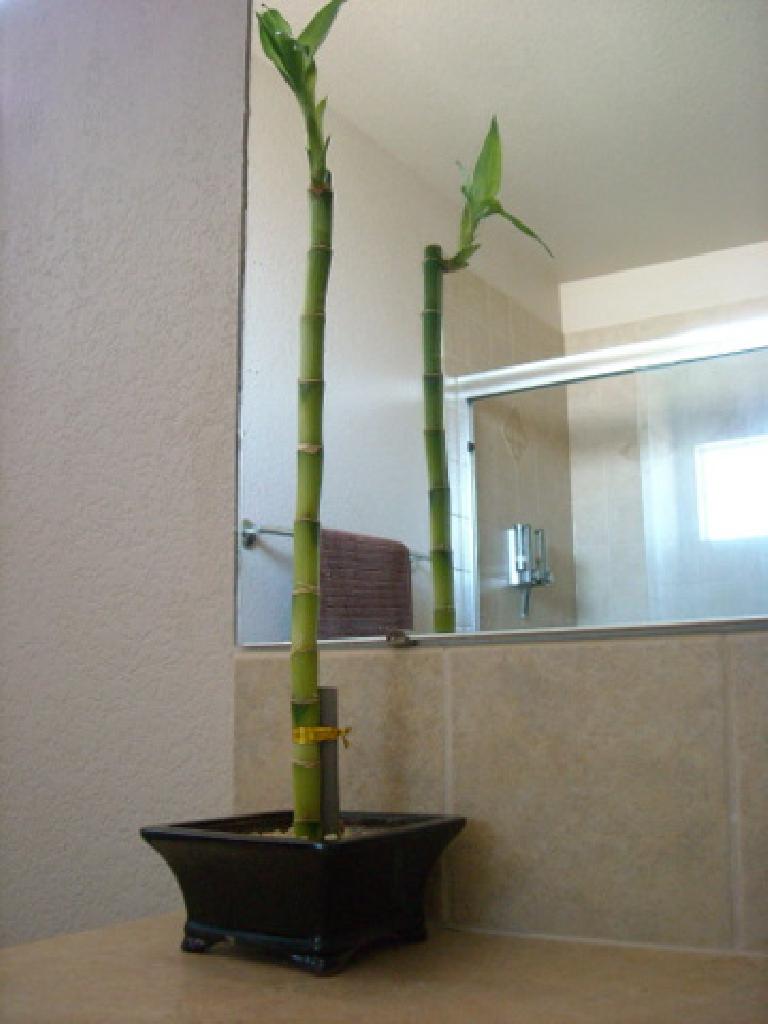 Unfortunately, it did not last even four months!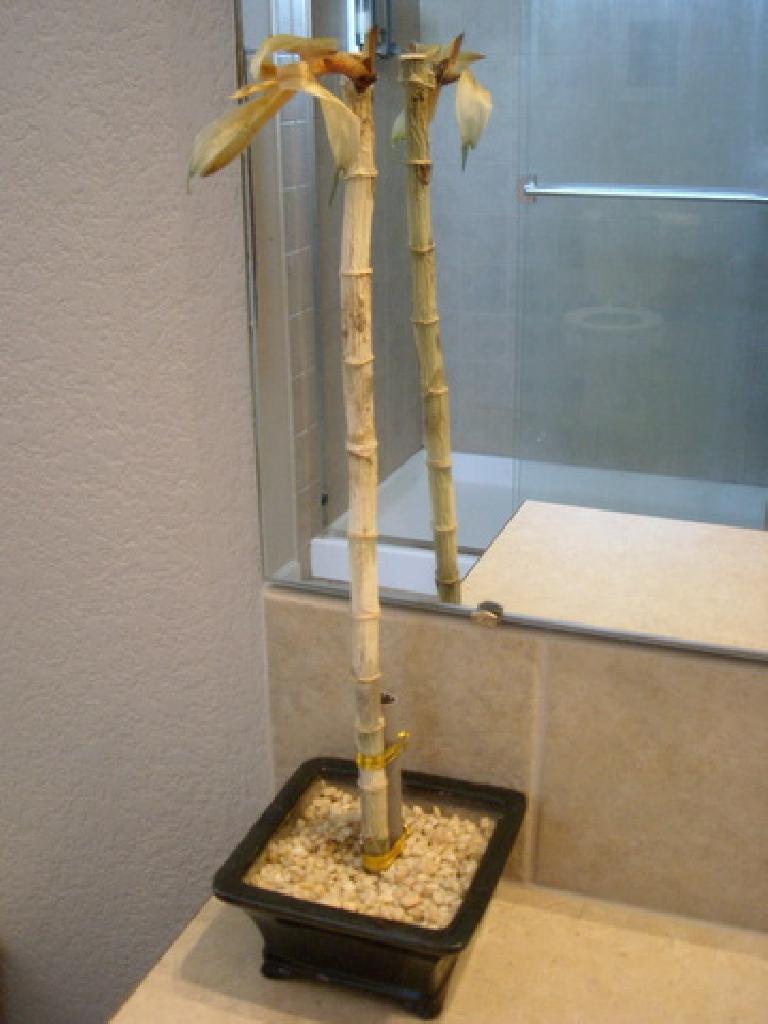 So my conclusion is that bamboo just does not thrive in Colorado. Perhaps it is just too dry? In any case, after having killed three "lucky" bamboo plants now, my luck must be pretty bad!
Fourth Try?
Apparently, Lisa does not believe my theory as to bamboo just does not stay alive well in Colorado. She wrote:
hmm…well I am staring at one that is alive right now soooo….I'm going with user error, Felix!
Leah apparently agreed since she gave me yet another bamboo plant to kill try to keep alive. She instructed me to keep the water level to a few millimeters from the top of the vase. We shall see how well I am at doing that and whether this bamboo plant is luckier than the others.