I was eating a low-key dinner at home kind of late in the evening (say, 8:00 p.m.) when the doorbell rang. As I have a "No Soliciting" sign placed prominently underneath the doorbell, I didn't think it could be a vacuum cleaner salesman, but nor was I expecting company tonight. Perhaps one of the neighbors? Or one of the pranksters in the neighborhood who, one day in May years ago, rang everyone's doorbell at 2:00 in the morning?
Really having no idea, I put my fork down, walked over to the door, opened it, and… no one. But wait—there was a string tied to the outside doorknob. At the top of it was a round balloon festooned with the image of a happy yellow two-toothed rectangle. SpongeBob SquarePants. See the photo above.
Shortly after I received a text from my ultra-runner friend Alene. "Why did SpongeBob cross the road?" she asked. I replied, "To visit Felix and his kitties?" Somehow I knew Alene had something to do with this.
Here's the backstory: during the 2011 Badwater Ultra, Alene was having interesting visions while I was pacing her in Death Valley at night during this 135-mile footrace. First she was muttering something about Pacman, but her thoughts quickly shifted to yellow objects, or bushes she thought were yellow and spongy. Perhaps my imagination isn't nearly as good as hers because nowhere did I see any bushes that looked yellow, rectangular, or wearing pants, but after the race, her "SpongeBob hallucinations" became a joke that we could simply not let down.
For example, a year later I had some friends over for New Year's Eve in which I promised a piñata. Between a pointy globe, Nemo, and SpongeBob SquarePants, of course I picked the latter to get destroyed.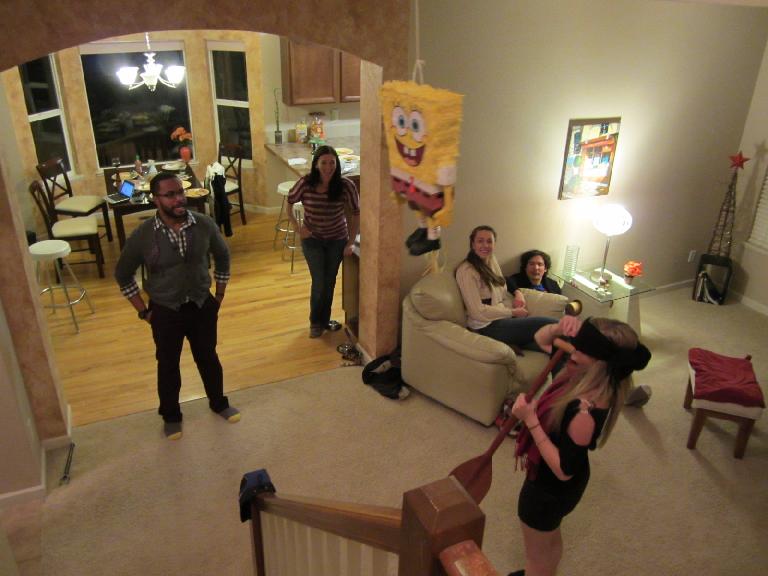 Bob Esponja (as he is known in Mexico) actually stayed mostly intact even after pooping out all his candy, so I patched him up and dropped him off at Alene's house when she was not home. I figured, he would make a friendly greeter.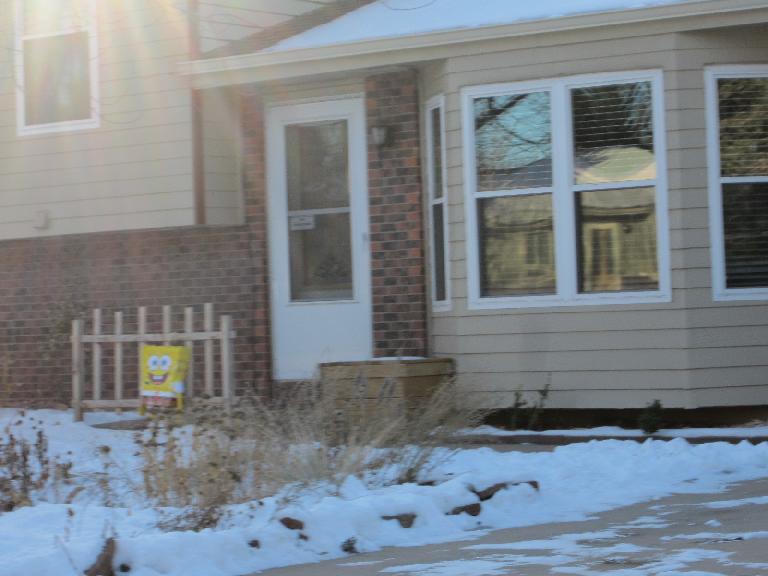 Today, another year later, marked another milestone in Alene's life: turning 50. Hence she had a 50th birthday run, in which she promised "at least 50 stops." I joined her for 7 miles of the run from City Park to Odell's, but wasn't able to make the post-run celebration.
Apparently, it was at that event that Alene encountered her old yellow foe again as someone brought her that balloon. She then decided to repay me the "favor" of dropping off the piñata by giving me the balloon. How thoughtful.
All I can say, though, is that my new visitor better behave himself because my home has a couple of furry ones who would love to get their claws in him. Hehe.