Mission Run in the Ozarks Marathon
The last time I was in this region of the United States, the Ozarks nearly killed me.
Okay, that may be something of an exaggeration, but it was in these lands where I started to get full-blown Shermer's Neck, the legs and lungs began to suffer with the heat and hills, and any hope for a top-five finish in the epic Trans Am Bike Race evaporated into the humid Southern air. So even though the official website for the Mission Run in the Ozarks Marathon did not display a course map or elevation profile, I signed up with a healthy dose of anticipation and respect.
Prior to the race, my enduring memory of the Ozarks included this image of the relentless hills during TABR: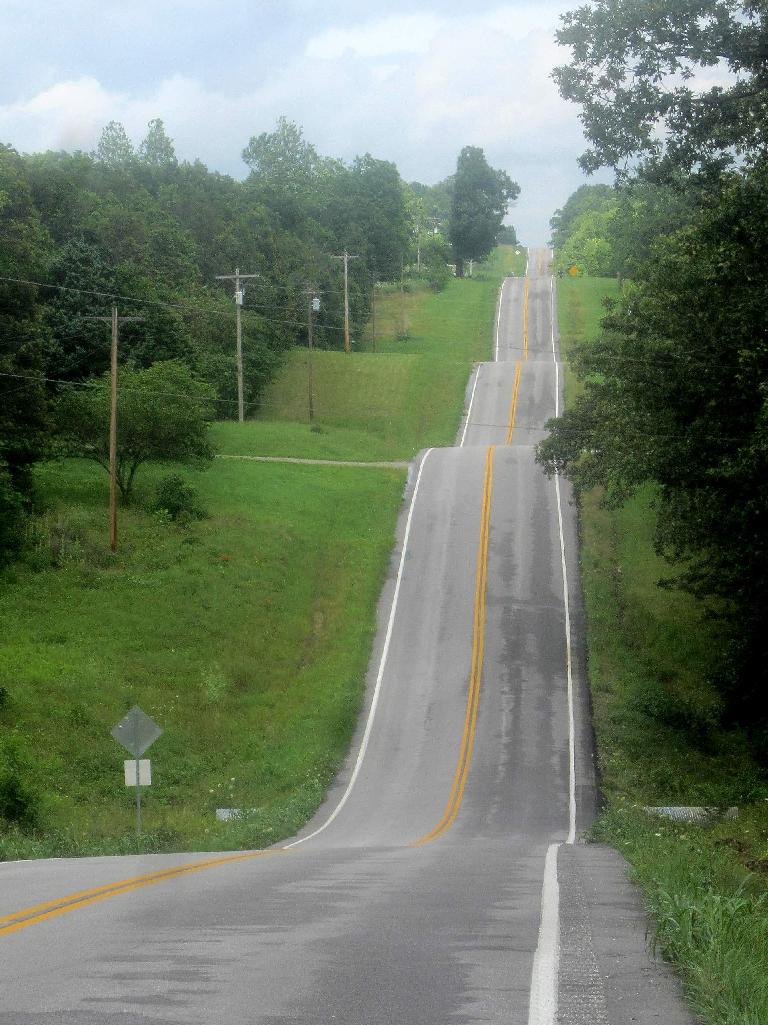 The day before the run, the road trip through the Missouri and Arkansas Ozarks did nothing to dispel the thought that the marathon course could have undulations much like in the photo above. Especially when Maureen, who was sitting in the passenger seat, raised both arms above her head like she was on a ride at Magic Mountain.
"It's like a roller coaster," she explained.
Arriving at the race start—the Flatwoods Baptist Church of Mountain View, Arkansas—confirmed my suspicions with a handout showing an elevation plot of the 26.2-miler. Signing in at registration also told me something that I had no idea about when I first signed up: there were only 15-20 people running the marathon. The rest of the 200 or so people here were running the 5k (like Maureen) or the half-marathon.
"I hope I don't get lost," I thought. "There might not be anyone ahead to follow during the race."
All three races started promptly at 8:00 a.m., with the finish line for all three distances being 3.1 miles down the road at Court Square in downtown Mountain View. (The 5k was a straight point-to-point course, the half-marathon was out-and-back, and the marathon was one grand loop.)
There were many pre-teens here who started running with the exuberance of a, well, kid, and the Garmin Forerunner 35 on the left wrist reported that we were running at 6:30/mile pace. Predictably, the young whippersnappers had to start slowing down after three minutes. "I'm going to walk now," said one of them.
After one mile, there was only one person in front of me. By Mile 2, he had about a minute gap. I had guessed that he was running the 5k distance so I made no attempt to catch up and kept the pace steady. Sure enough, at Mile 3 he turned right towards the finish line, whereas I turned left towards the half- and full-marathon courses.
After that, I had my own police escort. The officer in the car drove 15-20 MPH ahead of me before pulling off the road to wait until he could see me again. He repeated this several times. A second police car joined him at Mile 6. The two squad cars continued driving ahead until Mile 8—the turnaround point for the half-marathon—while I continued ahead, all alone.
Well, almost all alone. At Mile 9 I caught up to a runner who was wearing a Camelback. She certainly looked like she was part of the race. Did she start early? As it would turn out, several of the marathon participants did. I would catch up to some of these folks at the end.
But otherwise, it felt like a solo run from the moment I split off from the officers, with each marathon runner for him- or herself against the course. And its hills.
Five-minute, ten-second per mile pace! That is how fast I was running momentarily down a steep downhill at Mile 9. Then the road went steeply back up. My legs felt fine.
I covered the first 13.1 miles in 1:38:40 and was pleased. But I knew that the first half of any marathon is actually only about a one-third the battle. The second 13.1 miles always feel like two more ballgames played back-to-back.
In fact, my pace started to slow a little. But I felt remarkably good as I passed Mile 16 (the longest distance I've run this year), and then through Miles 17 and 18. But then as I was cresting a hill at Mile 19 right before heading down a steep downhill, my left calf started cramping. I was surprised it didn't happen earlier because my left calf had felt slightly sore until two days before the race, from the long runs and speedwork I had done in the previous weeks.
So I took out the chocolate mocha Clif Shot I had stashed in the bill of the running hat and consumed it over the next quarter-mile. A lot of times in the past, eating a gel seemed to instigate a cramp, but today it seemed to help. At least, it gave me some energy as the course went off the highway, onto a gravel road, and over a beautiful pedestrian bridge above a still river, before steeply shooting upward again and rejoining Highway 5.
On some of the ascents at this point I could only muster an 11- or 12-minute-mile pace. But as the course got closer to Mountain View, there were no more super long or steep climbs—only rollers—and I kept pushing. Finishing in sub-3:30 seemed like a possibility, but it would take a Herculean effort.
Or a Rocky or Clubber Lang-type effort. "Eye of the tiger," I kept thinking, since Maureen and I had watched Rocky III the night before. But with no competition around and an overall race win all but locked up, I never could get myself to give myself the type of push that would cause, say, near-collapsing or throwing up at the end. If you look at the heart rate data recorded on my Strava page, you can see that I never really approximated redline beyond Mile 22.5.
But some limiting factors included the pads of my feet hurting since Mile 20, the cramping left calf, and also my trapezius muscles that were now sore—perhaps from all the arm swinging. (Other battle scars I found at the end included a burn mark on the top of the right arm near the elbow from the phone armband chafing against it, and a blood blister on the side of the middle left toe due to an adjacent toenail. I don't think either of these issues, however, affected performance.) So I was running about as well as I could considering.
I had enough in me to sprint and cross the finish line with Christy, one of the organizers, exclaiming, "three thirty-two!" That was my final time. She confirmed I was first overall.
Maureen was at the finish to greet me too; apparently her run went well. A couple other marathon runners were at the finish—but they were quick to explain that they had started at 5:00 a.m., or three hours before I did, and that they had finished only a few seconds prior.
Looking back, despite not ultimately running with the intensity of Rocky Balboa or even Apollo Creed, I was pleased with how I did. This was, after all, the hillest 26.2-miler I have ever run aside from the Pikes Peak Marathon, and yet I finished within a minute of November's New York Marathon and four minutes of October's downhill Cache La Poudre Marathon. Clearly, I haven't lost much fitness since late last year, if any.
The Ozarks did not kill me this time too.
Other Notes
The Mission Run in the Ozarks is an annual run put on by the Flatwoods Baptist Church, with a different beneficiary chosen each year. The proceeds from the 2017 edition will go to a mission trip in Indiana to help Circle City Church Planting.
I chatted wtih Joe, the pastor, after the race. He had many interesting stories to tell as he had lived in several different countries for extended periods of time, including Latvia for a decade or so and, if I remember correctly, Japan. You would not have guessed it from his Arkansas accent!
Christy tipped us as to the existence of some large caverns nearby. She also advised driving the marathon course so that Maureen could see what I had just run. We ended up doing both.
Race Data
First half: 1:38:40 (7:32/mile)
Second half: 1:53:27 (8:40/mile)
Overall time: 3:32:07 (8:05/mile)
Overall place: 1/13
Official results (PDF, 149 KB)