Hiking & Camping on the Cies Islands

We were basking in the sun on the white sands of Playa Rondas at Islas Cíes when Andrea received a message from her friend Ali. Inside the message was a forwarded Instagram post by user orgullo.galego, which in turn contained a one-star Tripadvisor review of the islands we were at. The writer warned the following:
GAVIOTAS ASESINAS

Fuimos a pasar el día a un lugar tan idílico y nos lo amargaron la invasión de gaviotas que hay en las islas. Se abalanzan sobre ti a robarte la comida que tengas en las manos. Poniendo en peligro la integridad de las personas. Están al acecho constantemente desde las rocas, los árboles, la arena…
Resumiendo un HORROR. No creo q vuelva.

[English Translation]
KILLER SEAGULLS

We went to spend the day at a place so idyllic and we were embittered by the invasion of seagulls that are on the islands. They ambush you to steal the food you have in your hands. Endangering the integrity of people. They are constantly lurking from the rocks, the trees, the sand…
Summarizing a HORROR. I don't think I'll come back.

-Tripadvisor member alyolubru on August 17, 2016
I then looked up and saw this white bird: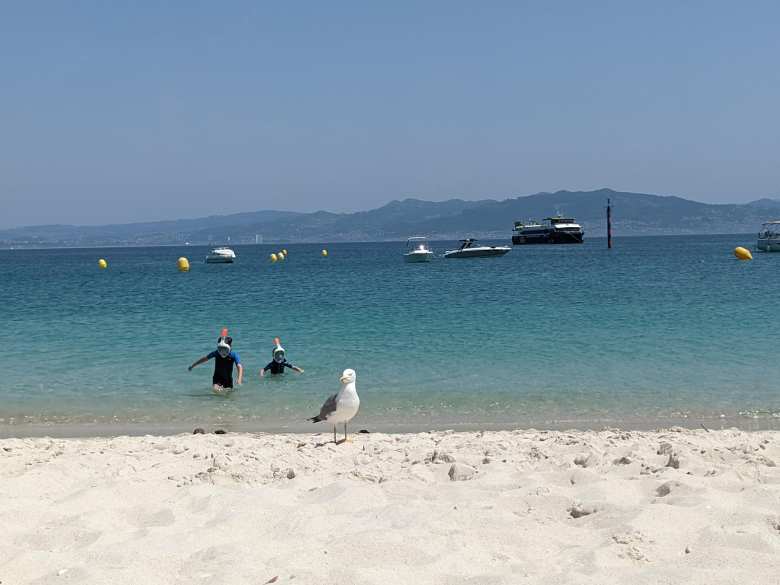 Laughing, I remarked, "I guess these seagulls aren't as innocent as they look."
Moments later, we swiveled our heads and glanced behind us. There were five birds encircling a woman eating a sandwich. Killer seagulls indeed!
Regardless, I thoroughly enjoyed this 2.5-day trip to these Galician islands with Andrea. For starters, they weren't even that far away. We drove 40 minutes from Pontevedra to Cangas, 10 of which were looking for parking. A nice man who was leaving told us to take his parking spot, and then we walked over to the harbor to catch the Mars de Ons ferry. The ferry ride was another hour, including a short stop in Vigo. Then we were at Rodas Beach, also known as "the best beach in the world."
That is what The Guardian had called it in February 2007. The publication justified its choice by saying that "Galegos come here to spend long, lazy summer days on the Praia das Rodas, a perfect crescent of soft, pale sand backed by small dunes sheltering a calm lagoon of crystal-clear sea."
The lagoon was certainly one attraction:
Another was a cement path joining the north and middle islands. It was the perfect place for viewing a sunset.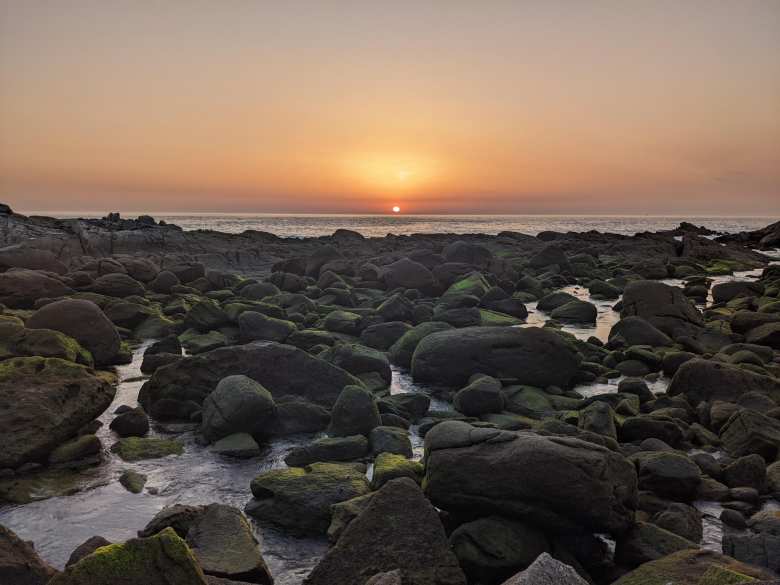 There were also lighthouses, bird observatories, and even Roman ruins to hike to. Hiking is something we did a lot of–about 35 kilometers during the first two days.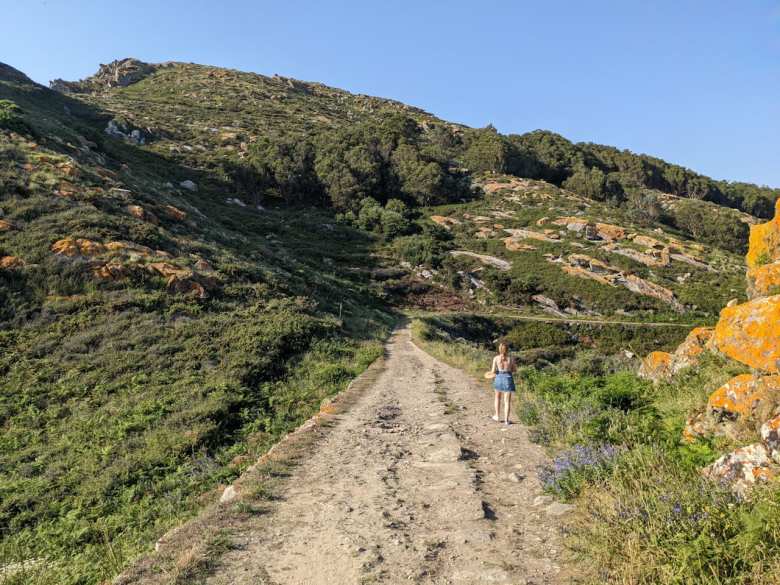 Andrea had been here with friends 12 years ago, but her experience was more rustic. Nowadays, there are tents with beds available for rent: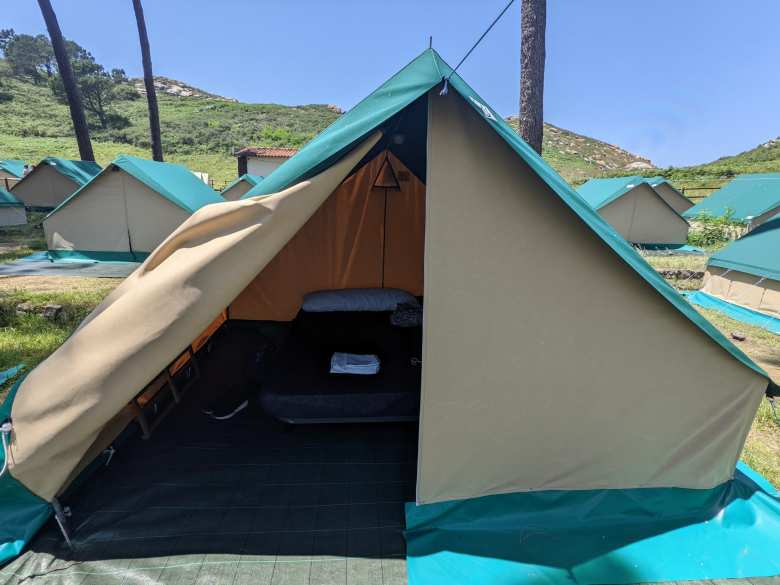 There are even showers with hot water, although I stuck with my usual cold showers. Moreover, there are three restaurants. One on the middle island offered a wonderful place to drink afternoon cañas (half-pints of beer):
Restaurante Rodas on the north island by the harbor had delicious food to enjoy by a full moon.
The island still isn't posh enough to classify what we did as glamping ("glamorous camping"). It doesn't even reach Motel 6 levels of accommodation. Yet, it allows its visitors to clean up and enjoy life's little luxuries (like cold beer) after spending a whole day in the Great Outdoors without having to haul a boatload of equipment.
Despite the angry birds, I would give the island a five-star rating, not one. Besides, I think the seagulls are kind of cute. Don't you?
Update September 2, 2022
Obviously, you shouldn't harm the wildlife on the islands. So it's reprehensible that a woman killed and buried a seagull recently at Cies. She was caught with the help of witnesses and fined 3000€.
What was her justification for murdering the bird? "Self-defense." Of course, such a lame excuse didn't fly.