Over the last year, I've heard from many American friends who either retired to Portugal or wanted to work there remotely for a few years. My friends David, Emily, and Jason were in the latter camp, and I had an ex-coworker in the former. They were all in Lisbon at the same time in November, so I did a quick trip down there.
The journey entailed walking 15 minutes to the train station in my town of Pontevedra, Spain, and taking the train to Lisbon with connections in Vigo and Porto. Travel time was eight hours in each direction.
On the train from Vigo to Porto, I met a man named Eric from Fontainebleu, France. A few days ago, he had just finished hiking 1500 kilometers of the Camino de Santiago from Le Puy, France in two months. We had an instant bond because I had trekked the Camino in 2017 from the French border. He asked if I could deposit an already-stamped postcard to someone in Quebec whom he met on the Camino at a Correos dropbox when I was back in Spain. (I did so when I was temporarily back in Vigo two days later.) He even mentioned me on his blog!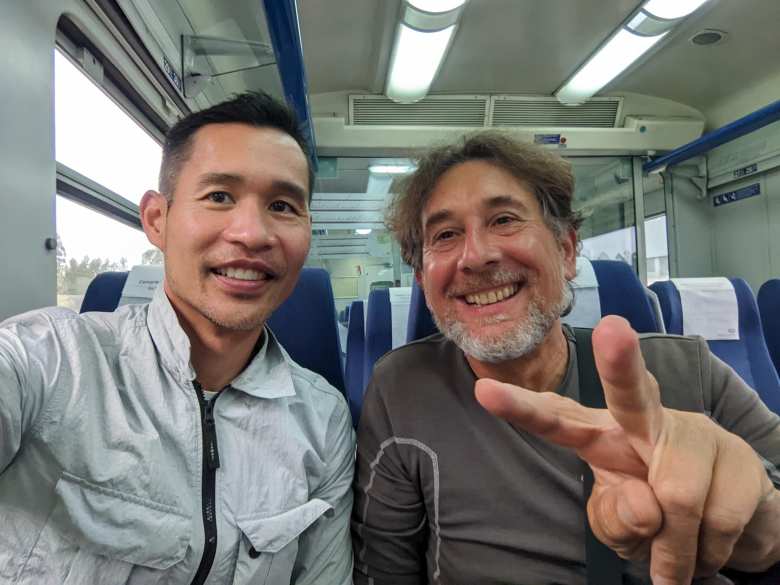 When I got to Lisbon, it was raining. My ex-coworker could not meet due to his wife having a medical procedure. But I could still get together with David, Emily, and their eight-year-old daughter Ada. My Airbnb was only a six-minute walk from theirs, so I went over. We chatted for a couple of hours before meeting up with Jason.
Whereas David and Emily were exploring Portugal as a possible destination to live abroad for a couple of years, Jason was already committed to doing so. Earlier in the year, he signed a three-year lease on an apartment that was about a third the cost of one in his former city of San Francisco. He works for a startup in Singapore and can work from wherever. However, he was still waiting for Portugal to approve his application for a digital nomad visa. Jason was hoping that they do so soon, otherwise, in six weeks, he'll have to leave the Schengen area for three months due to the rule that prohibits American tourists from staying more than 90 days in any 180-day period.
We met up with Jason at 6:15 p.m., but since the restaurant wasn't open yet, we went to drinks beforehand.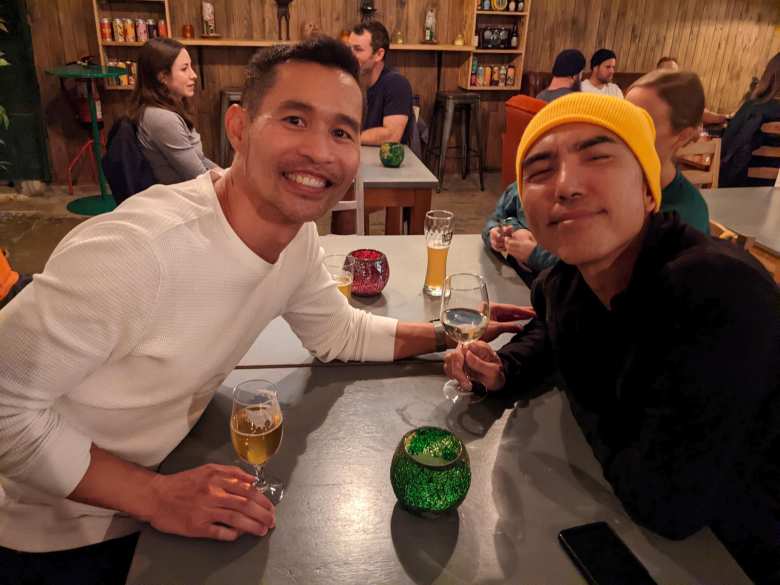 Then we had dinner at a seafood restaurant. I ordered octopus, which is a dish I've become fond of since moving to Galicia. It was good, but in general, I'd say the food I've ordered in Spain tastes better than that prepared in Portugal for some reason. It might be because of better sauces, seasonings, and cooks.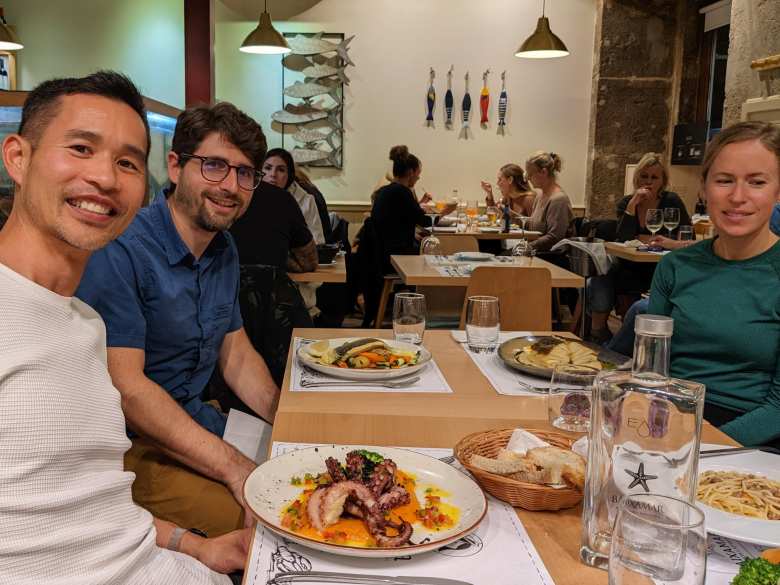 Ada, the eight-year-old, very understandably was getting bored after a couple of hours of adult talk, so David and Emily took her to an American-like mall while Jason went for a walk west of Alfama.
When Jason came to Lisbon for the first time six months ago, he told me that he had made more friends in Lisbon in two weeks than he had in San Francisco in ten years. Therefore, I was not too surprised that he was somewhat randomly encountering people he already knew.
And I don't mean some of the sketchy folks that walked by. "Do you need something?" asked a harmless-looking man. I didn't know what he meant by that.
"No," Jason replied. When we were out of earshot, he muttered, "I need you to go away, that's what."
A few minutes later, another man approached us asking if we wanted to buy any weed. Of course, we declined, but that explained what the first dude was hinting at.
From there, we met a male Italian friend of Jason's outside a bar, and then went to Bica Sour where there was live Fado music. Jason knew a bunch of other guys there too.
The next morning, I went for a five-mile run with Emily to the 25 de Abril Bridge, which looks like the Golden Gate Bridge. It was lightly raining, but the temperature was pleasant and I wasn't cold wearing a technical t-shirt and shorts.
At 11:00 a.m., all of us had to check out from our respective Airbnbs. Dave and Emily rented a car to drive down to the Algarve, while I had a free afternoon.
I passed the time visiting the Castelo de São Jorge (St. George's Castle), the Mosteiro de São Vicente de Fora (Saint Vincent's Monastery), the Miradouro das Portas do Sol (the Puerta del Sol overlook), and the Miradouro de Santa Luzia (Santa Lucia's overlook). I also walked around Alfama and had lunch there before heading back to the train station.
Portugal has been aggressive in trying to attract overseas workers with their Digital Nomad visa, so it wouldn't surprise me if more of my friends come to Lisbon as well. It's nice that this capital city is merely a train ride away (albeit an eight-hour one) from my home in Spain.