A Glimpse of the Tour de France Champion in O Gran Camiño
It's been a while since I've been within shouting distance of a Tour de France champion. The last time was on December 2, 1998, when I watched Phil Liggett interview Greg LeMond inside Stanford University's Memorial Auditorium. The first time was in 1993 when I biked from my dorm to Palo Alto's Wheelsmith bicycle shop to talk with Lance Armstrong, who had just won the World Championship. But maybe that doesn't count since it was five years before he won the Tour de France. It was also 19 years before all his victories were officially invalidated.
I wouldn't have been surprised to see another TdF winner in person again, even if the last time was a quarter-century ago. But I figured I would on, say, the slopes of France to watch its most famous bike race. Never did I imagine the next time would be in my adopted home city of Pontevedra, Spain. But that's what exactly happened.
Today was the second stage of the second annual O Gran Camiño, a four-stage cycling race in Galicia. Its name honors the famous Camino de Santiago which thousands of people from around the world hike each year. I never had heard of this newish race and would not have if I did not look at Pontevedra's sporting events calendar last week. Further investigation revealed that Jonas Vingegaard–last year's Tour de France winner–and his Jumbo Visma team would be participating.
Before heading over to watch, I watched a video of Stage 1 which went through the Lugo region about 200 km northeast of Pontevedra. I was surprised to see that it had snowed there, especially since only a week ago, running friends told me the last time they saw snow in Galicia was in the 1980s (in Lugo, I think). It turned out the weather was bad enough that the cyclists collectively decided to quit 15 km before the end of the stage. So in Stage 2, the teams were sure to be aggressive to develop an advantage after the first day's "no contest."
I biked a few kilometers to an esplanade by the Lérez River where I've done countless long runs. (The Lérez is also where Galician shipbuilders built Christopher Columbus' Santa María.)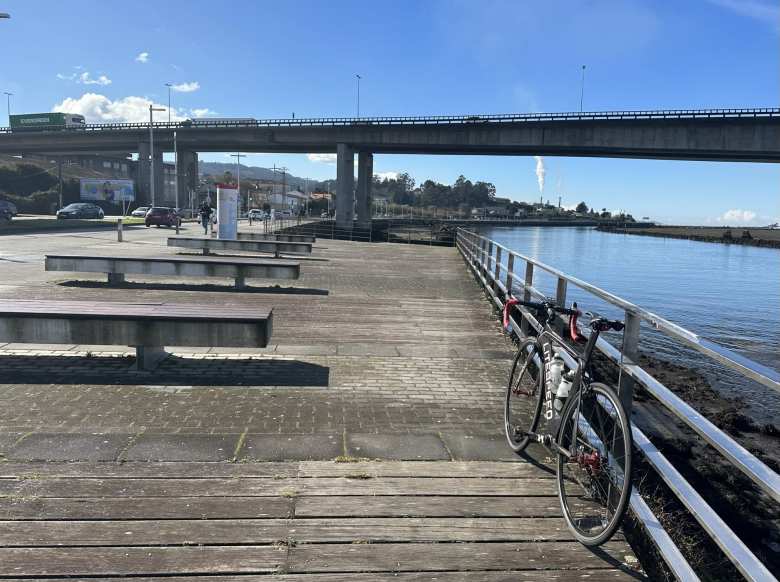 From there, I strategically situated myself on a median that was a good vantage point. There were no crowds. I guess almost no one in Pontevedra had heard of this event.
I was in for a real treat when y Jonas Vingegaard and his Jumbo Visma teammates whizzed by the Super Bike. They were two minutes behind a breakaway of seven riders, as you can see in the following video I put together.
A few hours later, Vingegaard won the stage. No one could match him at the finish, which included a steep cobblestone section.
Today is a day I will remember, as you don't forget being in the presence of a world champion. Who knows when will be the next time?
Stage 2 Route
Below is Strava data for Jumbo Visma's Lars Boven for today's stage. Since it goes through my home city, maybe I'll try riding the route sometime.
Updates
Vingegaard won Stage 3 (again in snow) in Ourense, and the final Stage 4 time trial in Santiago de Compostela. Since he won all contested stages, it is safe to say he dominated the race.
Clearly, he is in great form and should be a force to reckon with again in this year's Tour de France!