Exploring Automotive Treasures: The Hellenic Motor Museum of Athens
When exploring the vibrant city of Athens, Greece, one might expect to stumble upon ancient ruins, picturesque landscapes, and rich historical heritage. However, nestled amidst this historical backdrop lies a hidden gem that caters to modern-day automobile enthusiasts: the Hellenic Motor Museum. During a recent visit with my friend Mel, we were captivated by the museum's impressive collection of sports cars, roadsters, and convertibles, making it a must-visit destination for car enthusiasts of all ages.
Discovering the Museum
As an avid traveler, I often consult TripAdvisor's list of "Things to Do" to uncover unique experiences in the cities I visit. It was through this platform that we stumbled upon the Hellenic Motor Museum, an attraction that promised a delightful adventure into the world of automobiles. Intrigued by the positive reviews and the allure of classic cars, we wasted no time and made our way to the museum.
A Haven for Car Enthusiasts
Upon entering the Hellenic Motor Museum, we were greeted by a visually striking array of automobiles, each with a tale to tell. To my delight, the museum had abundant sports cars, roadsters, and convertibles, showcasing the craftsmanship and beauty of these iconic vehicles. The passion for automotive excellence was palpable throughout the exhibits, resonating with car enthusiasts and casual visitors alike.
A Colorful Display
One of the museum's fascinating features was the arrangement of cars seemingly based on their colors. On one floor, a vibrant sea of red vehicles caught our attention, creating a captivating visual spectacle. The harmonious palette of crimson hues showcased the variety and diversity of automobiles while adding an artistic touch to the exhibits. This unique approach to display was a refreshing departure from the traditional chronological arrangement often seen in automotive museums.
Hidden Gems and Personal Favorites
As we wandered through the museum's halls, we stumbled upon a section featuring captivating mini-cars that charmed us with their pint-sized dimensions and nostalgic appeal. These delightful miniatures added a touch of whimsy to the overall experience, offering a playful contrast to the larger vehicles.
However, among the numerous impressive cars, one vehicle stole my heart: the mesmerizing blue and cream 1965 Austin-Healey 3000. Its timeless design, coupled with the elegant color scheme, left an indelible impression on me. Despite being a British sports car lover, I had forgotten how beautiful was this upscale roadster from the 60s.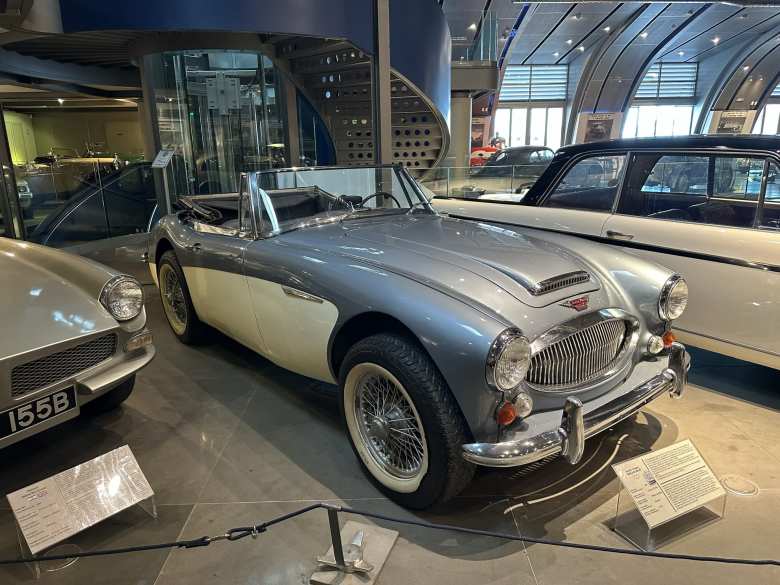 Conclusion
A visit to the Hellenic Motor Museum in Athens, Greece, proved to be an unforgettable experience for car enthusiasts and curious travelers alike. This hidden gem, discovered through TripAdvisor's recommendations, provided a well-worth-the-10€ journey into the world of automotive history, showcasing a remarkable collection of sports cars, roadsters, and convertibles. With its captivating color-themed displays and surprising finds, such as the delightful mini-cars and the alluring 1965 Austin-Healey 3000, the museum left us with cherished memories and a deeper appreciation for the artistry and engineering behind these remarkable vehicles.
For anyone with a passion for automobiles, the Hellenic Motor Museum is an absolute must-visit destination in Athens.