Mel's Visit to Pontevedra
Fresh from the cycling adventure in Greece, Mel visited Andrea and I in Pontevedra for four days before returning to Fort Colllins, Colorado.
Our voyage began with a seamless transition from Athens to the bustling city of Madrid, followed by a four-hour, high-speed train journey that transported us to Pontevedra. Although the region's culinary scene greeted us with open arms, the first thing we ate was Hawaiian Poke at a new restaurant midway between the train station and home. The traditional, delectable Galician dishes like pulpo (octopus), pimientos de padrón (Padrón peppers), and calamari (squid) would have to wait for the following days.
In a stroke of serendipity, during one of those days, our paths crossed with Marsanne, the wife of a friend from Fort Collins. She was hiking the Camino Portugués route from Porto to Santiago de Compostela with her sister Jeri and daughter Amelia. As Pontevedra is an important stop on the Camino Portugués, we met in the center for breakfast the next morning. Afterward, we parted ways as Marsanne, Jeri, and Amelia continued their pilgrimage along the Spiritual Variant of the Camino de Santiago.
Inspired by their journey, Mel and I decided to follow suit, tracing the steps of the Spiritual Variant ourselves. Although we did not cross paths with Marsanne and her companions again, the allure of Combarro and its iconic hórreos stayed with us. These hórreos, unique granaries on stilts that dot the landscape, are a testament to the region's rich history and agricultural heritage. We also had an excellent lunch next to the Río de Pontevedra in Combarro before hiking back to Pontevedra to meet up with Andrea and go to the Playa Fluvial (Fluvial Beach).
Our spirit of adventure led us beyond the Camino's path, prompting a 12-kilometer run another day along the Lérez River. Our efforts were rewarded with the sight of enchanting waterfalls, a reminder of the natural wonders that Galicia holds.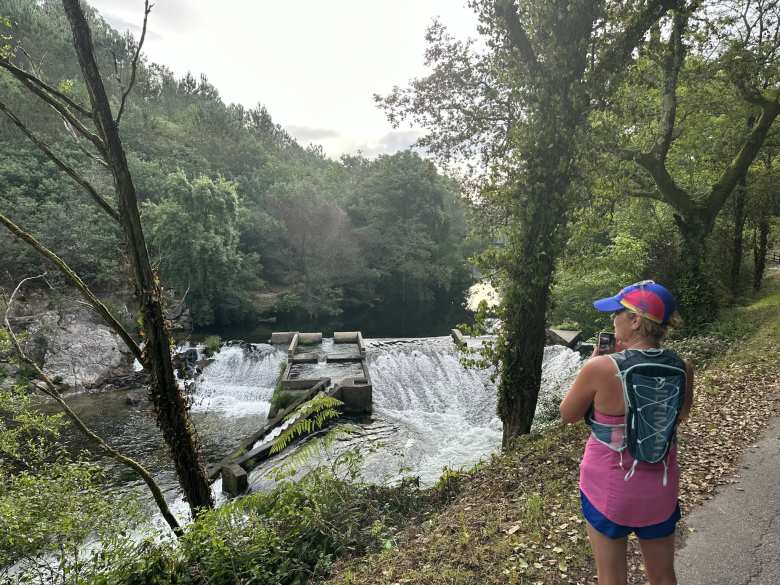 Amidst our explorations, Dr. Andrea was working hard during 12- and 24-hour shifts in the emergency room of her hospital. In one of her few moments of respite, we ventured to the beaches of Illa de Arousa, where the gentle rhythm of the waves provided a soothing escape from our active pursuits.
One afternoon, Mel and I took a train to Santiago de Compostela, a city steeped in history. At Andrea's suggestion, I took Mel to see the city's grand cathedral, which has stood as a timeless symbol of devotion and spirituality.
As our sojourn in Galicia came to a close, we carried back cherished memories of delectable flavors, awe-inspiring landscapes, and camaraderie born from shared experiences. It was nice to see Mel (and the other Fort Collinsers) in my Galician home city.