During the days preceding this season-opening century, the weather had deviated from the Californian norm and rain had douched the northern bay. Fortunately, the skies had cleared in time for this well-organized event.
I had opted for the metric (100 km) course, which actually turned out to be 67 miles, but in the spirit of Earth Day, I rode from my home at Stanford and over the Dumbarton Bridge to the start at Logan High School in Union City. This added 20 miles one way, or 40 miles round trip, making my mileage for the day 107 miles.
With my trusty heart rate monitor set to cause commotion if my heart rate was to go above 160 beats per minute, I took off at 6:30 in the morning. A reddish sun had just appeared over the horizon, but as the temperature was in the 40s I had donned a pair of tights and arm warmers. Along with the usual assortment of emergency tools, supplies, water and granola bars, I took along a $12 35mm camera. Sure, it doesn't take great pictures, but is light and compact–easy to slip in one of the back pockets in my jersey.
Traffic was nice and light, but after I had crossed the Dumbarton bridge I had to figure out a way to get on Decoto road, since that section of Highway 84 is off limits to cyclists. Heading in the easterly direction, I zigzagged over and under Decoto 4 or 5 times, but at last I found a bike route that took me onto the main road.
At Logan High, I was handed a map and a number (to pin on my jersey) by friendly people who didn't seem to mind that they had to get up before 6 a.m. in the morning. After a few minutes I was off, heading towards a rising sun in the quiet city of Fremont.
The roads were still wonderfully devoid of cars, and the terrain flat with not too many traffic lights. A pedestrian gives us a thumbs up. With the numbers pinned to our backs, it looked like we were in a race, not just a peaceful tour of some of California's finest roads.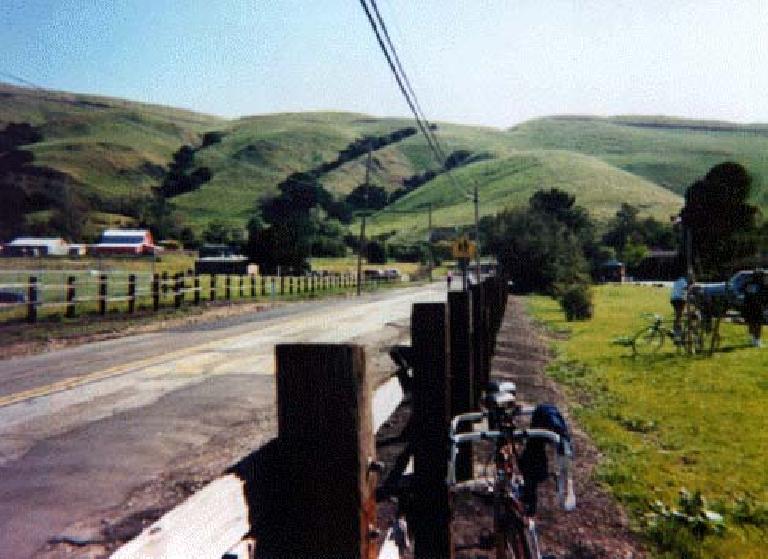 Finally, after about 15 miles, we hit some hills. Other cyclists warned me about Calaveras Road, which we began to climb just a couple of miles from the first rest stop. Funny, it didn't look very steep… but soon I was in my granny gear for the first time in 4 centuries. Still had about 70 more miles to do, I thought… must conserve energy!
By the time I reached the first rest stop, my average speed had fallen to 16 mph. Not bad, as my best century was at a 17.0 mph clip. The food at the rest stop was good, and I reluctantly left after 15 minutes or so and headed towards "the wall."
Apparently this section of Calaveras Road was supposed to be the most challenging part of the ride. Any er, discomfort, that I may have experienced on the climb was soon allayed when I set my eyes on the Calaveras reservoir and its surroundings. It was gorgeous, with greenery all around. After I had passed its peak, Calaveras Road was awesome, as the descent was long with blind hairpin corners everywhere. It was a fantastic road for a nimble racing bike. Without much effort I was easily maintaining 30+ mph speeds, even though I was riding a bit conservatively to avoid careening over the edge of the road and plunging into the reservoir below. At last, the hairpins were gone but by this time I felt like superman so I got in an aerodynamic tuck and hammered all the way to the second rest stop, with my heart rate at times exceeding 170 bpm—almost time-trial effort. For miles I was sustaining 22-25 mph on the flats. Ah well, I had done a fantastic job of pacing in the first 50 miles or so.
But after the 2nd rest stop fatigue started to set in. By my 70th mile my legs were noticeably getting tight, and the long and deceptively steep climb adjacent to Interstate 580 didn't help matters. Fortunately, the 3rd rest stop came pretty soon, where I chugged down several peanut-butter-and-jelly sandwiches. It's amazing how much better food tastes when you're hungry…
The weather was now wacko, with overcast clouds everywhere, and I was catching a chill. I put on my tights and arm warmers just before I left the rest stop. Mistake! A climb awaited and I stopped to take them off. A couple minutes later I looked down at my rear cogs to see what gear I was in and noticed that one of the rear derailleur-pulley screws were coming out. Unfortunately the Ritchey CPR-7 multitool that I had in the seat bag didn't have the appropriate size allen wrench. Fortunately a better prepared, generous cyclist came along and lent me one.
With these 2 unforeseen stops, I was losing momentum fast, but much like Calaveras Road, a long descent awaited. I didn't realize how fast I was going until I noticed that a Lexus was driving about 100 feet behind me, and made no effort to pass. Finally, after a tight corner I waved him by, but kept with him for many more minutes, all the way down to Niles Canyon Road. Another great California road.
From Niles Canyon, there was under an hour of flat-land riding until finishing the ride at Logan High School. So despite rather meager early season training, I survived the ride remarkably well, like I had picked up where I left off at my 1995 peak. In two more weeks I would be doing another century. In a month, the Davis Double. Hey, I just might be in good shape for the 200-miler after all!
Thanks to my friend Melissa Mann for recommending this awesome ride.
Ride Data
107 mi.
16.0 mph (moving average)
ride time: 7 hrs. 15 min. (including traffic stops, but not rest stops)
6:30 start, 15:00 finish