It was July 4th, 1997, a day to celebrate independence for the U.S., a day considered by many to be the height of summer. So while NASA's Pathfinder vehicle made its historic landing on Mars, 21-year-old Stephen Cook and his best friend went to explore Mt. Conness, an obscure-but-mystical mountain on the border of Tuolemne and Yosemite counties, a colossus of epic exposure and awe-inspiring views.
For both Pathfinder and Stephen, these would be their last missions.
I never met Stephen, but through correspondence with his mother Diana, got to learn a bit about this fellow adventurer, a young man who had deeply touched those close to him.
To quote Diana:
Stephen was my pride & joy (since birth–not because he died). He had a contagious smile, spent much time helping others (translating Bible from English to Spanish, etc), and left a wonderful memory in many minds. He was gifted yet he chose to spend time with people (normal IQ's I guess) rather than flaunt his intelligence. Sometimes his brother called him a handsome "geek" (6′ tall, blonde hair, blue eyes and a big smile). When he was 13 he put Vasoline on his teeth to make them sparkle. I smile as I think of him now.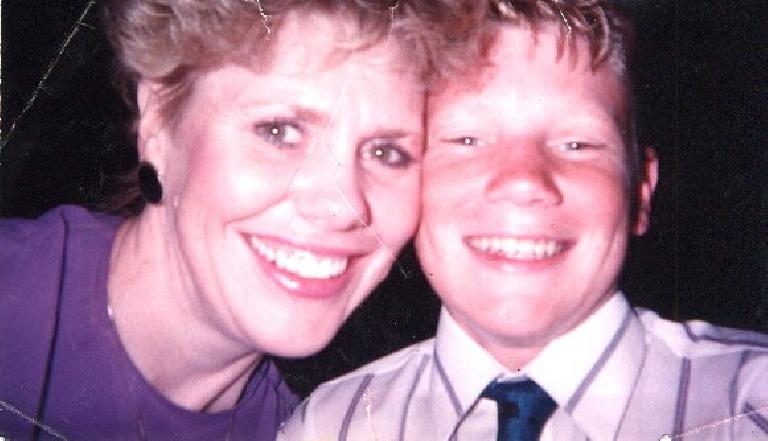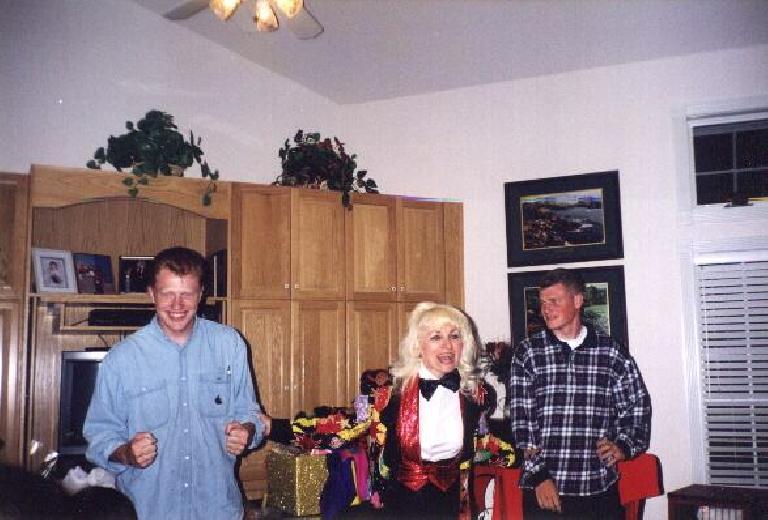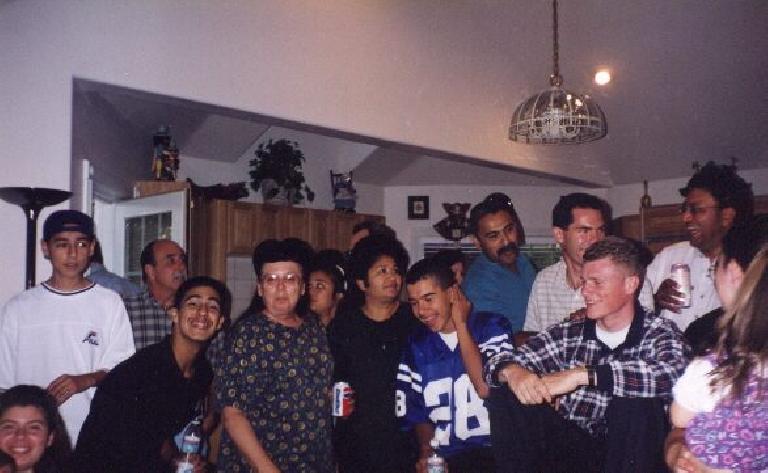 Furthermore, she added that Stephen was always cautious and patient. Even as a young child, he exhibited the importance of assessing and understanding risks and taking the appropriate measures to mitigate them. To exemplify, Diana writes:
…when he was 11 he wanted "in-line skates" for Christmas. Not so geeky, right? Well, he also wanted the helmet, knee pads, arm pads, gloves, and leg protectors. All of which he got. On Christmas he went to our neighbors next door a wonderful black family with "really cool kids" (imagine a young boy in the growing spurt..blonde hair, blue eyes and smiling) and said "look what I got for Christmas..do I look cool or what?" Our friends shared this story at his funeral. Yes, he was a funny guy…
Stephen apparently also had some experience in the snow and backcountry. For Conness in particular, it sounded like he was well-equipped (heavy-duty backpack, filtration system, rain gear, and all the usual stuff)… but Mt. Conness still proved to be too much.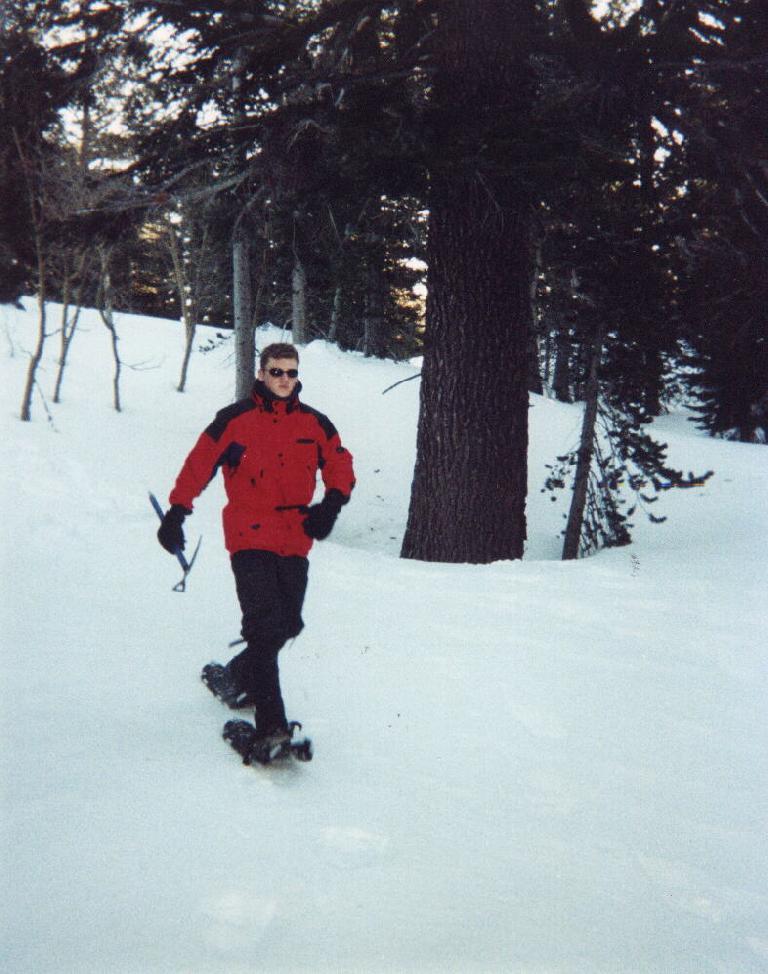 The photo below was taken not too long before Stephen's final moments. In the accident, Stephen slid down a long ways in a high-exposed area (which Conness is in most areas near the ridge), scraping the inside of his hands. Ultimately, he was not able to arrest his fall and suffered enormous head trauma upon hitting the bottom. It would require 3 days for his body to be escavated from the area. Needless to say, the episode has been hard on both Stephen's family and his best friend who was with him at the time of the accident.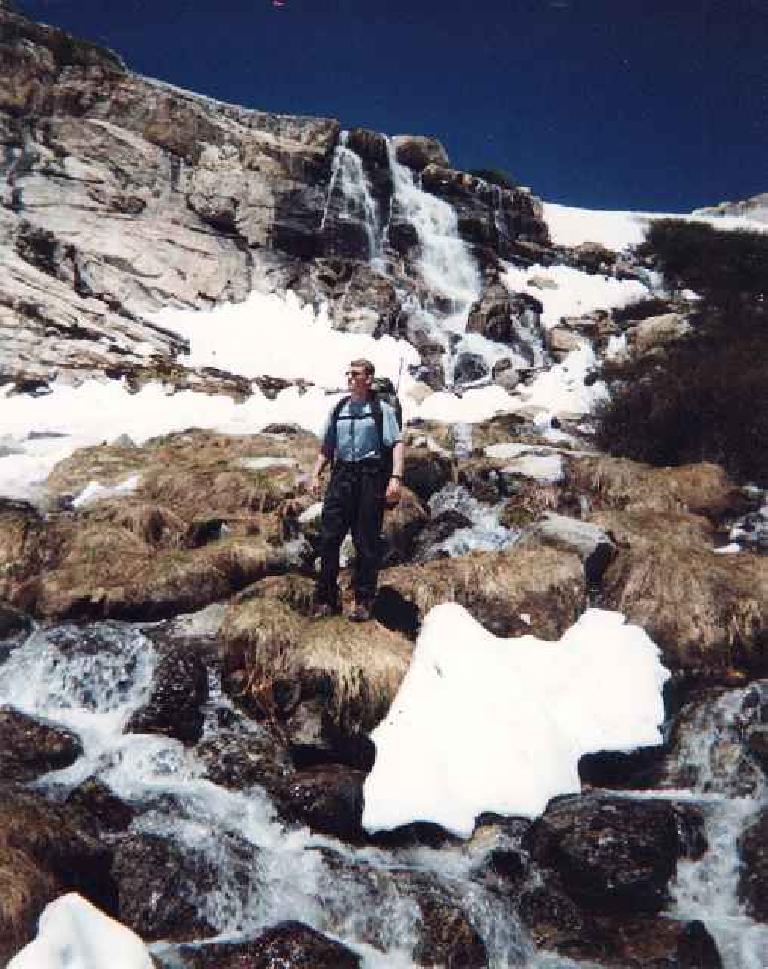 I write this not only to celebrate Stephen's life, but to pass on the story to others so that Stephen's death won't be in vain. I know firsthand that there seems to be a dearth of information on the internet about the real dangers of Mt. Conness. As I wrote about in my own account of Mt. Conness (June 2001), I had never felt so close to death in my life! Aside from the exposure, the sheer amount of loose scree can be terrifying. The southeastern approach to the ridge is also steep, and there is often snow there well into July. The ridge itself is generally considered either Class 4 and easy 5.3-5.6 climbing, but don't be fooled… Mt. Conness adds a psychological element not factored into these ratings.
Indeed, just a couple of days before Stephen's fall, another climber had taken a fall… and died as a result of the time it took for rescuers to get to him.
That said, I take solace that Stephen died someplace where he wanted to be. It is often said, "The best way to die is to die doing something you love doing." I believe this is true. Stephen, an avid outdoors enthusiast, likely did too. As his friend reported, "He smiled even as he slid down that mountain."
(Stephen Cook: July 1, 1977-July 4, 1997)