Old La Honda Bike Climb, CA
This article, while originally written in September 2002, has been last updated in April 2020 to include a section about the youngest cyclist to ride up Old La Honda Road. Please leave a comment at the bottom if you'd like to add anything else to this page.
Many cyclists on the SF Bay Area Peninsula (i.e., Palo Alto/Woodside/Los Altos region) seem to know their best time up Old La Honda Rd., as it provides some measure of one's climbing aptitude relative to your previous self and to others.
Course Description
The official start of the hill climb is the stone bridge west of the intersection of Old La Honda Road and Portola Boulevard. I presume it is the leading, and not the trailing, edge of it.
The end is the stop sign at the top of the intersection of Old La Honda and Skyline Blvd.
The course record, according to various posts on USENET newsgroups, is a few ticks under 15 minutes. It is either owned by Dr. Eric Heiden—the Olympic speed-skating champion who lived 2/3rds up Old La Honda–or a guy named Mike Murray.
The Western Wheelers even has a "rider category system" based on a rider's times up Old La Honda. This helps match cyclists with Western Wheeler rides of his or her appropriate level of difficulty. The system is as follows:
Category A: total novice
Category B: it takes the cyclist 40-60 minutes to go up Old La Honda
Category C: 30-40 minutes
Category D: 25-30 minutes
Category E: 20-25 minutes
Category F: under 20 minutes
This is how Western Wheelers matches cyclists to rides:
Western Wheelers Hilliness Ratings (Definition)
Approx.     Hilliness
Ft./Mi.      Rating
---------   ---------
0-25           1
25-50          2
50-75          3
75-100+        4

Average Speed (MPH) vs. Hilliness and Ride Category, Typical
    1  2  3  4
--------------
A  10  8  6 NA
B  12 10  8  6
C  14 13 12 11
D  17 16 15 14
E  20 19 18 17
F  23 22 21 20

Climb Statistics
Distance: 3.37 miles
Elevation gain: 1290 feet
Average grade: 7.2%
Max grade: 15% (18% inside switchbacks), never very long
1995 Low-Key Hill Climb Series Results
October 29, 1995 (Sun)
These are results from the 1995 Low-Key Hill Climb Series (now defunct, sadly), that you can also compare your times with. Again, I found this from a USENET newsgroup. Presumably, the people who entered the series were typically "above-average"—or at least, enthusiastic—hill-climbers.
Rider               Team                Sex Category          Time
------------------- ------------------- --- ----------------- -----
Connelly, Dan       Stanford/Wheelsmith m   4                 17:22
Hawley, Lorin       Apple/VeloXS        m   Mas 4             17:47
Lillard, James      West Coast          m   3 (Jr)            18:34
Waltjen, Lance      None                m   Any               19:48
Herms, Richard      Team Adventure      m   35+               20:00
Bell, Jeff          Alto Velo/ALEVE     m   Mas 4             20:07
Anderson, Mark      Alto Velo/ALEVE     m   5                 20:40
Blair, Steve        Alto Velo/ALEVE     m   40+               20:45
McGorman, Frank     Bergmeisters Bicycl m   Bikes & Brewsters 20:55
Miller, Ed          None                m   55+               21:15
Alafouzos, John     NA                  m   40+               21:30
Hargrove, Val       Bergmeisters Bicycl m   Bikes & Brewsters 21:30
Fulton, Dick        NA                  m   Old bike,old body 21:36
Crockett, Richard   Apple/VeloXS        m   45+               21:51
Leary, Brendan      Alto Velo/ALEVE     m   5                 22:11
Hopping, Damien     NA                  m   None              22:31
Benishin, Liz       Alto Velo/ALEVE     f   3                 22:34
Nix, Mark           Team FRED           m   Idiot             22:40
Reddy, Achut        Alto Velo/ALEVE     m   4                 23:00
Bone, Richard       Western Wheelers    m   28-yo English     23:15
Petroski, Pete      Western Wheelers    m   Beyond            23:15
Hurkmans, Henry     Fremont Freewheeler m   4                 23:30
Smith, Wayne        Alto Velo/ALEVE     m   4 - unplugged     23:49
Sewill, Rick        Apple/VeloXS        m   4                 24:15
Gellin, Gary        Team Hermes         m   Runner            24:29
Tedder, Ron         NA                  m   Old bike,old body 24:39
Heney, Kevin        None                m   43+               25:00
Mansour, Dean       Alto Velo/ALEVE     m   Bionic            25:08
Maurer, Joseph      Apple               m   44+               25:12
Hutchinson, Marcia  Alto Velo/ALEVE     f   3                 26:21
Pereira, Lucas      NA                  m   200+ (gross wt)   29:08
Fisher, David       Alto Velo/ALEVE     m   5                 ?????
Paulsen, Anne       Western Wheelers    f   None              ?????
Chang, John         NA                  m   None              ?????

From the Logbook
December 3, 1994 (Sat)
With the Stanford Cycling Club, I clocked in last of all the finishers at 24:39. (One person did not finish.) That's not great. However, I started attending Stanford only a year before after living in pancake-flat Stockton nearly all of my life. The first time I went up Old La Honda Road in 1993, I couldn't make it to the top without needing to stop twice, or maybe three times, due to cramping and lack of fitness. So doing the ascent in 24 minutes without stopping was a victory in itself.
The conditions were wet and muddy. There was debris on the road and much windy at the top. I returned to my dorm room very cold.
September 8, 2002 (Sun)
Excerpts from an email I wrote my friend Adam Tow who got me interested in doing an OLH hill climb, eight years after I had last been timed on this hill:
Ok, today Mike Barron and I went up Old La Honda and timed ourselves. My time… (drumroll please):

21:33

That, I think, is about the same as your record! Dang, you were in really good shape back in '97!

I was a little disappointed that I couldn't break 20 minutes (and actually wasn't even really close), which was my goal. However, I take solace in that I was 3 minutes faster than my last timed OLH climb (in '94), and I think I can do a bit better by doing things differently.

First off, I think Mike and I stopped too long before starting the climb, as I had really cooled off by then. As I consistently notice when doing hill repeats on Morrison Canyon Rd., I climb significantly worse on cool legs (usu. for the first time up).

Secondly (and probably most importantly)… I started out going way too fast. At the bottom, I was going like 15mph, and just sped by some other cyclists who started like 5 minutes before Mike and me. By the middle of the climb I was already hacking my lungs out. I was really not well and had to take a slug of water every minute or so due to the hacking. I never really recovered, though I'm happy that I managed to keep a pretty consistent pace for the last half of the climb despite the suffering.

Thirdly, when I get to know the climb better, I would ideally start speeding up sooner at the end (e.g. go anaerobic at that point). I started sprinting when I saw the mailboxes, but that's a little too late.

And finally, ideally I would do this on a cooler day… today was not bad, a little on the warm side for something like this.

By doing all of these things, I might be able to make up 1.5 minutes…

Almost wish I hadn't gotten into this, though… riding a hundred miles felt a lot more enjoyable than those 3! But it's good training… kind of a different mindset than I'm used to, which is to keep well within myself and avoid going anaerobic (otherwise one would be hard-pressed to finish 200 miles). I now have full appreciation for the record of 15 minutes or whatever (that's like 33% faster than us!)
Strava Segments (mid 2010s-onward)
These are the Strava segments available for Old La Honda Road as of April 17, 2020:
Old La Honda Full (3.30 miles)
Old La Honda (3.28 miles)
The segments are the same except "Old La Honda Full" seems to start slightly earlier and closer to Portola Blvd. I'm guessing it starts at start of the bridge, whereas the other one starts at the end.
The following three segments approximate the length of the climb when combined together, but end up being more than a quarter mile short.
Old La Honda – Mile 1
Old La Honda – Mile 2
Old La Honda – Mile 3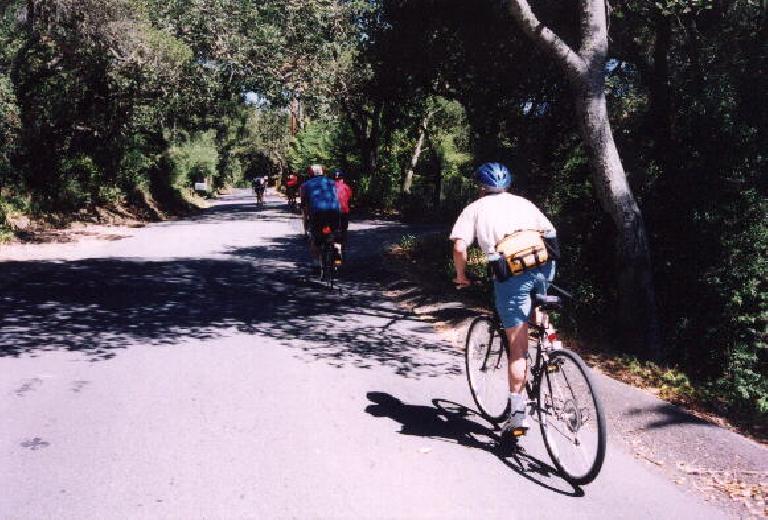 Video of Old La Honda Climb
Here's a video of the climb from Kinomap.
Youngest Person to Bike Up Old La Honda Road?
During the coronavirus outbreak of 2020, AJ Simon of California and his kids went for a bike ride in Woodside. He explained,
With little else to do (and no one else to do it with!), my family and I have been getting out for even more rides than usual. The kids have become pretty strong, and I figured it was time to send them up a "real" hill.

So on Monday, which was a vacation day for all of us, Tom (not quite 9 years old yet), Ben (10) and I (44, I guess!) did a nice 18-miler with Old La Honda as the main feature! It was definitely the most vertical the kids have done in a day, and they did it quite admirably. Including stops, I think it took us an hour to go from bottom to top.
Which begs the question: was Tom Simon (at 8 years, 11 months and 23 days) the youngest person ever to successfully pedal up the length of the Old La Honda Road from Portola to Skyline? There doesn't seem to be an easy answer to this on the internet, so I think the Simons can lay claim to this record until proven otherwise!