Rocky Mountain Double Marathon
"This is the loneliest race I have ever done," lamented a female runner as she passed me like I was standing still at Mile 38. "I was really looking forward to that last water stop because I thought, 'Good, there will be someone there,' but there was no one…"
Indeed, she was only the second runner I had seen in the last eight miles. The other was another woman who passed me like I was standing still.
The Rocky Mountain Double Marathon—a 52.4 mile run—wasn't like this for entire duration of the race. At the 6:00 am start of the race there were at least 80 other people doing the "mere" 26.2-mile option, and at least 17 other runners attempting the double. In fact, during Miles 20-26, I was far from alone.
This is because yet another runner of the fairer sex had caught up to me. Watching her cute curly hair in a ponytail bounce up and down inspired me to pick up the pace, and I got a bit ahead of her on a downhill. She caught up, though, and from then on we ran side-by-side, with many words going unspoken. Finally, she said, "it's been nice having someone to run with!" I agreed, and then asked her, "Are you going to do a Round Two?"
"No, I'm just doing the marathon," she replied. "There's no way I'm going back out there to do another one."
"Darn," I answered back. "I was really hoping you would because I really like your pace…"
Alas, while the first 13.1 miles went well for me (1:57 despite hills) and even the second 13.1 miles were not too bad (2:22 despite strategically walking up some ascents), my pace predictably turned for the worse in the last 26.2 miles of the race.
Actually, the second half began pretty well. I remember vividly Mile 30 when I was feeling very lively while running downhill, thinking "amazing… I can't believe I am feeling this well at Mile 30." Indeed, some of the marathon runners running in the other direction looked at me and said things along the lines of. "Great job! I can't even imagine running like you are in a second marathon."
Of course, this soon changed when a long (~1.5 miles) uphill appeared, and I transitioned into walking mode. It would be hours before I could run for more than 10 minutes at a time.
As my quadriceps started to tighten it became harder and harder to pick up my feet. Surprisingly, otherwise the rest of my body felt fine—no blisters, ligament or knee pain, ankle sprains, etc. It was just those damn quads that disallowed me from bending my legs without some major muscle discomfort.
As the terrain continued to roll and there were no other runners in sight for miles, my spirits became further demoralized.
"Hmmm, definitely not enjoying this," I thought. And at Mile 38: "Fifteen more miles, and I'm never doing this ever again!"
It took me about three hours to do the third 13.1 miles of the ultra, and at the turnaround point, the first thing I muttered was, "I'm so glad to be turning around."
My quads continued to deteriorate. At Mile 42 I began even walking on the downhills. A support guy on a BMW GS motorcycle saw my pathetic state and offered me help numerous times. The first thing he did was offer me a whole bottle of Gatorade, which I accepted. The third thing he did was get me back on course when he noticed I overshot a turn by 1/8th of a mile. ("Thanks so much," I exclaimed after that. "Man, that would have been disastrous!") It was the second thing he did, however, that really saved me.
He gave me two Advil when I asked for them.
Now, mind you, I have not taken any painkillers (or any drug for that matter) in about three years. First of all, I never thought painkillers really did anything for me. I'd take them and feel no different. "It's primarily the placebo affect," I'd think, trying to rationalize why they worked for others.
Secondly, I am just adverse to drugs. Especially Advil… I seem to recall advice to "try not take ibuprofen during a marathon." (Apparently, ibuprofen can accelerate the onset of hyponatremia.) So this underscores how desperate I was. I was walking, with spurts of running (and then complete frustration) for ten seconds at a time, and it was just getting more and more difficult to pick up my legs, even for baby steps.
Anyhow, within 20 minutes, the Advil performed a miracle. I had just gotten to a downhill section when I noticed there was no more pain in my quads at all! It was like I was running at Mile 17 even though this was Mile 47. From that moment on I did not walk again.
The weather may have played a role in that. For most of the day, the temperatures were near-perfect for running—maybe just a tad cool at times for just the singlet I had on, but not bad. However, as the day progressed, the horizon was becoming darker and darker as grey, gloomy storm clouds loomed above.
With three miles to go it was still relatively dry though. I even thought, "it can go ahead and rain as much as I care. I'm so close to the finish!" Of course you know what happened next, maybe a mile later.
Freezing rain started beating down in clumps, only to melt on my body. With two miles to go I started running with my head bent towards the ground as the frozen rain started to go somewhat horizontally at me. The winds had definitely picked up. The terrain started to go uphill again but I did not relent. "I am running all the way to the finish," I resolved.
In addition to wanting to get out of the rain, my watch provided yet more motivation to keep up the pace. It looked like it was possible—if barely—to finish under 11 hours. In my mind, anything under 11 hours seemed respectable for this distance.
With one mile to go I had caught up to—you guessed it—another woman ("where are all the men?" one of them had asked me earlier in the race), who just so happened to be the first runner I had seen in the last ten miles. She was walking, so I whizzed by while muttering a "good job" to her.
More exciting was the last quarter mile.
This was about the steepest part of the race. I knew it was runnable from the first time up it with the curly haired girl, so I kept at it. I could see two people up there well ahead of me, and it seemed like I had little chance of catching them.
But I tried.
It turned out one of the two people hoofing it up there was the guy on the BMW GS motorcycle! Apparently, he was the boyfriend of the other person. As they approached the finish line, this guy ran ahead of her, turned around, then saw me coming in at a frantic pace, and then exclaimed some encouragement to his girlfriend to "pick it up!"
Too late. I bolted by her with about 30 feet to go, and sprinted through to a 9th-place finish.
What had been a weary, depressing race at times was now one of euphoria and glee. I had done it… 52.4 miles. One more goal off of my list. On a hilly course, through a thunderstorm too. What a day.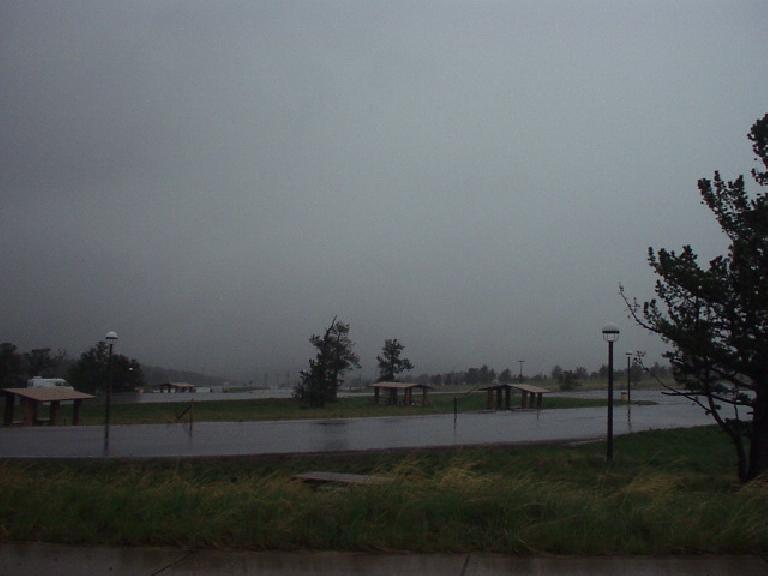 I lingered around thanking the motorcycle guy for outright saving me, and then apologizing to the gal for passing her at the end. They were both cool about it all. They too were just happy to be finished.
And perhaps most of all, happy not to be all alone out there.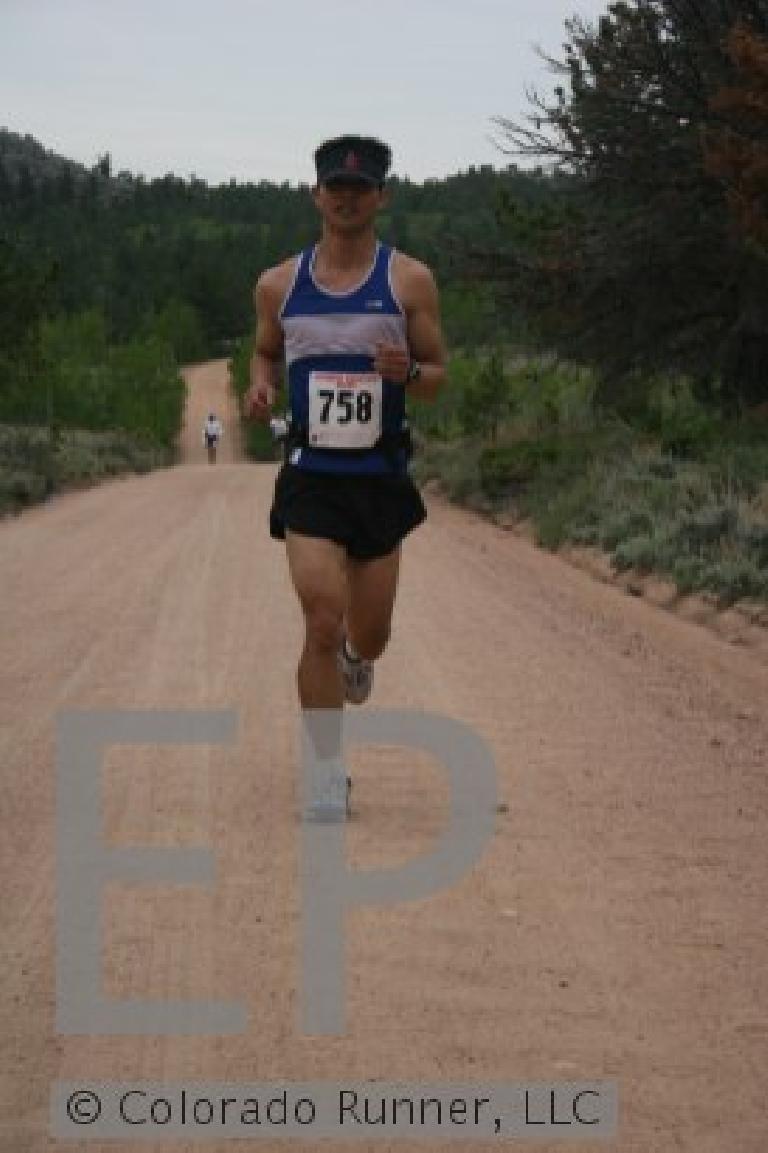 Time Splits
1st quarter: 1:57
2nd quarter: 2:22
3rd quarter: 3:00
4th quarter: 3:38
Final time: 10:57
Course Map
Click here for a course map (PDF, 384 kB)