Fort Collins is a town that loves its dogs. Seemingly every one of my neighbors and pals have a furry, feisty, four-legged friend. When I run on the recreation trails around my neighborhood, every few minutes I'd see (and hear!), say, a pup bouncing up and down behind a glass sliding door or a majestic terrier standing erect like a human with his front paws over the three-foot-high fences out here while barking to the clouds. Once in a while, one of these friendly yappers even join me on my run for a minute or so, trotting alongside while wildly wagging his tail—until he sees a more interesting subject, like a squirrel or something.
Then there are the dog parks around the city. There are at least three, including the Spring Canyon Dog Park at the end of Horsetooth Road that was just completed in late 2007. These open areas, I imagine, make excellent training grounds for the dogs. Training for what, you might ask. Why, the races out here specifically for canines and their masters, like the Fast and the Furriest 5k (I LOVE that name!) and the Fire Hydrant 5k.
And now that spring is here, dogs are virtually everywhere: out in the yards, on the recreation trails, and even on the sidewalks in downtown. For example, below is a photo of some I encountered today while walking over to my favorite bicycle-themed coffee shop where I had Spanish Conversation Meetup tonight.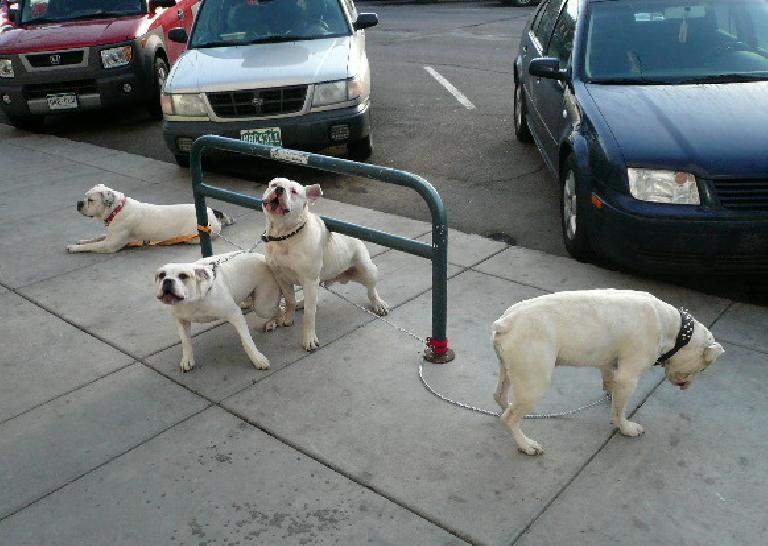 Cute little fellas, yes? For some reason this photo makes me laugh!