As if the line snaking through Fort Collins' La Quinta Inn to the official voting room at 7:00 a.m. was not ominous enough, then the hastily spouted words from one of the computer judges were.
"Don't let anyone vote on the electronic ballot machines right now," she warned. "We are having a problem with the card writer."
Ann—the other rover judge besides myself—and I wondered how this could happen. All of the election judges had arrived at the polling station an hour in advance to get ready for the morning onslaught of voters, preceded by three hours of training a few weeks before. Yet, it was only a few minutes after the polling station officially opened that the computer judges realized we had this "problem." What else would go wrong?
Fortunately, that was it.
In fact, the computer judges resolved the card writer problem after 15 more minutes and soon were handing out credit-card sized pieces of plastic to voters who wanted to vote electronically. These cards temporarily embedded a voter's personal identification information, to be inserted into the Diebold electronic balloting machines Ann and I were in charge of.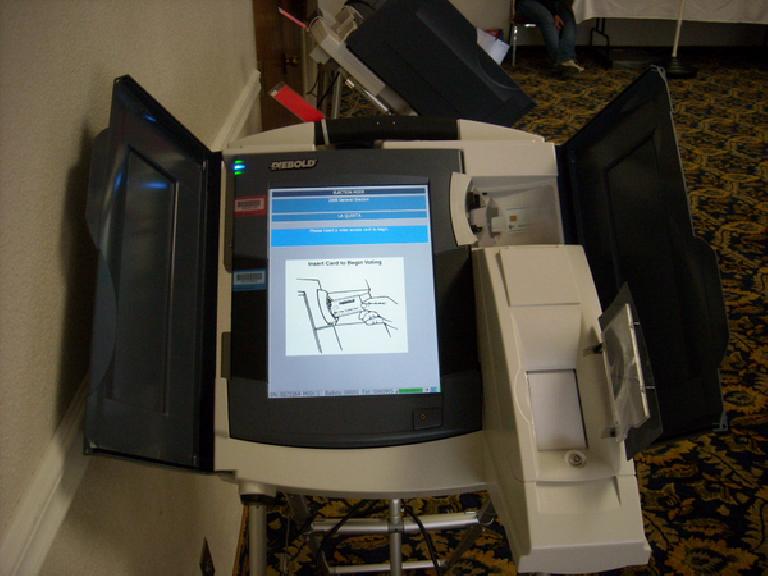 In any case, it seemed like the vast majority of voters preferred completing paper ballots instead. Good thing, because in the polling station there were about 50 booths to fill out paper ballots versus just two electronic balloting machines.
The election commission had previously determined that it actually took less time to complete a paper ballot than to vote on the electronic machines, mainly because the Colorado ballot was long enough to comprise a chapter of War and Peace. So it seems like the primary advantage of voting electronically is to avoid having an optical scanner getting confused by stray marks on a paper ballot or (in Florida circa 2000) by "hanging chads."
Anyhow—despite our apprehensions that certain times of day such as lunch or after work would result in circus-like crowds—the voting hours on the whole turned out to be pretty mellow.
In fact, the much-anticipated lunch crowd never appeared. There were times around noon when there wasn't a single voter in the room, and only one or two people rushed in at ten minutes to 7:00 p.m. (closing time) to vote. Within 12 hours, only 127 people had voted on the electronic machines at our poll center. (I don't know how many people voted with paper ballots.) Seems like Fort Collinsers are good about not procrastinating—a large percentage had already voted before election day.
So most of the day when we weren't helping voters, Ann and I just chatted. She's a veterinarian-turned-researcher, and it turns out she knows one of my vet friends. She gave me some info on a masters swimming program here in Fort Collins, in addition to a ski marathon just outside of Montreal. I may have to put that on my list of challenges to attempt one day.
And in the waning hour of election night, she busted out her iPod, FM radio attachment, and external speakers, and tuned in NPR at an extremely low level so that only she and I could surreptitiously hear the voting results from the East Coast. Yes, Ann was a great person to work with.
After 7:00 p.m. and the last voter had finished voting, we quickly sealed, disassembled, and packed the two electronic voting machines per our training instructions. We then said our last goodbyes and rushed home to watch the election results on television. Within about an hour of arriving home, McCain had already conceded the election, though there were plenty of other election results still to come that I stayed up late for.
After the night was over, it appeared that Colorado had become a thoroughly blue state, with a Democratic governor, two Democratic senators, five (out of seven) Democratic U.S. Representatives, and a largely Democratic state congress.