"Have some peach cobbler for me," Tanya text-messaged on the morning of the Peach Festival of Lafayette, Colorado. "And peach bread, peach ice cream, peach pastries, peach pizza…"
I would have been glad to, but there was one problem: at the festival, I could find almost none of this. At a drinks stand there was lemonade, orange-ade, lime-ade and other fruity concoctions, but no peach-ade. The jams and jelly booth had plenty of jars containing strawberry preserves, grape jelly, apple butter, etc., but no peach jam. A pizza vendor only served wedges with cheese and pepperoni or sausage. None of the crafts tents featured any artwork of fruit.
"This peach theme," I exclaimed at one point, "is a complete farce."
Nevertheless, Raquel, Rob and Tori and I enjoyed strolling through the festival to admire the art and bask in the sun. By noon it was nearly 90 degrees so we sipped on smoothies that—hallelujah—were made from peaches. Oddly, there were a mere two booths selling the actual fruit, and one of them was only selling Costco-like eight-pound boxes of them. I passed on those.
The dearth of peach-flavored food was so pronounced that for lunch Raquel and I resorted to eating spicy tacos. At least they were authentically Mexican (i.e., not Taco Bell). Just not at all peachy.
During lunch, we watched the Girls on Top band sing and dance, and afterward we talked with Adrienne, one of the band's singers and a long-time friend of mine.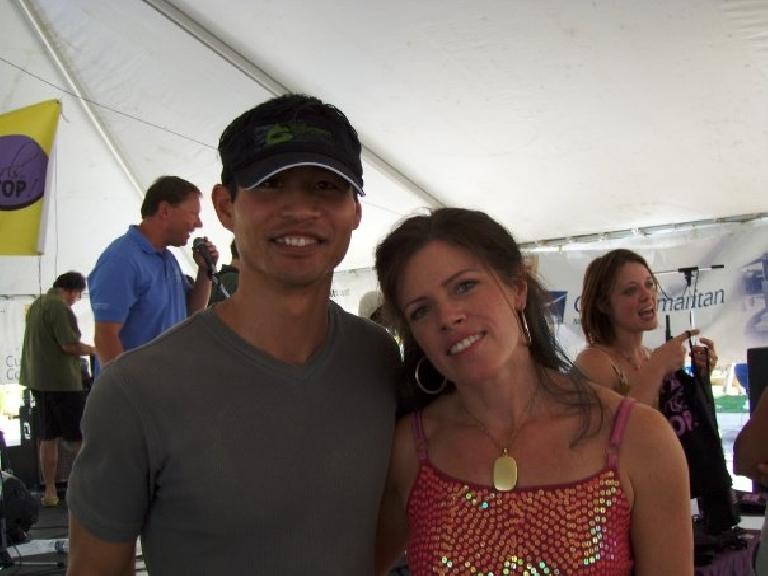 We concluded the day gobbling a slice of peach cobbler. So at least I was able to eat one of the items on Tanya's list of foods made from the festival's honored fruit.

Video of the 2009 Lafayette Peach Festival. (Video: The Daily Camera/You Tube)