Davy Crockett Bear Chase Marathon
I found it curious that with two minutes to race time, the few hundred runners who were doing the Davy Crockett Bear Chase Marathon & Half Marathon were still scattered over the Groveton High School track. Perhaps having done 75-250 marathons before as many of the participants had (this being an event sanctioned by the 50 States Marathon Club) gave them an air of casualness and no reason for pre-race jitters. In any case, the only people even remotely close to toeing the start line included myself and Mark Davis, a serious-looking runner who had just done a bunch of sprints as a warm-up.
"Which distance are you doing?" he asked after turning towards me. "The marathon," I replied. Mark was doing the half, signified by his white bib number versus my yellow one. It turned out that in this mixed-start race, knowing who was doing which distance would be important, particularly for the front-runners.
Fortunately, the out-and-back, gravel-then-pavement-then-dirt course facilitated this. The half-marathoners went out-and-back once, while the full-marathoners went out-and-back twice. This enabled us to see who was behind and wave to others doing the race several times.
After the "three, two, one" countdown, Mark was off the front like a jack rabbit who had just spotted a carrot, with two guys behind and a grey-haired marathon man farther back still. Next was myself, at least until two really fit-looking women doing the half-marathon caught up to me by Mile 2.
At Mile 3, one of the young ladies—Katrina—made her move and I decided to go with her. Shortly thereafter we reeled in the grey-haired man, and at the Mile 6.5 turnaround in the Davy Crockett National Forest, a fact was revealed—everybody in front of me was wearing a white, half-marathon bib.
Dan confirmed this a couple miles later when I passed him going the other direction. "Number one," he said, raising his left index finger. "GO!"
Being the front-runner of the marathon was a unique situation for me, and knowledge of my position got extra adrenaline surging through my veins. Gone was my pre-race strategy of running conservatively to secure a steady-paced, top 10 finish. Instead, this had become my race to lose, and I was going for broke.
Pacing behind Katrina and even passing her at one point before she surged again at Mile 12, I was close to running outside of myself, ticking off four consecutive ~6:40 miles. We were going fast enough to catch and pass the two guys behind Mark. This was a dangerous strategy, but I really felt that if in the final miles of the marathon I was ever within sight of the #2 person, I was going to lose. Therefore, I decided to try to build as much of a time cushion as I could before the third and final turnaround so as to never give anyone behind any hope they could catch me. I had to have faith that my training this year would allow me to hang on to the lead at the very end.
At the second turnaround, I crossed the half-marathon finish line behind winner Mark and second-placed Katrina. A couple minutes later I saw the grey-haired man in #2 marathon position, meaning that I had just over a four-minute lead. The next stretch I was egged on by other runners going the other direction who were cheering, clapping, and giving high fives. One guy hilariously even bowed to me, and when I saw Dan he kept repeating "W" for "win." I was starting to feel fatigue in the Davy Crockett forest with its gradual rolling terrain on dirt, but after the final turnaround, I had at least a six-minute advantage.
Six minutes with 6.5 miles to go sounds like a lot, but I knew from previous races like last month's Ellerbe Springs Marathon, once my performance starts going south I could easily lose three minutes per mile. And in the final 10k, fatigue was intensifying and even the gradual 3% uphills were starting to look like mountains. So that they would not psyche me out, I resorted to what I do in downhill skiing—focus on only the 10 or 20 feet in front of me and glance at the grade in the distance only occasionally.
Meanwhile I kept pushing. My Mile 24 split would have given me pause for concern as it was 8:19—or over a minute slower than what I was running at Mile 11—but I had enough in the tank to pick up the pace again at Mile 25 (7:37/mile split).
Just one mile to go. Unfortunately, this meant running on gravel with footing that was a little tricky and the sun was now out in full force. Before I turned onto the gravel road took a quick glance behind. I saw no chasers. Exhausted, my pace slowed. I was falling apart and I could not get any spring in my step. Every quarter mile I'd turn my head around to see if anyone was behind. Still no one.
Finally—after what seemed like an eternity—I entered the track of Groveton High School. My Mile 26 split was a bottom-had-fallen-out 10:41 and I certainly did not feel like a champion, but as I rounded the track the announcer declared I was indeed the first marathon finisher. My legs had enough in them to do my customary 100-meter sprint, and meters before the line I slowed just enough to pump my fists and do an arms-to-the-sky finish line salute. My final margin of victory was just over two minutes.
For the first time in a marathon or any race with more than just a handful of people, I had WON!
After the Race
It took me a couple minutes to regain my breath, but after I did so a camera woman from KTRE Channel 9 pulled me aside and interviewed me, with footage to be shown on the local Saturday night news. I did my best to sound at least half-coherent but had trouble keeping still. I just couldn't believe I had won!
Afterward I was able to eat a little and shower and change before seeing Dan come in. This was his twelfth marathon in twelve weeks, and it's always a pleasure to see my buddy cross the finish line—especially 11 years after we finished our very first marathon together.
Regarding the race organization, it was a first class effort. The course was gorgeous, with just a few mild hills and gravel and dirt sections to keep things interesting. Mile markers were easily readable every mile, and there were fluid stations every 1-2 miles (I drank Gatorade exclusively during the race and ate no solid food or gels). Post-race food included hot dogs, peanut butter and jelly sandwiches, and frozen fruit bars that were absolutely delicious. Showers were available, which I took full advantage of.
All finishers were also given a medal and a cute, stuffed bear wearing the number of our finishing place. Here are Dan's and mine below.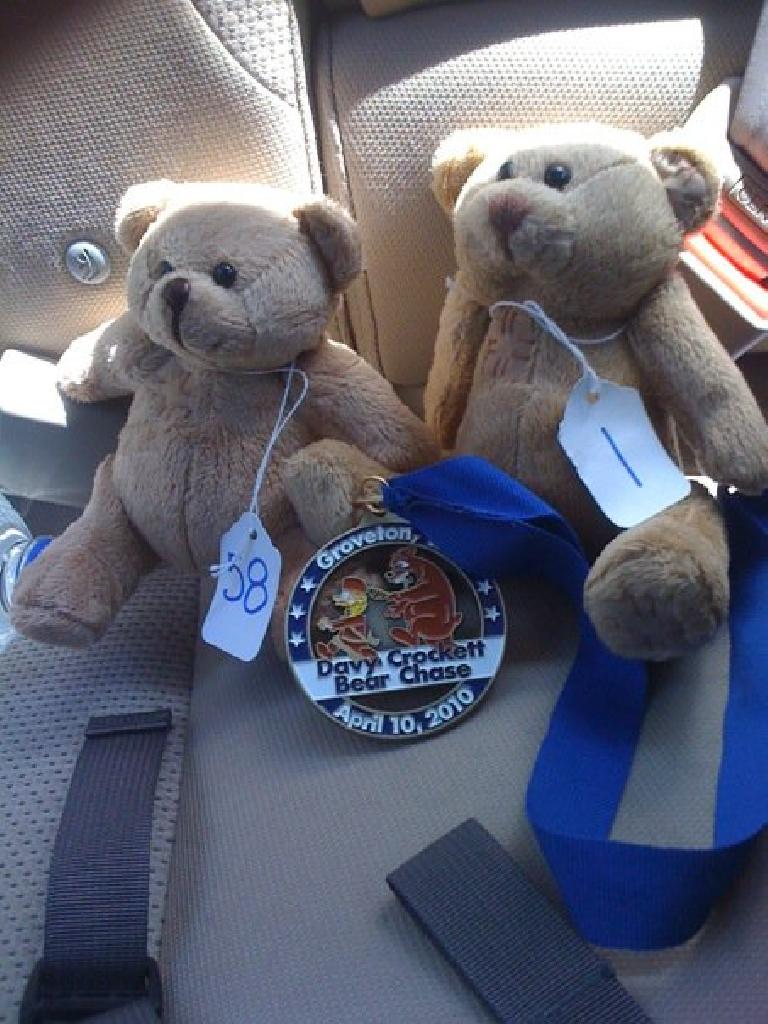 The next day, Dan and I drove to Dallas to run the Big-D Texas Marathon. This one we ran together; with sore legs, there was no way I was going to put together another race-winning effort. One marathon victory in my lifetime is good enough for me.
Time Splits
Mile 1: 7:11
Mile 2: 7:19
Mile 3-4: 14:22 (7:11/mile)
Mile 5: 6:59
Mile 6: 7:08
Mile 7: 6:46
Mile 8: 6:37
Mile 9: 6:46
Mile 10: 6:28
Mile 11: 7:06
Mile 12: 6:54
Mile 13: 7:47 (course was measured not long enough)
Mile 14: 6:42
Mile 15: 7:02
Mile 16: 7:10
Mile 17: 7:13
Mile 18: 7:32
Mile 19: 7:24
Mile 20: 7:11
Mile 21: 7:43
Mile 22: 8:01
Mile 23: 7:29
Mile 24: 8:19
Mile 25: 7:37
Mile 26: 10:41 (course was measured not long enough)
Mile 26.2: 1:xx
First Half: ~1:32
Second Half: ~1:40
Total Time: 3:12:54
Official results