Free State 100k Trail Race
"I have three goals for this race," I declared as Cat, Dan and I hovered around the start area, waiting for the Free State Trail Races to commence. "One, to complete the distance. Two, to run the three laps as evenly as possible. Three, to not feel like I had been beaten to a pulp by the very end."
Not long after, I positioned myself mid-pack in a throng of racers, which I figured would prevent me from starting out too quickly. Energy conservation, I figured, would be the order of the day. After all, the distance I was trying to run was 62 miles.
The downside of this strategy was having to endure claustrophobia for the first couple hours on the course, which was 99% singletrack. The feeling of being in a tight trail of ants was amplified by the jibber-jabbers who insisted on maintaining a conversation with any living creature capable of breathing, mumbling or nodding his head. While no doubt being friendly, I suspect these folks had confused this event with a networking party than a trail race through the woods. Or needed more external stimulation than the rustling of leaves or the sudden presence of an errant boulder in the path. In any case, it made it impossible to feel like one had escaped the bustling 'burbs into nature's bosom.
At least for the first couple hours. By roughly Mile 10 (or halfway through the first lap), I quietly left these socialites at the aid stations. I had a habit of making pit stops like it was a Formula 1 race, stopping no longer than it was necessary to top off my flasks with Succeed Sports Drink and grab fistfuls of food to be munched on while I ran.
Being somewhat more alone left me to ponder the trail conditions. In the first lap, there were numerous stretches of 10-100 feet that looked suitable for a mud-wrestling competition. Sloppy for sure. I added a fourth goal to my pre-race list: don't ever face-plant.
A little under three hours into the race, I caught up to Cat. Despite my anti-social race tendencies, encountering my dear friend was most welcome. She seemed to be happy to see me too.
"Dan passed me after about seven miles and took off," she reported. "He's probably way ahead."
Staying about 10 feet behind Cat, we ticked off the next several miles at roughly 12- and 13-minute per mile pace. This was right at my goal pace for this part of the race, and it felt like we were just cruising along. So much that when we saw the timing mats indicating we had just completed a third of the race, we could hardly believe that we just completed the first lap of 20 miles.
During the second lap we encountered just a handful of racers. A few were from the marathon (26.2-mile) trail race that started an hour after our race. Another was an elderly gent who, apparently, had fond memories of the Smurfs. "Do you remember when Papa Smurf would say, 'Are we there yet?'" he asked not long after we caught up to him. "Papa Smurf lies," Cat wryly replied.
In between the infrequent people sightings and banter about blue-skinned cartoon characters, Cat and I just paid attention to our footing. As muddy as the course seemed the first time around, by the second lap the trail had somehow become three times soggier. Where there were not stretches of loose rocks to boulder-hop (particularly in a stretch right next to Clinton Lake), there was usually inches-deep mud with a voracious appetite for shoes and ankles.
About 7.3 hours into the race, we got a unexpected surprise: Dan. He was actually walking towards us. He heard Cat and me talking about a mile ago, he said, and ultimately decided to wait up for us.
He sounded a bit demoralized. Something about falling three times and headbutting a tree. Poor Dan! He also was struggling with fatigue and was not enjoying the race by this point. Now resolved to complete the 40-mile option and call it a day instead of carrying on for the final loop, he ran with us for a few miles before succumbing to a walk. Ultimately he waved us on and assured us he'd meet us at the finish when we finished the 100k.
Cat and I finished the second loop 38 minutes slower than the first time around. I deemed this "good" considering how much the trail had degraded. After the race, Cat remarked that the second loop was probably the most difficult of the three, at least psychologically.
I was still feeling decent—at least as good as I had hoped by this point—but decided that I was going to run with Cat the rest of the way. I was just enjoying her company too much. If I took off I figured I'd only finish 15-20 minutes earlier—and that's assuming that being a rabbit wouldn't cause me to crash and burn—which just wasn't worth it to me. It's not like I was in the running for any sort of award by this point. Much better to enjoy the time with a great friend.
The third time around was a literal slog-fest. The trail had deteriorated to mud-ridden quagmire, where slipping and sliding was virtually assured and it took zen-like concentration to stay on top of the mud instead of in it. By this point I was looking for puddles to run through instead of merely moist mud, as the latter was stickier and more shoe-sucking.
At Mile 50 I looked down at my Nike Zoom Waffle Racer VIIs and instantly regretted it. Both of them, it turned out, had completely blown apart, with gashes in their fabric on their inward-facing sides extending about five inches. This was a massive failure. It did explain why, however, ever since the early morning I occasionally felt the discomfort of a rock poking into the sides of my feet just above the arches and prompting me to think, "These shoes really could use a little more protection."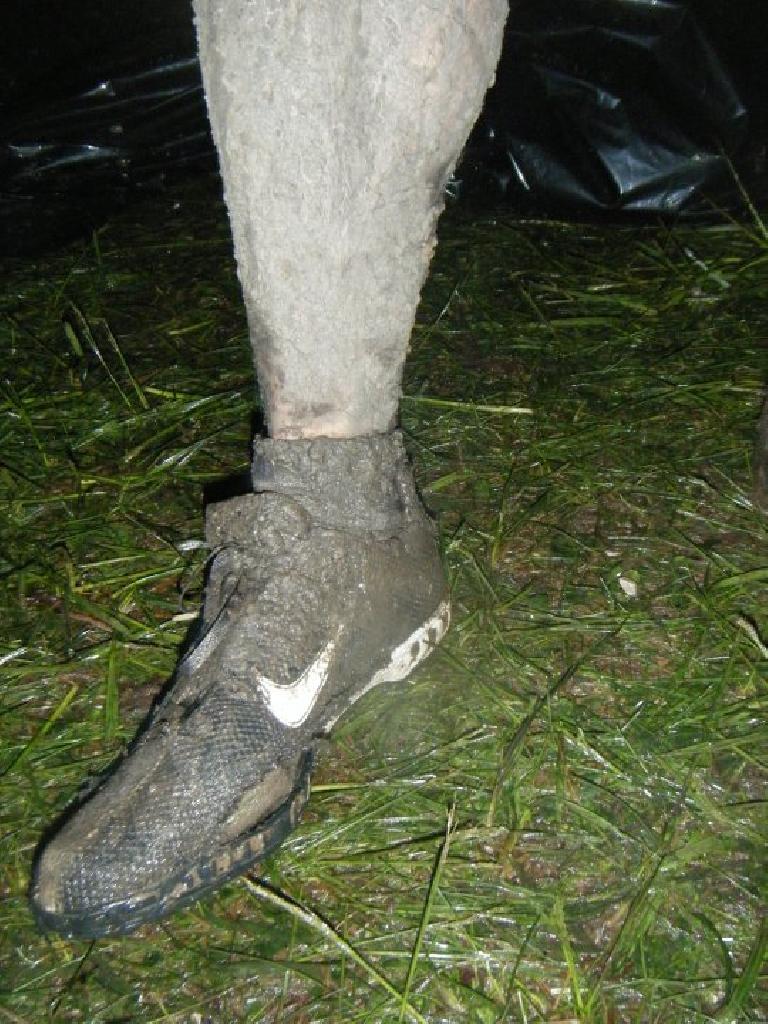 But I figured I had run the last 40 miles with shoes in that state and wasn't worried about them getting me to the end. After all, I mused, the Tarahumara of Northern Mexico ran with strips of rubber strapped to their feet, and surely my higher-tech-but-totally-thrashed shoes were more adequate.
At the second-to-the-last aid station Cat jokingly asked the staff, "Are we last?" To her surprise, the answer was not only "no," but that she was actually the second woman. "And the woman in front of you," said one of the volunteers, "may get disqualified as she got lost and didn't run the course in order. It'll be up to the race director. So you might actually be in first place."
Knowing this little fact seemed to get my friend more focused. For the next couple hours, it seemed like we were running more often (versus speed-walking) than at any point in the last five hours. Unfortunately this seemed to coincide with the onset of higher fatigue in my legs and having to visit a friendly tree every 20-30 minutes or so. My regimen of imbibing 16 ounces of Succeed every hour (or 4 ounces every 15 minutes) had kept me well-hydrated enough to prevent a half-dozen trees from going thirsty. In the last 10 miles, I cut back on drinking Succeed to about six ounces per hour.
Miles 51-54 were my most fatigue-ridden, and although I was able to maintain pace and have enough energy to sprint back up to Cat after each one of my frequent potty stops, I was sighing almost as much as a porn star. At Mile 54 a strong thunderstorm moved in which created an even muddier mess, but I actually found it quite refreshing (apart from the eye stinging) and fatigue no longer was an issue.
With three miles to go, Cat and I had to use lights. By this point, our main concern was not tripping and getting injured. We ran the last several miles with another runner named Derek from Chicago who was wearing a super bright Black Diamond LED headlamp.
Finally, at a sharp turn Cat asked, "Where do we go?" I knew the answer. "Turn right, Cat, and then at the top of that hill is the finish!" I was really excited, especially after looking at my watch.
"Not to add any pressure," I remarked, "but if we can finish within the next two-and-a-half minutes, we will finish under 14 hours." So we picked up the pace and virtually sprinted the last 200 meters or so. Our friends Scott and Celeste—who had run the marathon-distance race in the morning—were there to cheer us on. So was Dan, who made good on his promise to see us at the finish.
The timing mats were taken away by this point due to the rain, but the race staff was there to record our time: 13 hours, 58 minutes and 30 seconds. We had done it.
Results
It turned out that the female runner who got off course was disqualified, making Cat the first woman finisher. This is quite an accomplishment especially when considering that this was the farthest Cat has ever run in the course of a day.
Scott and Celeste had an excellent race as well. Celeste was the third-place woman in the marathon, and Scott was fourth overall. Both really enjoyed running through the mud, with Celeste nostalgically recalling how her mother would make her run through similarly sloppy conditions when she was a kid. She decided that she even enjoyed running more through mud than on pavement.
For me, most of my goals for the race were accomplished. I felt like I had paced myself well and had energy at the end. While I did not achieve even splits for each of the laps, each lap was only about 40 minutes slower than the preceding one, and the deteriorating trail conditions were largely responsible for that. If I had to run another lap, I think I could.
Lastly, I am proud to have kept pace with the first-place woman of the race. Running together with Cat for the last 11 hours of the race was a joy and will rank high among my running memories of the year.
Time Splits
Lap 1: 3:58:17
Lap 2: 4:36:50
Lap 3: 5:23:23
Total time: 13:58:30 (62 miles)
Painting Inspired by the Free State 100k!
A few months later, Leah surprised me with a birthday present: an oil painting of the depicting a tunnel of branches (as photographed by Cat) in the Free State 100km trail race. Isn't it fantastic?