I was enjoying a relaxing Sunday afternoon at Leah's when my cell phone buzzed. Since the name that popped up on the screen was that of my wonderful neighbor Dee, I took the call. The ensuing news was rather alarming.
"There's a HUGE fire right behind our homes!" she exclaimed. "Look outside the window!"
"I'm not home right now," I replied. "I'm over at Leah's."
"You better come back right away and get your stuff together," Dee advised. "In case there is an evacuation…"
On that note, Leah and I practically ran out from her place with me leaping on the motorcycle and her following in her car. On the ride over, I could see smoke billowing in the distance north of Old Town. The amount of smoke actually didn't appear nearly as dense or voluminous as, say, from a nuclear explosion, so I held out hope that all of the homes in the neighborhood would be spared.
I have to say I sort of saw this fire coming. This summer I have witnessed (from miles away) smoke from no less than THREE conflagrations in Northern Colorado, including the one shown below just west of Old Town that caused one million dollars of destruction of an industrial building west of Old Town Fort Collins: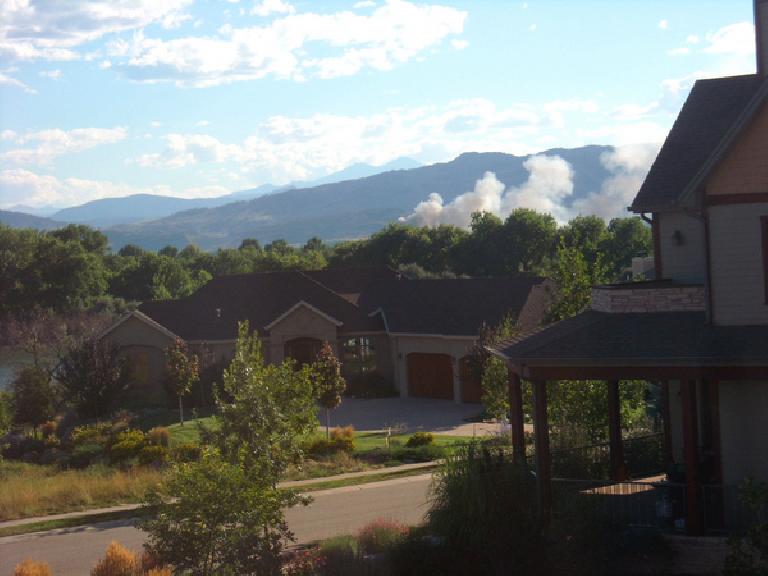 The two other fires included the Four Mile Canyon Fire west of Boulder—the most devastating one in Colorado history—and a fire a week later near Carter Lake west of Loveland.
Last week while going for a run on the trails of Hearthfire I noticed that the undeveloped terrain beyond the greenbelt behind my back yard was much more dry and golden than I've ever seen it at this time of year. Usually it doesn't get that yellowish-brown until February after months of being parched (Fort Collins usually doesn't get a drop of rain from mid-October to mid-March). It reminded me of the East Bay Hills of California in the summer, and I really felt the area was prime for a blaze.
Anyhow, when Leah and I arrived at the neighborhood, the main street to my house was blocked by police cars, firetrucks and ambulances, but there was another route to my home. The first thing I did when I entered the garage was turn on the sprinklers for the back yard.
Fortunately when I looked out the windows, the fire wasn't immediately behind my house, but instead about 500 feet away. Still, eight homes in the neighborhood were threatened, and I was really glad it wasn't any windier. If the breeze picked up just a little, it didn't require the imagination of Oscar Wilde to envision the flames jumping across the street and igniting the land behind my house. In that case, an evacuation would have been necessary for sure.
The fire actually was under control by the fire crews when we arrived, and Dee came over minutes afterward to apologize for causing any alarm. She really didn't have to as I much appreciated the warning she gave. Due to my highly digitalized life that is largely backed up to the Internet there really aren't any material items I had that are irreplaceable in the event of the house going up in flames, but I do have two kittens and their safety was first and foremost on my mind.
As it turned out, the only real damage caused was melted siding on someone's barn behind his house. The land behind the eight threatened homes is also completely black. At least there is no risk of another fire occurring over there for awhile.
Needless to say, we were all relieved.