Buell Blast Tire Replacement
My Buell Blast—a.k.a., the replacement for Goldie the MGB—has proven to be a remarkably reliable, economical, serviceable and fun runabout. In stock form, however, there were two things I wanted to improve: 1) the handlebar height and reach, and 2) the tires. The former was accomplished by installing Bikemaster Superbike handlebars that resulted in a sportier, aggressive appearance more befitting of a sport bike. And this summer, I finally replaced the latter.
The stock Dunlop K330 tires had a fair amount of grip, but their useful life—especially the rear—was atrocious. I was only able to get about 3,800 miles off the rubber rolling at the back of the bike—and I am neither a portly nor heavy-handed rider with a habit of peeling out at every green light. The front tire was able to get about 7,500 miles before the tread bars started showing, which was acceptable, but still not stellar.
A search of the motorcycle forums revealed a couple of superior options for tread life, grip, and appearance: oversized Pirellis front and rear. [Edit December 2018: I now recommend oversized Shinko tires front and rear due to availability. They have the same positive characteristics as the Pirellis I initially wrote about in this article and at lower cost. Read the following sections for more info.] The recommended tire for the front was the Pirelli Diablo Scooter 110/70-16, and for longest life in the rear, a Pirelli ST66 140/70-16. Both tires, according to Internet forum members, should last about 10,000 miles.
The front Pirelli is about half an inch wider than stock, and the rear one a full inch wider. In addition to looking cooler and meatier, their visibly rounder tread profile allows for easier motorcycle leaning and corner diving, and it's not hard to imagine that they result in lower rolling resistance too.
No modifications were necessary to the motorcycle to accommodate either of these tires. (Reportedly, other oversized tires may not fit in the rear—even if they are labeled the same size as my new Pirelli ST66—without some hammering of a bracket which the rear shock is mounted to.)
Even though the front is a different model Pirelli tire than the rear, the Diablo Scooter and ST66 have similar tread patterns and hence seem like a good aesthetic match.
After a couple weeks of riding with both tires, it seems like my average fuel economy has remained the same: about 65 MPG in the summertime.
A final benefit is that in addition to having to be replaced less frequently than the stock Dunlops—saving both time and money right there—the Pirellis cost about $10-20 less than the stock tires! In 2012, I purchased the Diablo Scooter and ST66 tires online for $66 and $76, respectively, and shipping was free and no sales tax was collected.
Let me tell you that flogging the Buell along Centennial Rd. by the Horsetooth Reservoir was even more fun with these two new Italian shoes.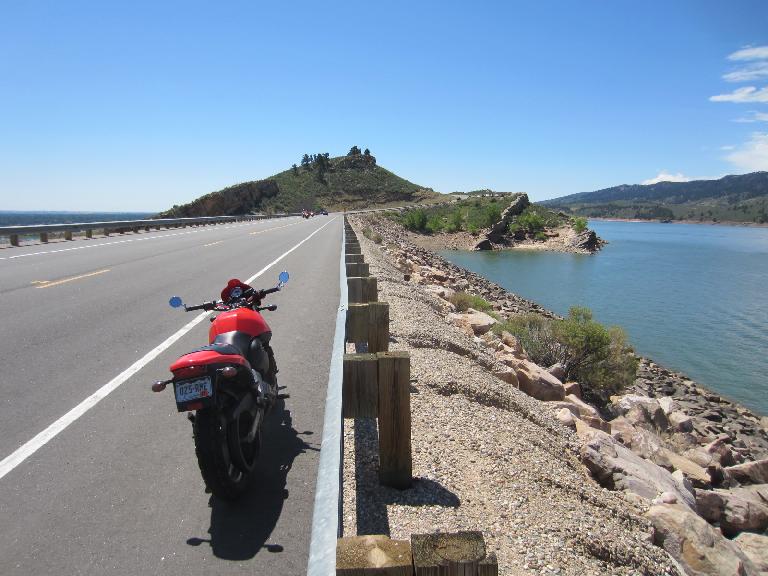 Tire Availability, September 2015
I have been getting reports that the Pirelli ST66 is no longer available, so I reached out to Pirelli USA asking for confirmation. They quickly replied with the following:
Thank you for writing in to us. The ST66 scooter tires were discontinued in the beginning of 2015, and replaced by the Diablo Scooter.

The OE tire for the Blast is the MT75, which was used as original equipment on the bike from 2005-2010 when HD cancelled the Buell bikes. We still make the MT75, and it is the suggested fitment for the bike.
The Pirelli MT75 is not oversized and wears about as quickly as the OEM Dunlops. So I would not recommend those.
I seem to recall that forum members tried using the Diablo Scooter tire (in oversized 140/70-16) on the rear, but were reporting tire life of only 6000 miles. Still, that is 50% longer than the OEM tires.
So one viable possibility is to get Diablo Scooter tires for both front and rear.
Tire Availability, December 2018
Rear Tire
Thanks to reader David Thomas for the following tip!  It sounds like getting the following rear tire by Shinko (a Korean brand made in China) is now the way to go.
So, after much searching, I've found the perfect replacement for the ST66 rear tire. It's the Shinko SR568 (140/70-16). In fact, people are still reporting great tread after 7k+ miles and favorably comparing them to the Diablo Scooter at half the price, essentially. They're well reviewed by Buell riders on Amazon.
Indeed, Amazon reviewer J. McKee wrote,
I bought this for my Buell Blast. Shinko bought out Yokohama. It is a smooth riding tire and it handles the curves wonderfully.
Brandon Smith concurred,
Absolutely love the grip of this tire on my 2008 Buell Blast. Feels just as good as the Pirelli Diablo Scooter tire that's nearly twice the price.
Front Tire
If you get the Shinko SR568 rear tire, you probably would want to get the matching Shinko SR567 110/70-16 front tire.  Amazon reviewer Robert Barber wrote,
Fits well on the front wheel of my 2005 Buell Blast. Tread looks good, time will tell on wear/handling.
Summary
Original Tires
Front: Dunlop K330 100/80-16 (4″ wide, 22″ outside diameter)
7,500 miles before tread wear bars started showing
Rear: Dunlop K330 120/80-16 (4.5″ wide, ~23.5-24″? too hard to measure)
3,800 miles before tread wear bars started showing
New Tires
Front (new #1 choice): Shink SR567 110/70-16. (Latest price on Amazon)
Front (#2 choice): Pirelli Diablo Scooter 110/70-16. Dimensions: 4.5″ wide, 21.5″ outside diameter, 68″ outside circumference. (Latest prices on eBay)
10,000 mile lifespan reported by forum members
Rear (#1 preference): Pirelli ST66 140/70-16 Dimensions: 5.5″ wide, ~23.5″? too hard to measure, 74″ circumference. These were discontinued in January 2015 and are virtually impossible to find anywhere now.
10,000 mile lifespan reported by forum members
Rear (new #1 choice): Shinko SR568 140/70-16. (Latest price on Amazon)
Lifespan speculated to be

well over 7,000 miles

Rear (#2 choice): Pirelli Diablo Scooter 140/70-16. This has similar dimensions and tread pattern as the ST66. (Latest prices on eBay)
6,000 mile lifespan reported by forum members
For a Buell Blast, you would want tires with at least a P maximum speed rating (P=93 MPH, Q=99 MPH, R=106 MPH, etc.) because the Buell Blast's top speed is 94-99 MPH reported by forum members. If you are worried about that, get at least a Q speed rating. Personally I never exceed 80 MPH on my bike since that is already exceeding legal speed limits, so I would be fine with P.
It seems that the Shinkos and Pirellis above have an S speed rating of 112 MPH.