At last, the replacement for my 1969 MGB is here. It's red, modern, and has two less wheels. And it's a blast.
Make that a 2003 Buell Blast. What's a Buell, you ask? It's Harley-Davidson's sport bike division, founded by the legendary Erik Buell. Mr. Buell was a University of Pittsburgh-educated engineer for Harley-Davidson in the early 80s and was a pioneer in modern race bike technology, responsible for innovations such as full fairings and engines that were fully stressed members of the motorcycle frame.
He also helped usher an era of modern-day "naked" sport bikes in the late 90s—sporting motorcycles devoid of pricey, superfluous bodywork to reduce weight, ease maintenance and show off the engine. The Blast, weighing in at just 360 pounds, fits that genre.
That the Buell handles really well, has a relatively small engine, and provides lots of open-air thrills help it be the spiritual successor of my MGB quite nicely. Yet, there are some marked differences, as you'd expect in any car-to-motorcycle comparison:
The Buell (used) cost <60% of what the MG did. Like the MG (which I actually sold for more than what I bought it for despite owning it for 12 years), it should fully keep its resale value, making for cheap thrills and staying in line with the early retirement plan.
Insurance is <50% that of the MG's ($134 vs. ~$280/year). Colorado licensing is about the same for each (~$25/year, I think).
The Buell has three fewer pistons, just 28% the engine displacement (492cc vs. 1798cc) and 37% the horsepower of the MGB, but can accelerate from 0-60 miles per hour in about half the time.
Despite its quickness, it should get about three times the gas mileage (~70 mpg)! That's on regular fuel, too.
With an automatic choke, electronic ignition, single spark plug, air cooling (no radiator), and drivebelt (not a chain that most motorcycle manufacturers use aside from Harley), the Buell should be MUCH more reliable than the MG was and require less maintenance. It won't even need valve adjustments, ever.
Motorcycles, of course, are some of the few vehicles that are even less safe than the MG. There are several things that can be done to mitigate the risks and I will be doing them.
My particular Buell was completely stock, except the first owner had stripped off the yellow decals (the motorcycle looks cleaner this way as you can see from the photos). The battery is new, too.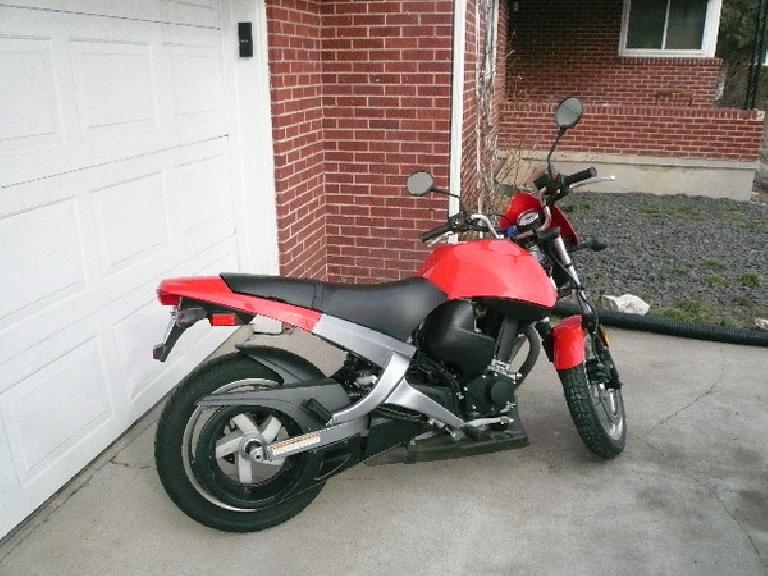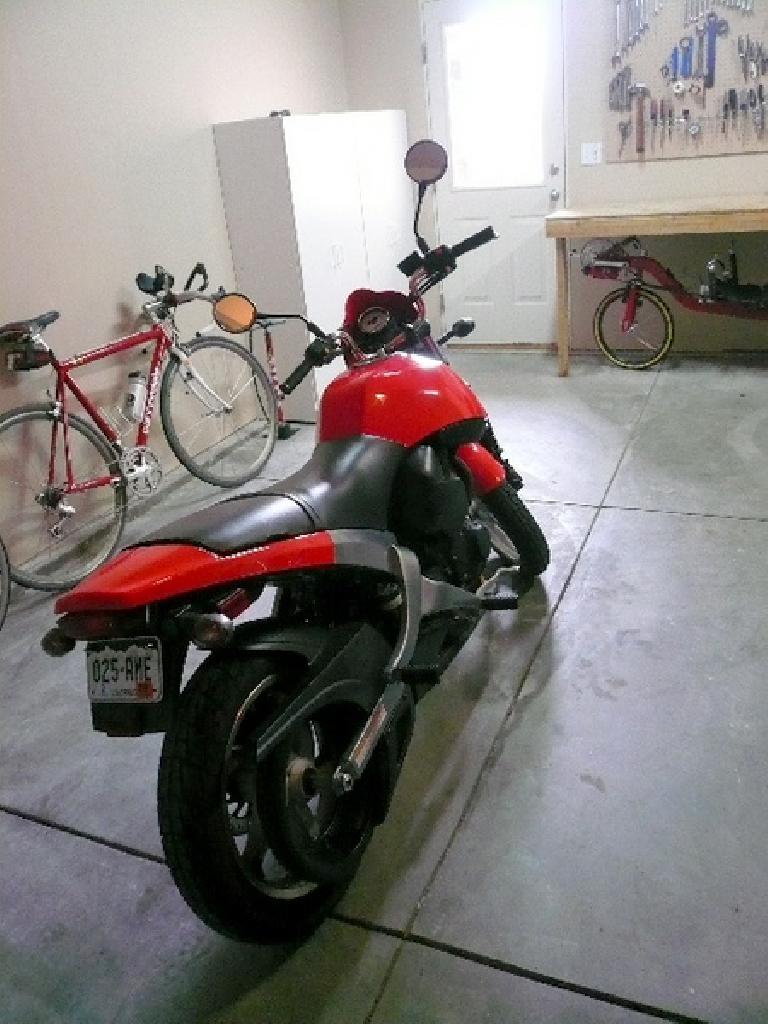 As I write this, it has just 1764 miles on it. That's about as close to brand new one can get for a "used" vehicle. Heck, every one of my bicycles has more miles than that.
Speaking of its history, the story goes like this. The motorcycle was first purchased by a woman in Kansas, whose parents owned the dealership it was purchased and serviced at. She rode it only 66 miles before selling it to her friend Beth, the second and last owner of the bike.
Beth—now an engineer in Boulder for Lockheed Martin/NASA—worked at a Harley dealership, so the Buell was well-serviced. She only dropped it once, resulting in a trivial scratch to the rear of the black, right-hand, plastic mirror. She rode the bike while in college in Kansas City on a regular basis, and also would ride with her dad (who has a Harley) and some Harley guys on occasion.
She kept the bike in such good shape that it won first place in a motorcycle show among Harley dudes. She was selling the bike due to changing life circumstances (e.g., moving and traveling a lot for her job and getting married in June). She also might be interested in getting a bigger bike in the future.
I hope to similarly take good care of the bike during the time I have it (1-4 years? I still have the bike in 2017, 9 years after I wrote this post!), and of course, not get into any accidents.
One more matter is what to call it (keeping in my tradition of naming my machines). From the name "Buell" and to differentiate it from my buddy Bue (Adrian & Evelyn's "boy" that I have dog-sat), it'll be called "Boo."
Fortunately, spring is well on its way with plenty of opportunities to get in some more ride time, which I'll take nice and slow for the next couple months. Boo might not be quite as crazy-fast as some of the 600-1000cc crotch rockets out there, but it's still one of the quickest vehicles that's ever graced my garage—a few milliseconds slower than the former Porsche 944 Turbo from 0-60 mph, but on par with the BMW Z3. That should be quick enough for just about any situation.
Updated Photo (2009)
I swapped out the handlebars for a more aggressive riding position in September 2009. They—and the chrome bar-end mirrors I installed at the same time—are sweet.
Wish I had installed these before my Colorado-Oklahoma motorcycle trip, as enjoyable as that trip was even with the stock handlebars and mirrors.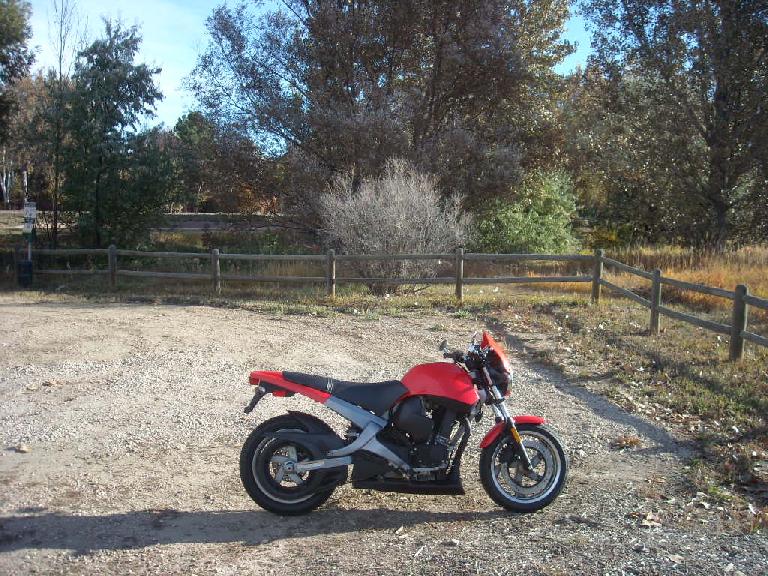 Another Photo (2015)
I still have the Buell! Here she is on a beautiful fall day in October 2015. This was the first time I rode her since May, since I had numb hands from the Trans Am Bike Race and then I lived part-time in St. Louis.
In the picture, you can sort of see the much longer lasting Pirellis that I installed in 2012. Along with the handlebar and bar-end mirror swap described above, I highly recommend this tire upgrade for the Blast as there is literally no downside.