Welcome to the page dedicated to Lina, the brand new Atlanta Metallic Blue '00 BMW Z3 2.3 I had from February 2000 to February 2003. She's German but the vintage British sports car spirit was there. In fact, as BMW even owned the MG marque for much of the 90's, we can even consider her a distant cousin of the MGF!
In many ways, she was similar to Goldie, with similar length, driving position, round gauges, wooden center console and gear-shift knob. However, the melodious and torquey 2.5L inline-6, toggle-switch-like stick and so-easy-to-put-up-or-down power top put her in a class of her own. What beautiful sounds she made! This was vintage sports car motoring at its finest!
Lina's 15 Words of Fame
Yes, it's true, Lina's famous! Well, not really, although her collector's license plates have gotten special mention in the Wheels section of the Northern California Ang Newspapers. They benefit the National Arts Council.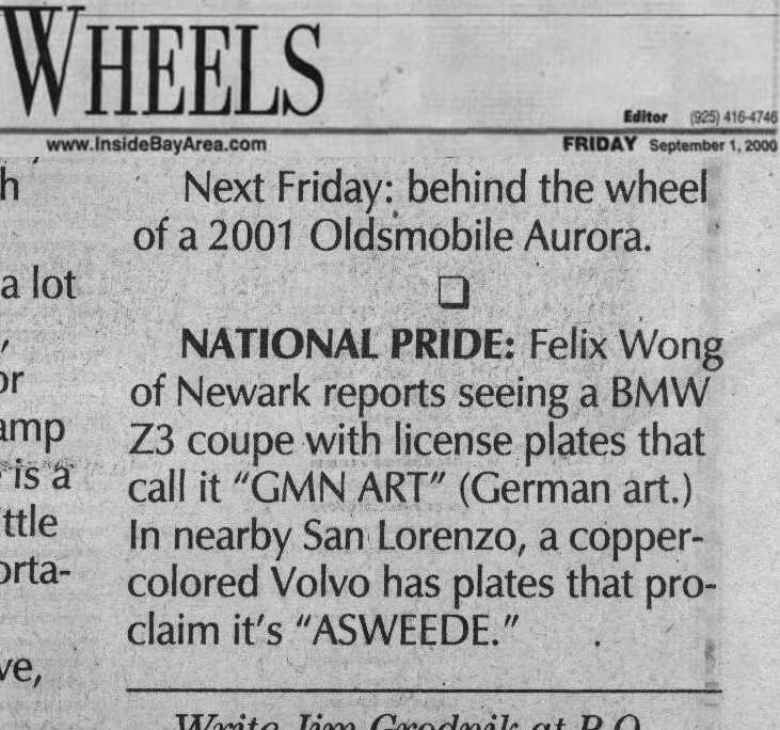 So why "German art"? Because that's what she is!
Pretty Good Gas Mileage
Despite having a six-cylinder engine, Lina did not get terrible gas mileage. Most of the time she averaged around 26 MPG for mixed city/highway driving. She even achieved 31 mpg going down from Yosemite to the Bay Area once.
Official 2000 BMW Z3 Promotional Material
2000 BMW Z3 & M Roadster Technical Guide (scanned PDF, 3.2 MB)
2000 BMW Z3 Roadster Brochure, partial (scanned PDF, 2.0 MB)