It was Sunday and time to head down to Marathon. No, not a 26.2-mile run, but a town named Marathon in Florida about halfway between Key Largo and Key West. Despite being just 110 miles south of Miami, it took about three hours to drive down there due to the horizontal traffic lights glowing red with about the frequency of a metronome set to Beethoven's Moonlight Sonata, the low speed limits and the putzy grey-haired drivers. But it was well worth to meet up with Kelly and her family, who were renting a home right off a harbor for vacation. Together we soaked in the sun, splashed in blue-green water and even felt some wind through our hair.
We first met up at Bahia Honda State Park, where I found them tanning on the beach. Kelly seemed happy to see me particularly because she wanted someone to go snorkeling with and I was happy to oblige. We put on snorkeling gear including giant fins that made us feel like sharks. Kelly wore a wetsuit even though the water temperature was perfect for swimming, but she being something of a weather wimp, the body-hugging neoprene kept her from shivering and complaining. This was my very first time doing this particular water activity, and I enjoyed looking at corral, plant life and fishies underwater while breathing from a tube while drifting in a prone position.
The day after, we did another activity that would be a first for both Kelly and me: jet skiing! Jim and Sally—who had rented jet skis the week prior in the same area we did—expressed dismay that they were only allowed to venture out into the open waters away from the shore instead of along the shore, but this did not dissuade us. In fact, we reveled in accelerating from 2 to 25 mph in no time flat, and then opening the throttle even more to attain speeds up to 44 mph. Having only been in boats, canoes and kayaks before, I was astonished at how quickly these Yamahas could change velocity. They were akin to motorcycles for the water, except that to turn required no counter-steering or shifting of weight, just turning the handlebars while staying on the throttle. (Personal watercraft such as this cannot turn without assistance from the motor.)
Kelly soon declared this was the most fun activity she did all weekend, and I think the same went for her little buddy Flat Stanley, a paper cutout she had to carry around and take pictures of doing cool and interesting things for her nephew and his class.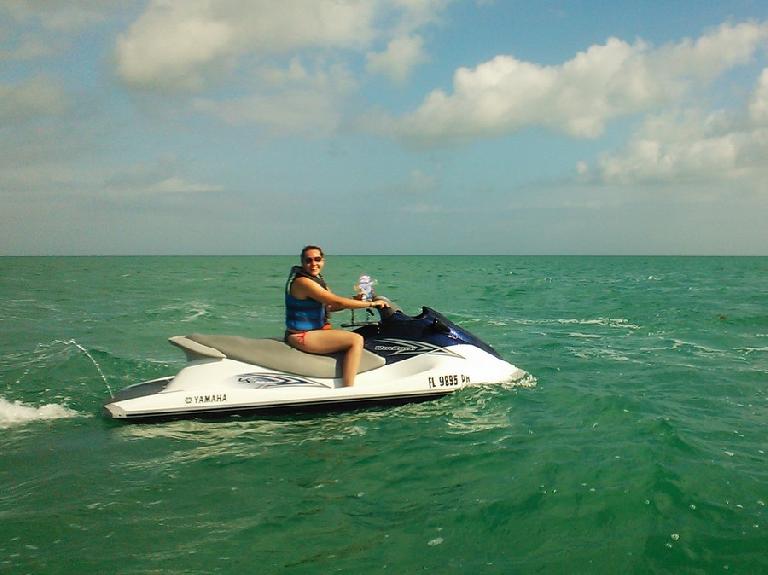 She laminated him before the trip. Good call.
Later that day, Kelly and Sally went kayaking from the house against rapidly flowing water while Jim and I hung out and talked about cars. Then we all went to Sombrero Beach to watch a marvelous sunset.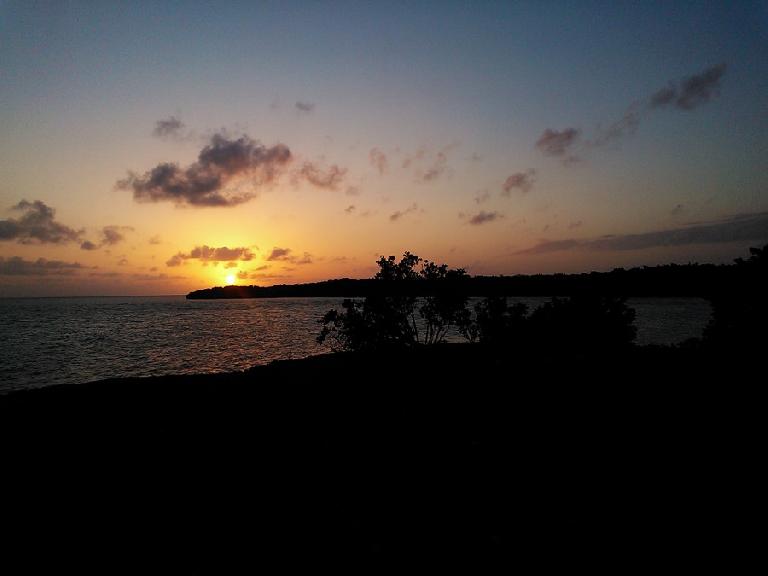 At the beach there was a newly minted bride in a wedding dress getting photos taken in the water. Meanwhile, Flat Stanley was getting his photos taken being tied to a tree. But besides the last Florida sunset we'd see on this trip, I think the highlight for Kelly on this evening was encountering four little doggies that resembled miniature versions of her collie Kona: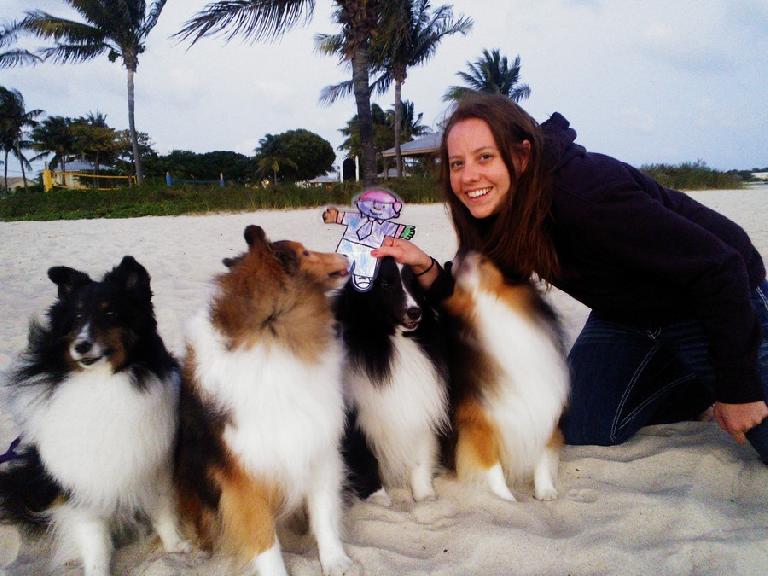 Flat Stanley would have lots of photos and stories of jet skis, sand and furry animals to share with his class when he got back to Colorado.