Our trip of Copenhagen got off to a rough spot the moment we arrived at the airport.
"Is the metro closed?" asked another arrivee to a CPH employee standing guard to the would-be training connection area. "That's what the sign says, doesn't it?" she tersely replied. Then when pressed she reluctantly gave incomplete information to catch an over-flowing bus.
When we reached the center of town, there was construction cranes and barriers that obscured landmarks we were counting on noticing in order to find our sleeping quarters, and a supposedly easy ten-minute walk turned into a sweat-inducing thirty-minute one while towing our luggage. While searching we passed by this car, which looked rather ominous: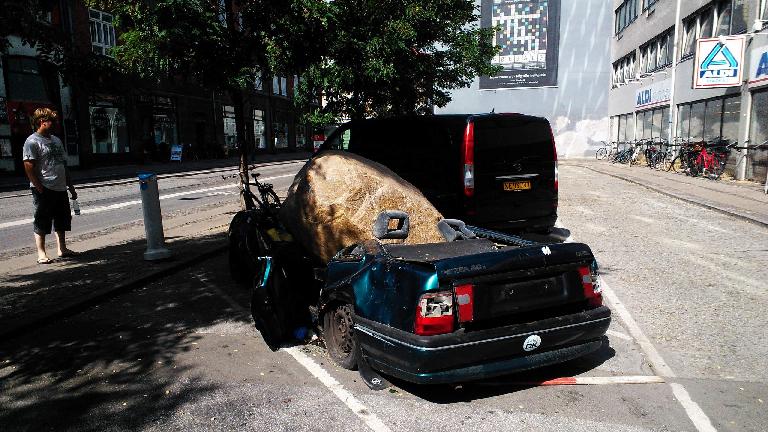 Sleeping at night would have also been impossible due to the noise (construction crews commenced work at 6:00 a.m.!). Fortunately, I had the foresight to bring earplugs.
Our visit to the Denmark capital city would get better from here.
First, the bicycling infrastructure was brilliant for such a large city, with all major roads (and most minor roads) having dedicated bicycle lanes. We rented city bikes equipped with integrated locks and baskets for roughly $13/day, and using them visited the New Harbor, Little Mermaid Statue, the Viking Museum, the Savior's Church (which we climbed to the top for an awesome view of the city), and Christiania.
The latter deserves special mention for being something of a hippie commune that preached openness to all. But ironically, signs were posted all over the place forbidding fairly harmless behavior: taking photos, owning vehicles, etc. (On the other hand, smoking pot almost seemed to be encouraged.) Upon leaving, one person (a resident?) was running through the crowd in hot pursuit by, presumably, some Christiania authorities. Definitely a weird place, one that did not improve my impression of Copenhagen.
On the other hand, the museums I visited on the last day—the David Collection and Thorvaldsen Museum did. And so did a walk over to a canal, even though it involved passing by a hooker being solicited by a middle-aged man.
It was nighttime and as we enjoyed of the city lights reflecting over the water, a group of mostly young men, but also a few young women, meandered over. They then proceded to strip down to their underwear and jumped or did backflips into the canal. They gave the night a festive atmosphere.
I didn't jump in and join them, but it was my last nighttime memory of the city. Certainly a better memory than, say, a compact car being crushed by a giant boulder.