"Let's go to the beach," said Katia while we were in land-locked Aix-en-Provence. So we checked with the local tourism office and learned that while the nearest beaches were in Marseilles, the one in Cassis was more picturesque and cleaner. Cassis wasn't too much farther either: a half-hour easterly train ride tacked on to the half-hour bus ride from the Aix-en-Provence Gare Routière (bus station) to the St. Charles transportation hub of Marseilles.
We successfully navigated the bus and train system on a particularly hot day, and along with scores of other sand-and-sun-seeking visitors, made our way to the beach of Cassis. When we arrived, we saw that it was densely packed with umbrellas plopped in the sand like oversized mushrooms.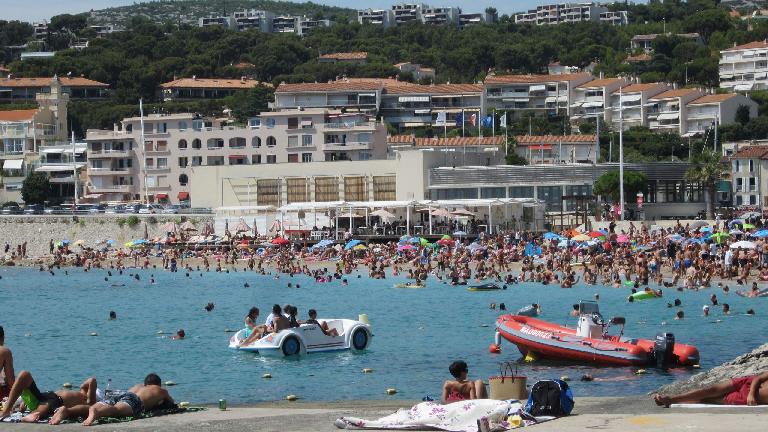 Locals were frolicking in the water, or on inflatable vessels and even surfboards. Most were content to simply lie and bask in the sun, with quite a few of the women being topless.
Katia and I found a corner by some boulders a little bit aways from the throng (and throngs) of people, and also immersed ourselves in the water a number of times. The H2O was blue, clean, and warm. It was clear enough that you could see the bottom, and a rectangula area was marked by a line of buoys strictly for swimming. I did a few laps in the salt water.
"Cassis has been my favorite place so far," said Katia towards the end of the evening. She loves the beach all right.