"What's in Oviedo?" Vicky asked Juan Carlos in Woody Allen's Spain-inspired movie, Vicky Cristina Barcelona.
"I go to see a sculpture that is very inspiring to me, very beautiful sculpture. You'll love it."
I take it that Javier Bardem's character was not referring to neither the statue of Woody Allen nor Mufalda, an Argentine comic book character. Nevertheless, I stopped by and took selfies with both.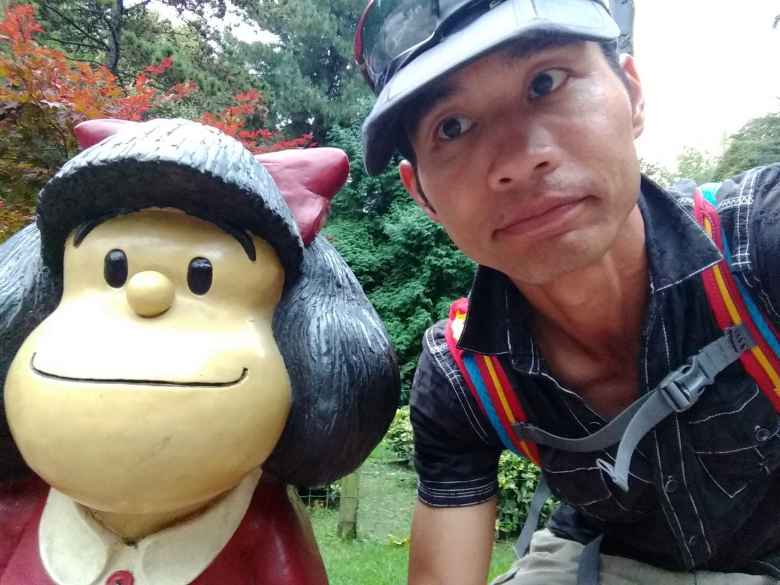 I also stopped by the Hotel de las Reconquistas, which was the 5-star establishment that Juan Antonio took Vicky and Cristina during their weekend in Oviedo. But as I was not having a dalliance with two gorgeous young Americans, I stayed at a decidedly more humble hotel: the three-star Hotel Favila only two blocks away.
This hotel, despite costing only 28 euros for a room for the night, was comfortable and chic in a typical small-but-modern-and-charming European kind of way. Moreover, there was a restaurant downstairs with no written menu per se, but did have menú del día options that you went over with the waiter. (Good thing I speak Spanish.)
This dinner—as I chronicled in my Food in Spain post—was not only tasty and inexpensive, but abundant in alcohol. By the night's end I was a tad tipsy.
Unlike for Vicky, Cristina and Javier, there would be no dalliances tonight for me. I had to wake up early in the morning to continue on the Camino Primitivo. One day I hope to return to this charming city without the obligation of having to walk two or three dozen miles each day.