Camino de Santiago Days 12-17 (Primitivo)
I took these notes while hiking the Camino de Santiago by dictating into Microsoft Word on my smartphone. So if the narrative sounds a little dry, that is why.
Day 12: Oviedo to Salas
Distance: 31 miles (50 km)
In darkness, I walked out of Oviedo and found the Camino Primitivo. As advertised, it was very hilly, but there was lot more cement and pavement than I expected. Mud was not a big problem the entire day.
However, I was moving pretty slowly. I encountered quite a few pilgrims and I was moving no quicker than they were. I just did not seem to have much energy.
At one point during the afternoon, there was an older Spanish lady picking apples. She then turned and stopped me to generously hand me some. That was particularly helpful as I had just gotten lost for about twenty minutes, and the apples gave me energy while going up a very steep hill after re-finding the route.
An hour later, I encountered two French pilgrims named Stephanie and Bridget. At first we were speaking Spanish, but they were not too comfortable speaking that so eventually they asked me if I spoke English. We spoke in English for a couple minutes, but after I learned they were from France, I started speaking with them in French instead. We talked for half an hour. They complimented me on my French and I could understand almost everything they were saying or asking. Apparently, Stephanie had been taking a week or two off every October to hike segments of the Camino de Santiago.
However, with more than four kilometers to go, the two women decided to walk over to a parallel road and hitchhike instead. It was already 7 p.m. and Stephanie felt that was too late for them to be out here.
I thus carried on the final couple miles alone before checking into Hotel Soto in Salas.
Day 13: Salas to Pola de Allande
Distance: 32 miles (51 km)
I started in darkness again at 7:10 a.m. It was very drizzly and dark as I wandered out of Salas.
Three fast Spaniards caught up to me. Their names were Arturo, Jesús, and José Luíz. Jesús was 61 years old and had hiked the Camino ten times. He had a beer belly and was carrying 12 kilos, but nevertheless was very fast. This was his first time he was hiking the Primitivo.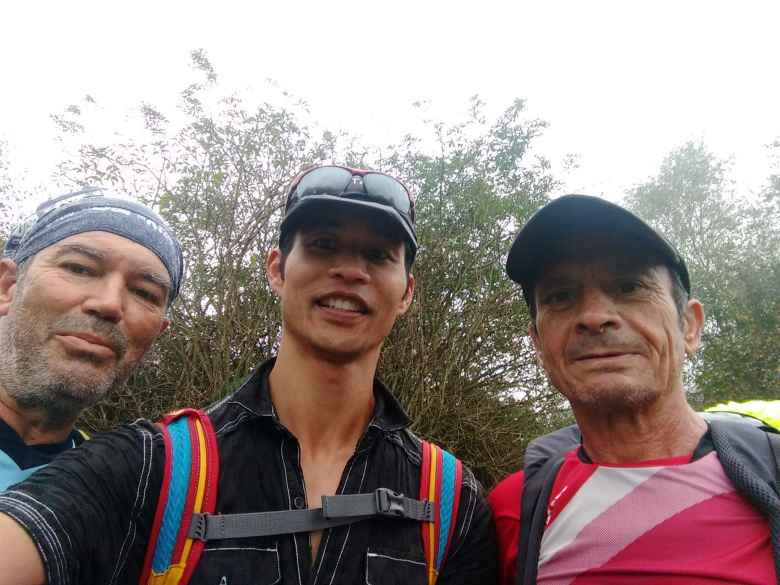 The three men had started in Oviedo two days ago. José Luíz had run 23 marathons including the New York Marathon. His best time was 3 hours and 15 minutes. We went separate ways after reaching a town to resupply in.
I felt sluggish for most of the day until chugging a Coca-cola at Mile 20. Then I felt a night and day difference in terms of energy.
The distance between towns was very long again and I decided to carry on until Pola de Allande. It was slightly farther than I thought and as it was getting late, I ended up walking and then running down the highway instead of taking the official trail that weaved over and beside it.
I arrived in Pola de Allande at 8:15 p.m. I checked into a hotel where the owner told me that his son was attending an Ivy League university (Brown, I think) in the States to study business.
Overall, it was not a bad day despite the sun never coming out. Earlier, I also encountered one of the most friendliest and talkative cats I have ever met. She kept walking in front of me of my feet so I would have to stop. Eventually I reached down a gave her some affection. She was so cute.
I also encountered more cows than cars that morning. At one point, I had to stop and step aside as there were over a dozen cows who were walking towards and then past me on the trail, single-file. That was very surreal.
Day 14: Pola de Allande to Grandas de Salime
Distance: 27 miles (43 km)
Today had very long stretches between towns. The first town I got to was around 12:30 p.m. To resupply with food and water, I first stopped by a tobacco shop, but it was closed. Then I walked over to a restaurant. Even though it was 12:45 p.m., the employees told me that lunch would not be ready for another half hour at 1:15 p.m.
At that restaurant, I met a Michael from Slovakia. As he spoke English but no Spanish, I told him about the situation at the restaurant.
We then went over to another bar where I asked if they had food. The bartender replied affirmatively and handed me a menu. I then ordered a bocadillo de pollo (chicken sandwich). The bartender went out back to prepare it.
But 10 minutes later, he returned to tell me that they they ran out of bread! I asked him if I could order anything else from the menu, but he replied that everything on there needed bread. Therefore, I ended up ordering a coke and buying some chips and ice cream before proceeding on. I think Michael ended up doing the same, but I left before he did as it sounded like he wasn't planning on doing the same amount of mileage I was. In fact, he started a day before me in Oviedo and camped in the wild at the site of some ancient hospitals (that was one of the camino options other than through Pola de Allande), and seemed impressed at the mileage I was doing.
I then went up another long and steep climb and then followed signs for Camino de Santiago – Desfile Provisional. The cellular signal here was too weak for internet access and I did not really know what desfile provisioinal meant. I guessed it was some sort of provisional way that took pilgrims off the the highway.
It was only was only a couple hours later that that I realized I was going north of the official trail that was on my map. I then had a solid cellular signal again and then learned from the Word Reference app that desvío meant detour or long-cut. In fact, comments (now removed) for the segment on caminodesantiago.consumer.es said it was four kilometers longer than the official route.
Shortly after, a Spanish peregrino with hiking poles ran past me. He was in a huff as he realized that this detour added on many kilometers. He asked me how many and I told him what I had read. He thanked me before hurrying off.
Once I got to the next town, I had a Coke at Hotel Las Grandas in Berducedo and talked with a Spaniard name Edward. He was very friendly and was was telling me about his travels through the United States and how he wants to take his grandmother to see the Grand Canyon. He really likes San Francisco and New York, but didn't like Los Angeles.
After I left the bar, right away I encountered Michael again. He told me that initially he wasn't planning on walking this far, but after I told him how far I was planning to hike, he was inspired and decided to try it. He unwittingly took the "long-cut" too!
Michael and I then walked the final four kilometers to Grandas de Salime. We checked into an albergue and then went to a bar to try to buy dinner. But they had no food. So we just had beer and instead bought groceries at a corner market instead.
Day 15: Grandas de Salime to O Cadavo
Distance: 33 (53 km)
I was out at the hostel by 6:20 a.m. after getting a good night's sleep aided by using earplugs. It was very cold in the morning and I backtracked almost a quarter mile in order to take the highway instead of some of the trails. This kept my feet drier.
There were astounding views because of the fog and windmills. I would say this strech had the best land vistas of any part of my camino.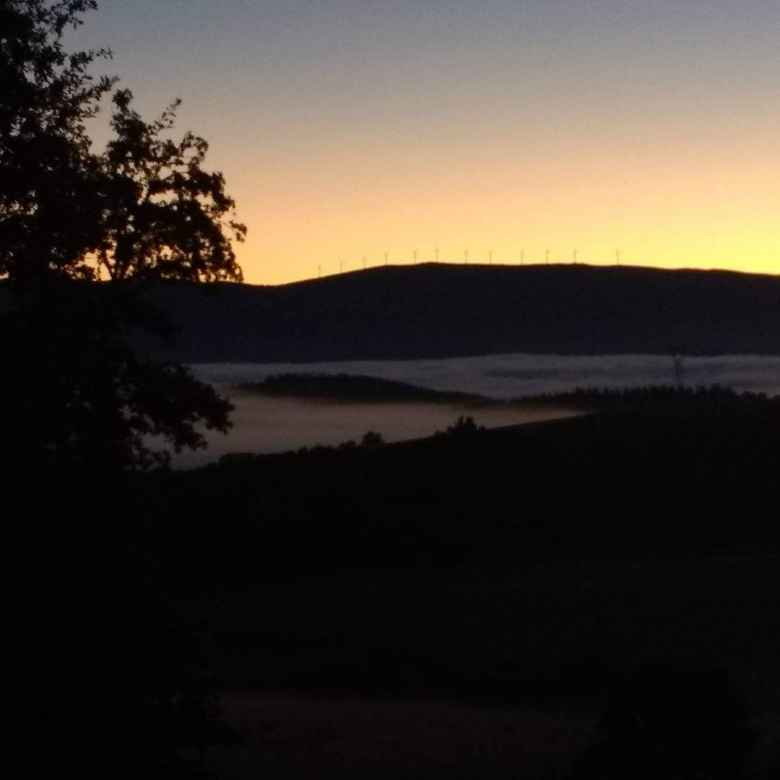 There are also some unexpected climbs and the first service point was after 17 miles. At least it had a real supermarket and I bought a lot of food there.
Afterward was yet another long slog and fortunately there was a bar with about five or six miles to go where I could get a Coke. The waitress also gave me some free chips, which was very generous of her. I also bought some bottled water here as the water in the bar was not potable.
It was getting kind of late so I ran some of the last couple miles into the town O Cadavo. The town was a surprise because from even a half-mile out it look like there were just a few buildings. But it had all services including the hotel I checked into and a supermarket right across the street.
Day 16: O Cadavo to Lugo
Distance: 21 miles (34 km)
I started the day late, maybe at around 8:45 a.m. This was because it was going to be a short day before Lugo—only twenty miles. This is because the next town with hotels was another 12 or so miles.
There were a lot of pilgrims. I saw at least 20 of them within the first couple hours.
Midway through the hike, I encountered a break area that was unattended but had vending machines in Gondar. There were lots of pilgrims eating there.
From the vending machines, I bought a 550 milliliter Coke for 1.20 euros a bocadillo (Spanish sandwich) with chicken and red bell peppers for only 2 euros.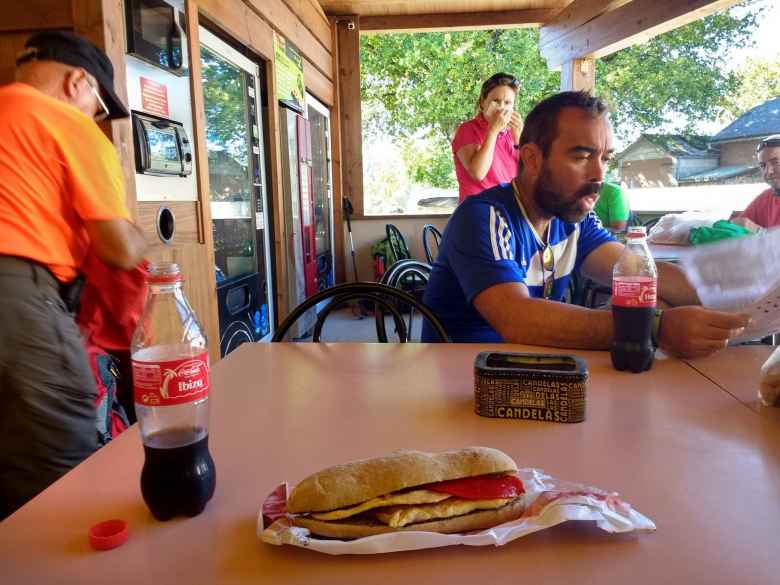 On the last leg to Lugo, I encountered a Spaniard named Juan Carlos. When he learned I was American, he asked me what my opinion was about Donald Trump. I quickly replied and then turned the question on him about what he thought of the situation in Catalunya, where Catalunyans had just voted for independence from Spain.
For almost a whole hour, he even went on a monologue on his thoughts of the political situation. I summarized his thoughts in this Facebook comment:
Politicians here are corrupt, there's a growing gap between the rich and the poor, Catalunya is the wealthiest province in Spain, it has its own cultural identity and language much like Basque country, people in Catalunya want more representation, their parents were the ones who voted for reforms in 1978 but this is a new generation of people, those parents lived during the years of Franco, he himself lives in the province of Galicia but has cousins who live in Barcelona, there will be no revolution, the only solution is to negotiate, what would the US do if Texas voted to secede, blah blah, yada yada
He also told me about how it was a holiday in Galicia from October 4th to 12th including the day I was to arrive in Santiago. He said there would be a lot of tourists and most of the hotels will be booked.
He lives nearby in Castroverde and started from there at 11 a.m. But he had hiked sections of the Camino de Santiago before, including from France. He kept his pilgrim's passport and had it stamped in following years.
In Lugo, we stopped at a bar to get a stamp with exactly 100 kilometers to go. At the bar, the baristas said all lodging was likely booked. However, on booking.com I managed to find a nice bed and breakfast which I booked immediately at the bar. It was near the Roman wall.
The owner was very nice. I loved her B&B and I had the entire fifth floor to myself.
Later at night, I went to looking for food including out of street fair where I bought a couple of churros and some french fries. There also was a supermarket nearby that was open.
There was a big party-like atmosphere in the center of town. The Roman wall was fascinating, especially since it's supposed to be the only complete Roman wall that still exists in the world.
I wrote another short article on Lugo (with photos) here.
Day 17: Lugo to Melide
Distance: 30 miles (48 km)
Started the day at 6:15 a.m. There was very little traffic and it was very foggy.
There were more animals than cars or people. In fact, I only saw one pilgrim all day.
I wasn't exactly bored, but I did listen to some music this time using earbuds as I did on Saturday (Day 15). Today I listened to Spanish songs by Ricky Martin.
There was a dearth of services once again. At least at around Mile 13 or maybe 15, there was a house that offered fruit and cold drinks for a donativo (donation). I talked to a lady there briefly who was working on the house, and she complimented my Spanish.
Then I met a very friendly Kitty. She kept grabbing onto my leg and eventually I took about 10 minutes off the trail to play with her. Then her dog friend came over. There also were lots of other little kitties on the area. Other animals I encountered included a goose and a donkey.
I got to Melide a just after 5 p.m. and checked into a hotel called Pensión el Molino. Then I went to a restaurant that Tori recommended as she was in the same town earlier, about four hours ago.
I got a tuna pizza and beer. It was very good.