Camino de Santiago Days 18-19 (Francés)
I took these notes while hiking the Camino de Santiago by dictating into Microsoft Word on my smartphone. So if the narrative sounds a little dry, that is why.
Day 18: Melide to O Pedrouzo
Distance: 22 miles (33 km)
As expected, there were a lot more pilgrims on this day than on any of my first 17, now that I was on the most popular Camino de Santiago route: the Camino Francés (the French Way). From the instant I left the pension in Melide, I encountered peregrinos.
Some I encountered throughout the morning. One was a Korean woman named Jane, who had hiked the whole Camino Francés before in six weeks. Now she was doing it again with a friend of hers from Korea. I forgot when and where they started.
The terrain was very easy—much easier than that of the Camino Primitivo or Del Note—and therefore it was a very mellow day. It did start to get kind of warm in the afternoon. Still, the 22 miles I walked today went by pretty quickly.
I arrived to the town of O Pedrouzo about 20 minutes after Tori did. Hooray—we were finally in the same town. She had checked into a pension about half a mile down the road from the one I checked into.
After hand washing some clothes and taking a shower, I walked down to the center of O Pedrouzo where I found Tori waiting for me on a bench. We then ate dinner at a restaurant called Taste the Way.
Day 19: O Pedrouzo to Santiago de Compostela
Distance: 15 miles (24 km)
Tori and I met up at 8:15 a.m. and after having breakfast at a café, we started on our way. There were scores of pilgrims today.
Almost immediately, I encountered a familiar face. It was Juan Carlos, whom I had walked to Lugo with a couple days prior.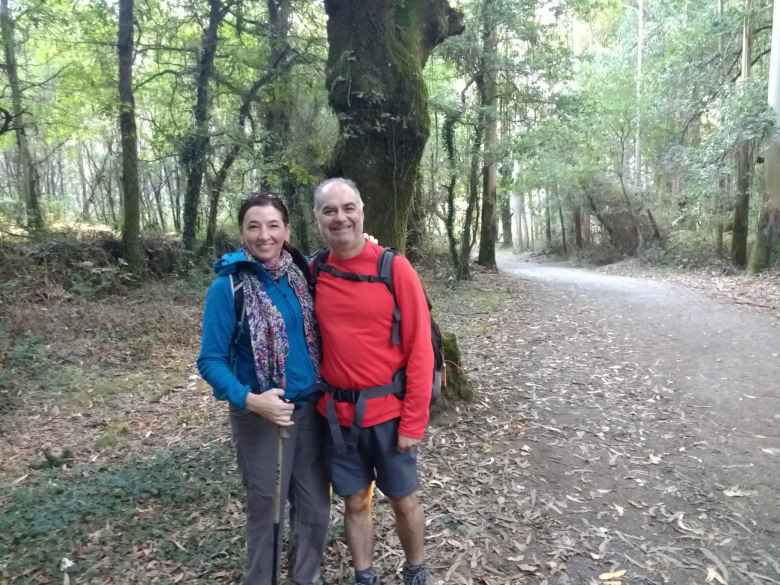 He and I chatted for a bit in Spanish. After arriving in Santiago, he was planning on continuing on to the coast to Muxía, Spain, which he said was super beautiful.
The terrain today was once again was very flat and easy, and we stopped only once at a bar to have some drinks. I had a delicious berry drink served in a large wine glass.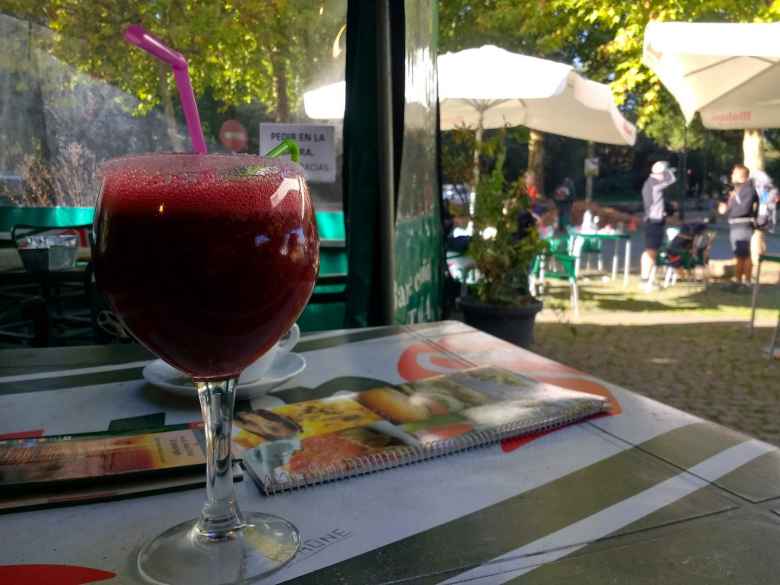 The distance to Santiago was a little bit farther than we expected. We are expecting 12 miles, but it turned out to be 14.
It was exciting to be walking the streets of Santiago de Compostela. I had been anticipating this day since starting my camino 20 days ago—actually, you could say I had been anticipating this day for years—and here we were!
We arrived at the Cathedral at Santiago—the official end of the Camino de Santiago—shortly after 3 p.m.
Then we checked into the nearby hotel that Tori had booked for the two of us, and then went to the post office accross the street to retrieve Tori's bag that she had stored there for a small fee.
We briefly went to the pilgrims office to inquire about getting a certificate. There was a line of about two hours long, so I decided that I would return on Sunday morning to try to get that certificate. Below is a photo of the certificates I received when I did return.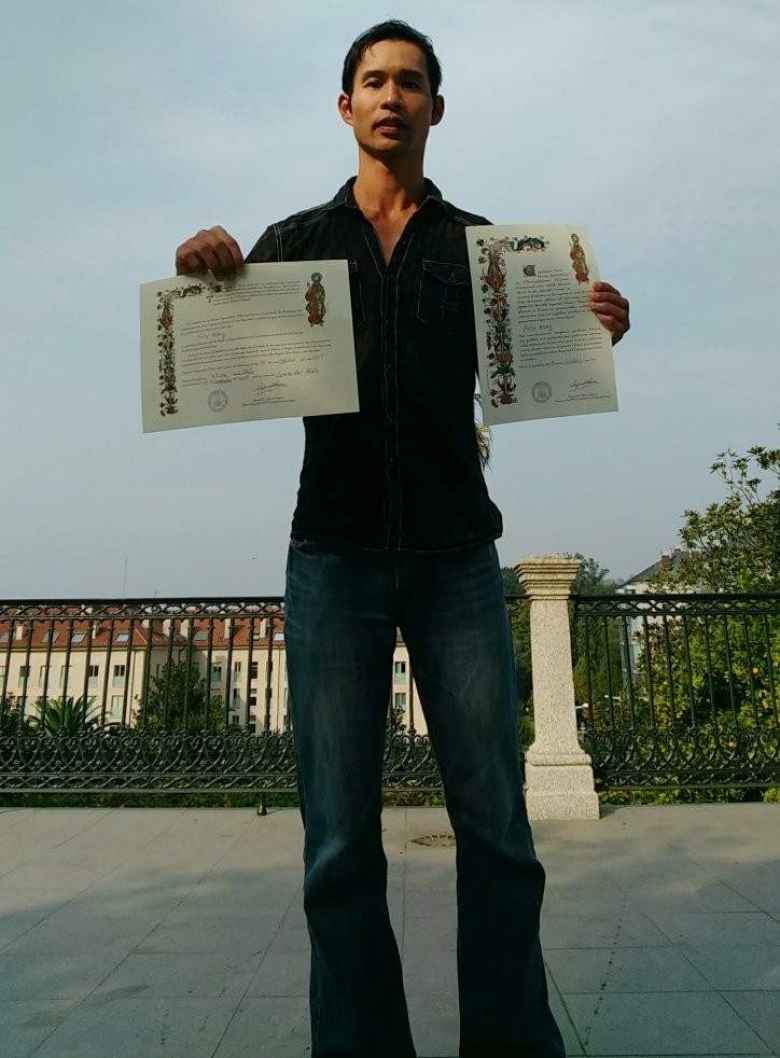 In the meantime, we went to a restaurant to eat and celebrate. Both of us also decided to continue onto the coast at Fisterra (about 55 miles west), although Tori planned on taking a bus to See to hike the last 10 miles whereas I planned on hiking all 55 over the next two days.
So the hike along the Camino de Santiago was now done, but the adventure continued further across the country.