Admittedly, there are very few edibles that I will not at least try, and maybe even fewer international cuisines that I dislike. You can call me a certified omnivore. But I have to say I absolutely loved eating in Spain! <! --more-->
Spanish food
What typifies Spanish cuisines? Spain, of course, is famous for its tapas. Tapas aren't really a particularly type of food, but rather, small portions of foods (think appetizers or hors d'oeuvres). They could be small plates of eggs, meats, seafood, olives, croquettes—literally, just about anything. It is a fantastic way to try a variety of foods in one meal. They keep the taste buds interested, the mind engaged, the soul (and belly) happy.
Regarding the types of food, below are some of the items that Spain is famous for. As you would imagine, a lot of them are more common in certain regions, which I have noted below if applicable.
Tortillas: These are completely different from Mexican tortillas. For the Anglophone, they are most commonly known as Spanish omelets and contain many of the ingredients you might find in a typical western omelet (eggs, onions, potatoes, tomatoes, etc.). But Spanish omelets are much thicker.
Paella, or platters of Spanish rice and, typically, seafood like shrimp. My dad didn't care for it as he likes the more plain, softer rice that is eaten in Asia. The rice in the paella we tried in Seville was kind of hard. Back at home, I often eat five-minute brown rice that is not nearly as soft as white rice, so not only did I not mind the Spanish rice, I really enjoyed it.
Pulpo, or octopus. This is particularly popular in the northwestern province of Galicia.
Other seafood, especially near the coasts: While I had many meals with several whole fish that were typically fried in olive oil all over Spain, in restaurants near oceans there were options for squid, pocket knife clams, shrimp, mussels, and scallops.
Bocadillos, or Spanish sandwiches. These are typically served on long, toasted baguettes, and can be made with different types of meats or even Spanish omelets. The meats and vegetables inside are usually cooked. While sometimes nearly as long as foot-long Subway sandwiches, they are usually not nearly as thick (neither the bread or all the stuff inside).
Drink
Beer and wine is popular with meals and is cheap. With beer, you usually just ask for una cerveza, and the restaurant will bring you a standard beer that it has a contract for and sometimes advertises outside the building. In Galicia, for example, the beer usually is Estrella Galicia. Asking for "a beer" seemed a little odd to me coming from the beer happy town of Fort Collins, where you'd have to specify what kind of beer (e.g., "Fat Tire" for New Belgium's Fat Tire) as there usually are at least a dozen, if not dozens of different beers on tap.
You can sometimes specify what kind of beer you want in Spain, however. For example, around Santiago, my friend Tori was routinely asking for 1906 (which is a special beer made by Estrella Galicia), and every place she went to had it.
Unlike in the U.S., ice water is never served unless requested, and even then you have to ask for a bottle of, say, agua mineral (mineral water) or agua con gas (sparkling water). Agua del grifo (tap water) is never served even though it is usually totally safe to drink.
Regarding Cokes ("una Coca-Cola"), they are usually served with ice and a slice of lemon. They are also provided in laughably small quantities—usually 10-12 ounces but sometimes as little as 6-8. This is how much Coke I was given in at least two different restaurants: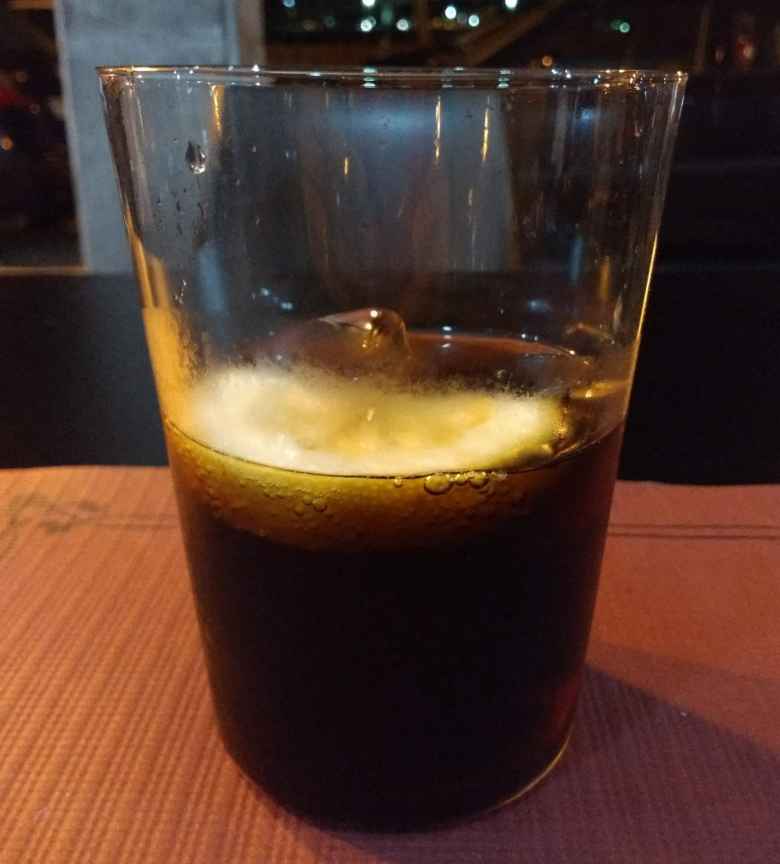 The above photo was taken before I had taken a first sip of it. Forget about finding a supersized Big Gulp anywhere!
Menú del Día
In contrast to Coke, both food and alcohol is often served in abundance. This is especially the case if you order the menú del día (menu of the day)—something that was offered in most restaurants I passed by in Spain, at least in the northern regions. (Note that when asking for the menu—i.e., a printed list of food and drink offered in the restaurant—you should ask for una carta and not un menú, because el menú usually is interpreted as the menu of the day.)
El menú usually contains chips and/or bread, a meat entrée (often with French fries), dessert, and a drink such as beer or wine. In Oviedo, for example, I was at a restaurant where for the menu del día, I was given a big piece of bread, a large plate of espagueti (spaghetti) with marinara sauce, and another plate (after I was done with the spaghetti) of meatballs in sauce. For the drink, I asked for sidra (cider), as I had heard that it is popular in this region of Asturias due to the abundance of apple trees. The waiter then brought me a whole bottle of cider that was the same size as a standard U.S. wine bottle. ¿Es todo para mí?, I inquired. ¡Es muchisimo! The waiter then assured me that, yes, it was in fact all for me and did not seem to think that drinking a whole bottle of something comprised of 6% alcohol was a big deal. (I could only finish about 80% of it.)
When it was time to ask for la cuenta (the check), I was fully expecting the bottle of cider alone to be around 10 euro, but it turned out the whole meal plus the bottle of cider cost only 10 euro!
Tipping
In Spain, tipping is not expected nor is done except for exceptional service. Usually only foreigners are tipping, e.g., Americans who are used to having to tip in their own country. In Spain, the attitude is that the restaurant employees should be earning fair wages to begin with, whereas in the U.S., tips often make the majority of a waiter or waitress' earnings.
One effect of this is that the amount of attention restaurant employees give you is a lot less than in America. This can be a good or bad thing depending on your point of view. On one hand, your conversations are not constantly interrupted by the question of "how is everything?" every five-to-ten minutes, and you are not rushed out of the restaurant and can usually stay as long as you like. On the other hand, you might have to wave at or get up and approach the service staff for attention if you need something. The wait staff in Spain is also not generally as cheery or super friendly as that in the U.S. as the incentives for providing good service is less.