Team Sea to See: First All-Blind Stoker Team to Complete RAAM
In mid-2017, my friend Dan Berlin called me about an ambitious project he and Jack Chen conceived to draw attention to the capabilities of vision-impaired people, folks who are largely discriminated against in the workplace. Both Dan and Jack, you see, are both legally blind and yet they have achieved immense success in their careers and in endurance sports.
The project was to field the world's first four-tandem team (Team Sea to See) with all blind stokers in the prestigious Race Across America (RAAM). RAAM is a non-stop race from Oceanside, California to Annapolis, Maryland, and has had quite a history since its conception in 1982 as the Great American Bike Race.
Due to my friendship with Dan, my passion for endurance cycling, and experience in cross-country bicycle races such as the Tour Divide and Trans Am Bike Race, I committed to being part of the support crew immediately. Later on, I stepped up to the role of crew chief, which was good real-world experience for the Master in Leadership and Management degree program I was simultaneously doing along with a half-dozen other leadership roles.
Below is how Team Sea to See did in RAAM. Spoiler: we succeeded, but not without an incredible amount of challenges.
Mission Statement
Taken from Team Sea to See's old official website:
Team Sea to See is committed to proving that people who are blind can succeed in any field. We believe that demonstrating this capacity to succeed is critical to empowering others in the blind community and changing society's perceptions of the blind. We are illustrating this capability by building a team of high-achieving businesspeople and athletes who are vision-impaired to tackle RAAM and conduct an accompanying media and outreach campaign.

We believe that lack of exposure to and understanding of blindness plays a major role in keeping employment rates so low for the blind community. Employers aren't intrinsically hostile to the blind; they just don't understand how people who are blind can, through ingenuity and adaptive technology, enjoy the same success as their sighted colleagues. We're taking on the high-profile challenge of the Race Across America to show what blind success looks like, on and off the bike.
Background and Sponsorship Pitch
In the world of ultra-endurance cycling races, one name stands out. For 35 years, the Race Across America (RAAM) has been the world's most revered – not to mention feared – ultra-endurance bike race. Almost 50% longer than the Tour de France, RAAM must nevertheless be completed in half the time – with no rest days. Since its inception in 1982, roughly ten times as many adventurers have summited Mt. Everest as have completed the Race Across America in the allotted time as solo riders or two-person tandem teams. Even tandem relay teams face an almost unimaginable challenge, racing bicycles from Pacific to Atlantic in nine days or less, battling sleep deprivation, unpredictable weather, and over 175,000 feet of elevation climb to earn the most coveted jersey and medal in ultra-endurance cycling.

With settings ranging from the Sonora and Mojave deserts to the peaks of the Rockies, from Monument Valley to the mighty Mississippi, the Race Across America is an adventure story like no other. Yet, even within the incredibly small community of athletes daring enough to attempt this mammoth challenge, the members of Team Sea to See stand out as a truly exceptional group. In addition to their status as world-class athletes and successful businesspeople, all four stokers on this historic eight-person tandem relay team are blind.

Team Sea to See was founded by blind racers Jack Chen, an attorney for Google, and Dan Berlin, CEO of one of the world's leading vanilla extract companies, as both a tremendous personal challenge and, significantly, as a means of raising awareness about the capabilities of people who are blind everywhere. A shocking 70% of Americans who are blind are jobless, and this number hasn't changed significantly in decades. Believing that this stunningly high figure is due in large part to a general lack of understanding about what people who are blind are capable of, Jack and Dan conceived Team Sea to See as a way of modeling success – showing what people who are blind can do, both on and off the bike.

To achieve this mission, they have assembled a dream team that has collectively completed over 50 marathons and 80 triathlons (including over 30 ironman races), competing in and winning numerous races all over the world. While RAAM is a challenge unlike any other, Team Sea to See is ready to meet and exceed it – to explode expectations of what is possible, just like its team members have done all their lives.

We'll be telling our incredible story through major media channels (including the 25 million page-views RAAM generates internationally each year), and eventually bringing Team Sea to See to the big screen via a feature-length documentary. Our riders have already been independently profiled in everything from Outside and Trail Runner magazines to the Wall Street Journal and the CBS Evening News, and we expect similar coverage of this amazing story over the next few months, as well as further exposure through a major social media campaign due to launch in April.

All of this exposure will provide ample opportunity for us to showcase not just our story, but also our generous and indispensable partners as well. We will proudly display the logos of our sponsors on our racing kits; and we will also feature sponsors on our website, in press materials, and, potentially, in the documentary.

We hope you will consider supporting our cause and helping us to become the first-ever team with all blind stokers to complete the Race Across America. This is truly an historic endeavor, and one that we hope can inspire people with disabilities around the world, while also changing the way employers view people with disabilities as well. We would be proud to have your company partner with us as we strive to model Success in Plain Sight!

So far, our lead sponsors include Google, the American Foundation for the Blind, and Co-Motion Cycles. We also have over 400 individual donors (a number we expect to rise significantly after our major social media launch in April). It would be our honor to add your company to our list of sponsors. For additional information, please see our website at www.teamseatosee.com. Thank you for your interest!
Training Camps
We held a couple of training camps that involved 24-hour simulations, which gave both racers and crew members practice with Vehicle Meet Points (VMPs), their roles and responsibilities, and, of course, endurance training and nighttime riding practice for the racers.
Training Camp #1 was held in Gilbert, Arizona, in late January 2018 at the home of Michael Somsan, who was originally slated to be one of Team Sea to See's stokers who were blind.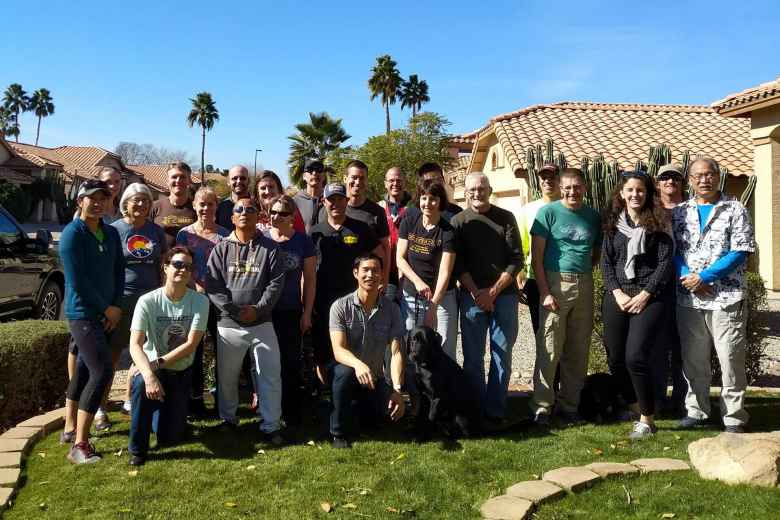 Training Camp #2 was held in Grand Junction, Colorado the third weekend of April 2018, at a large AirBnB rental.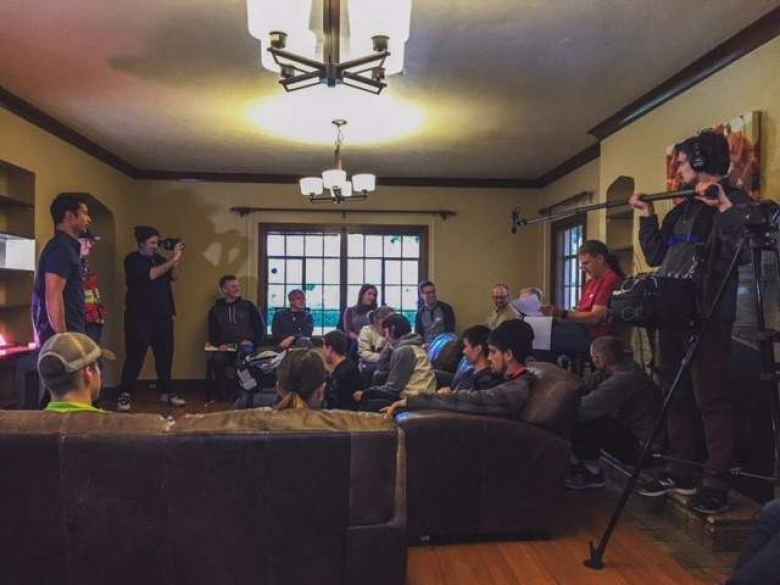 Below is a video made from Training Camp #2.
RAAM Race Route
Challenges Encountered Before and During the Race
The following are notes I quickly jotted down during or shortly after the race and are largely unedited since then.
Pre-Race
June 11, 2018 (Mon)
Team debit card denied at Enterprise. Needed to raise credit limit
Missing hook and bad generator in new large RV. Carburetor had to be replaced. Three-hour delay.
Didn't realize we had to pick up Andrea at DIA. Sent someone to get her.
Realized we did not order two mandatory signage kits. Ultimately was able to purchase from RAAM store.
June 12, 2018 (Tue)
Shanna got food poisoning and moved flight to tonight, then to Thursday
Mark Tapp's flight to Vegas got canceled (where convoy was going to pick him up), so he move flight to SD tonight. Arrived at 8:00 PM, picked up closer to 1:00 AM by Deb.
Bharat doesn't have U.S. citizenship so can't stay at Camp Pendleton. Staying in Oceanside hotel.

Way too much luggage; did not warn him to bring duffel bag size.

Jessie unexpectedly (but fortuitously) called to say she was in Oceanside. Picked her up.
Delay in meeting sponsor for second time because time zone wrong on my computer.

Jim Holden arrived, waited at Visitor's Center.
Race Day 1 (Sat)
Dust storm
RV stuck in deep sand at night
Race Day 2 (Sun)
All teams erroneously got kicked out by RAAM official from time station.
Crankarm fell off.
Caroline/Jack – Caroline upset with Jack's lack of climbing prowess; has emotional breakdown. Angry that Jack would make light of fact that he hadn't cycled from 2012-2017. "I don't want to have sacrificed my marriage and not be able to ride."
Race Day 3 (Mon)
Climbs – double-shift duty by guy teams to give Caroline/Jack pairing a rest.
Race Day 4 (Tue)
Another Caroline meltdown; this time because she found out Jack voted for Trump.
Storms in Kansas
Shattered window from flying debris in hail storm. Ultimately took cyclists off the road for a little bit and patched broken window with space blanket and duct tape.
Railroad spill, road rash, Kyle's hurt elbow
VMP by truck stop on wrong side of road and thousands of cows and cow manure
Sign tearing off from Command Vehicle
Race Day 5 (Wed)
Two broken chains on Tina's bikes on hilly Missouri (?) sections. Had to bring both bikes into bike shop for $107 repairs.
Stripped threads for Caroline's aerobars. Bought 10-32 screws and nuts from ace hardware.
Derailleur hangar broke on Kyle's bike after crash
Race Day 6 (Thu)
Van #1 wouldn't start. Had to transfer everything to Command Vehicle in the middle of the night.
Pamela yelling at Sheila S. due to missed turn.
Race Day 7 (Fri)
Mark got Van #1 stuck in ditch. Broke two tow straps. Alignment way off. Muddy. Had to transfer everything to Command Vehicle in the middle of the night. Called for a tow truck but ultimately was pulled out of the ditch by a Good Samaritan with a pick-up truck and tow chains.
The Seven broke its chain. The Cannondale had a broken wheel and that was in the follow vehicle. There was no spare bike and they had to put on a new wheel.
From Matt: somewhere in Pennsylvania while driving one of the RVs, he hit a skunk. The RV occupants then asked, "What is that smell…?"
Race Day 8 (Sat/Sun morning)
There was some issue, either mechanical (flat tire?) or in deciding where to have an exchange point, that caused Charles—who was normally unflappable—to get agitated. He was frustrated since he and Dan were feeling strong and on the verge of catching another team.
Russ's List of Problems with the RVs
Hi guys. Here's a list of things I can remember going wrong with the RVs so far on Race Across America and how the team fixed each problem:

Part of the propane tank system detached from the vehicle on the way from Colorado to San Diego, dragging on the highway in creating a leak, draining the tank of 2/3 of the propane. Solution was an RV repairman who reattached everything. Got more propane after the race started.
Turned on the generator in the Enterprise RV for the first time and had no electricity. Turns out the cord that plugs the RV electrical system into the generator in a back compartment of the RV got unplugged while people were loading the RV. Solution was to plug the cord back in.
Passenger side mirror came loose and was flapping in the breeze while driving down the freeway. Solution was to tighten the hex bolt on the mirror.
The track for the accordion door that separates the kitchen from the bedroom in the Enterprise RV ripped off the ceiling while the accordion door was open, but not latched during motion. The solution was to use drywall anchors and epoxy to screw and glue the track back in.
A cheap little black tab that holds the shower door in place popped off and got lost. After that, shower door slams back and forth every time we go around the corner. Solution is to duct tape the shower door every time we leave.
Outlets under the table in the Enterprise RV stopped working. Turns out we tripped the circuit breaker. Solution was to reset the breaker.
Outlets in the kitchen and under the table in the Enterprise RV stopped working. Circuit breakers were okay. Problem was that the GFI outlet in the kitchen trips. Solution was to reset the GFI outlet.
Unable to empty the black water tank in The Minnow RV. Problem was there was a second release valve that was hidden underneath the vehicle. Solution was to find the valve and open it.
The window above the bunk beds in the Enterprise RV leaked during a major rain storm. Could not figure out any way to solve this one. Temporary solution was to stuff a big white towel in between the window and the bed to keep the bed from getting wet.
The generator in the Enterprise RV sputtered to a halt and would not restart somewhere in Colorado. Problem ended up being too many appliances plugged in at the same time. Solution was to limit the number of appliances to only two and then let the generator rest for about an hour. Then it came back on.
The generator in the Minnow RV sputtered to a halt somewhere in Kansas and showed a fault light. We had no idea what to do about this, so we just let it sit for a couple of hours and then it came back on.
When it rains, all water from roof is directed down a path that dumps directly into any open side door. Unable to fix. Solution is to mop up water with towels.
Results from RAAM Official
Second in the under 50 mixed category was Team Sea to See (USA), a team of four tandems, all of which had a sighted captain and a blind stoker. Their finish of 7d:15h:3m (16.77 mph/26.99 kph) established the record for sighted/non-sighted tandems.
The winner of the Lee Mitchell Award (Best Crew) went to the crew of Sea to See (USA) finished in 7d:15h:3m (16.77 mph), good for 2nd in the 4P Mixed under 50 category. The team rode 4 tandems, each with a sighted captain and a blind stoker. As you might imagine, the Sea to See support crew faced a number of unique challenges, and they passed with flying colors. But, this year, the choice was particularly difficult. We'd like to mention the peerless performance of Team Beemer. In their multi-record setting performance, the support crew for Team Beemer made an exchange every 15 minutes for 5 days. That's roughly 500 exchanges. That's something you would have to see to believe. Sea to See and Team Bemer faced very different challenges – both were up to the task.
9News Video Story
My favorite news journalist, Katie Eastman, won an Emmy for the following video production about Team Sea to See.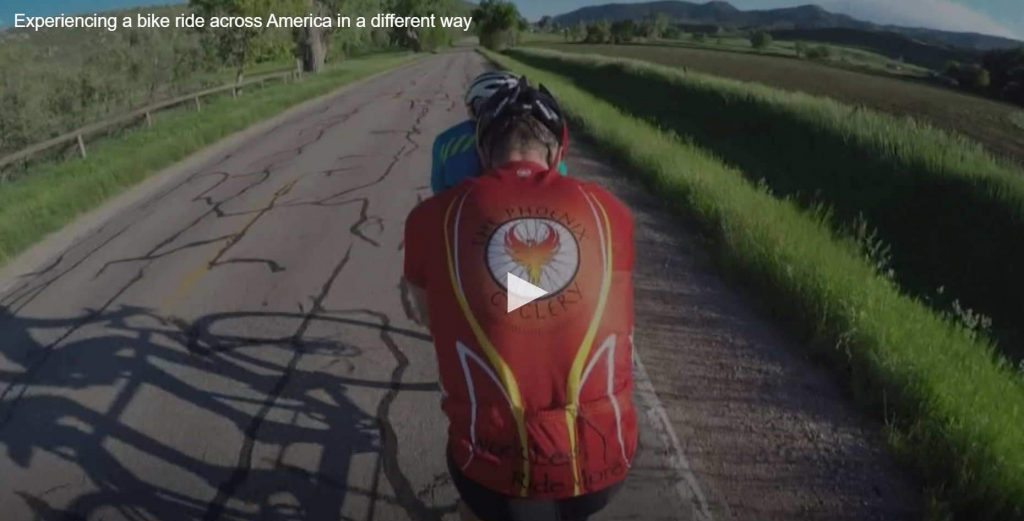 Some of her initial filming was done from my Audi TT Roadster on Centennial Rd., in the Horsetooth Foothills of Fort Collins.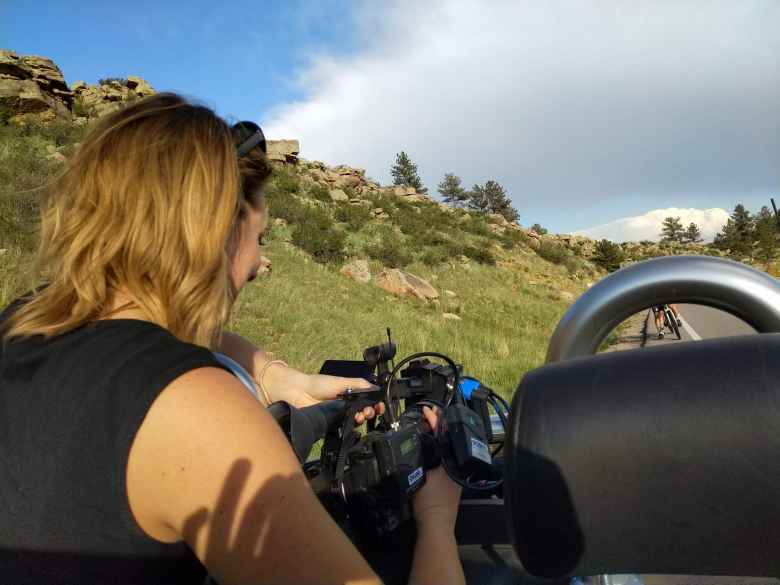 Bicycling Magazine Article
Bicycling Magazine did a feature article on Team Sea to See.
When I was growing up, every week my dad would drop me off at the library where I would usually check out a dozen books and the latest edition of Bicycling. So it's kind of neat to get a mention in it a couple decades later!
Team Sea to See's Full Crew
Thanks to the following people who helped make this a success. Everyone below, aside from some folks on the media crew, was a volunteer who donated both time and dollars to make this goal become a reality.
Made the Crossing
Race Team
Felix Wong, Crew Chief
Steve O'Leary, Assistant Crew Chief
Dan Berlin, Blind Stoker
Charles Scott, Pilot – Dan
Kyle Coon, Blind Stoker; Marketing Coordinator
Chris Howard, Pilot – Kyle
Jack Chen, Blind Stoker
Caroline Gaynor, Pilot – Jack
Tina Ament, Blind Stoker
Pamela Ferguson, Pilot – Tina
Paul Majors, Chief Mechanic/ RV Nav
Charles O'Kane, Mechanic #2 / RV Nav
Jason Coble, Mechanic #3 / RV Nav
Jim Holden, Van Navigator #1
Sheila Berlin, Van Navigator #2
Sheila Stevens, Van Navigator #3
Jessie Groeschen, Van Navigator #4
Andrea Croak, Van Driver #1 /Project Manager
Mark Tapp, Van Driver #2
Bharat Kumar, Van Driver #3
Dick Sievers, Van Driver #4
Matt Hannifin, RV Driver #1
Nate Faudel, RV Driver #2
Russ Stevens, RV Driver #3
Brad Thurman, RV Driver #4
Deborah Yoder, Nutrition/RV Team Lead/Medical
Karen Rott, Nutrition/RV Manager 2
Shana Erickson, Nutrition/RV Manager 3
Media Crew
Aleshia Mueller, Film
Alek Roslik, Sound Mixer
Mathias Fain, Director of Photography
Hannah Berg, Navigator for Film Crew
The film crew also had a couple volunteer drivers whose names I don't have.
Supported Outside of RAAM
Dave White, Director of the San Diego Blind Stokers Club who was immensely helpful in organizing crew pickups and even a party for Team Sea to See in the days before RAAM. He even got ultra-cycling legend Pete Penseyres to come and give us a pep-talk!
David Shalinsky, volunteer driver for pickups from San Diego Airport
Mike Jennings, volunteer driver for pickups from San Diego Airport
Barbara Scheidker, volunteer driver for pickups from San Diego Airport
Mark Woodard, Alternate Stoker
Craig Depperschmidt, Training Camp #2 pilot
Chuck Mangus, Team Coach
Jay Wuchner, Consultant (former RAAM crew chief)
Lisa _?_, Consultant and assisted with Training Camp #1
Graham Norwood, Fundraising Coordinator
Michael Somsan, General Counsel and organized AZ Training Camp
Wendy Werhaiser, assisted with Training Camp #1 as Nutrition/RV Manager
Roberta Smith, assisted with Training Camp
Emily Lafferty, Website Administrator for teamseatosee.com
Romero _?_, Mike Somsan's friend who helped us get into Camp Pendleton
Brenda Molina, Ramero's caretaker who helped us get into Camp Pendleton
Marsanne Howard, assisted with Training Camp #2 and did a drop-off of food in Colorado during RAAM