Wabash Trace Trail Marathon
A few months ago, my friend Mel asked if I'd be interested in joining her on a road trip to the Wabash Trace Trail Marathon and the Omaha Marathon—two races that would be held on the same weekend and were only about 60 miles apart. Mel, like me, is trying to run a marathon in each state, and Wabash and Omaha would have her complete #29 and #30. She knew that although I had run the race in Nebraska before, I hadn't run a marathon in Iowa, so would I be interested in running it?
"I recruited Manuel to be our driver," she added. Manuel is a driving enthusiast; we even did a scenic drive to Estes Park and Allenspark together in February. Road trip!
I was game and the funny thing is that Mel and I managed to convince Manuel to sign up for the Iowa marathon without resorting to a lot of arm-wrangling.
"It will be an interesting challenge and a great achievement," I assured him. He was up for the adventure despite never running more than 10 miles in his life (including in the two-month lead-up to the race in which he actually trained) and his left knee giving him pain during runs longer than 3.5 miles until a few weeks before the race, when it no longer troubled him.
It took eight hours to reach Shenandoah, Iowa, which definitely had lots of small town charm. We stayed at the Shenandoah Inn two blocks away from the race start/finish, and this establishment kindly agreed to open up breakfast extra early and allow marathoners a late 2:00 p.m. checkout on the day of the race so that they could shower.
We went into an antique store and the owner talked with us for about 15 minutes. He said that he grew up in Shenandoah in the 1970s before leaving for Georgia, and only recently moving back. When he was young, the population was 8000. When he moved back, it was 5000. Nowadays the population is 5500, enough growth for the Chamber of Commerce to boast in its visitor's guide that Shenandoah is a "growing city."
Never mind there are only a handful of restaurants and maybe a couple bars. We went to one of the latter, called Dirt's Place, after Mel eyed someone outside drinking a margarita. We went in and for the not-so-rich price of $12 total, got a few beers and margaritas.
The patroness there came over and said we had to have some mini-beers in shot glasses. "They are more cream than alcohol," she assured us.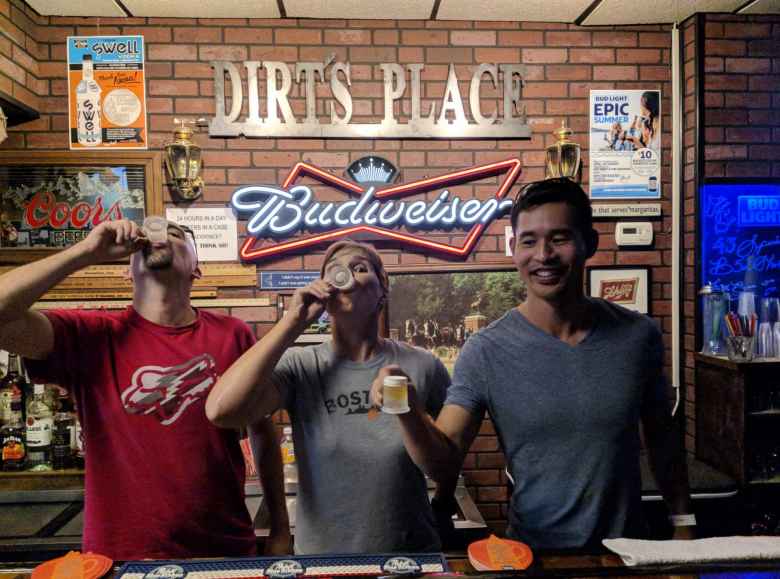 After that, all the customers in the whole bar offered us good luck in the marathon. We went to sleep only an hour or so after that.
The Race
We climbed aboard a yellow school bus at 6:00 a.m. on race day which took us to Malvern, Iowa, 26 miles northwest of Shenandoah. All runners got to stay inside a middle school/high school gymnasium, where a myriad of trophies were on display highlighting the athletic accomplishments of the school's alumni. Even these small towns produce good athletes, apparently.
Another racer had assured us that the course was very flat, so I was a bit surprised at the short-but-steep hills in the opening miles when I took off like a cat going after a mouse.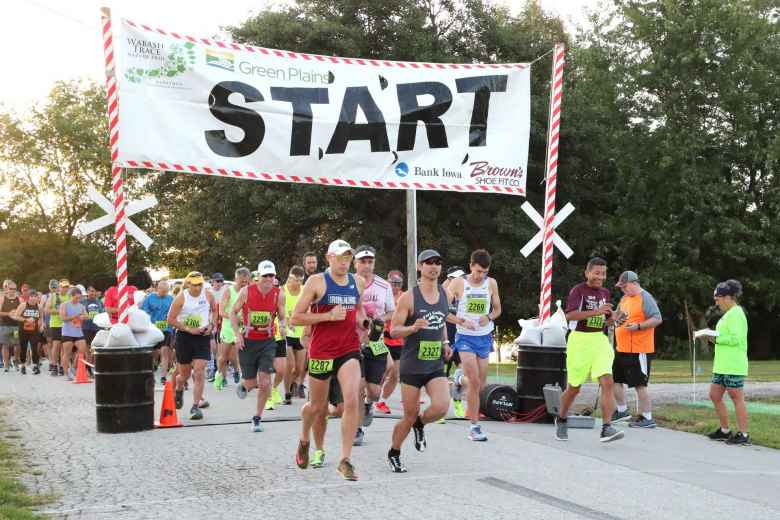 I probably started too fast. Eventually I settled into eighth position, which I nearly maintained for the entire first half, which I clicked off in 1:38:xx.
"Same time as the Horsetooth Half Marathon this year," I thought, feeling very satisfied with that effort. "But still another half-marathon to go."
Predictably, I couldn't maintain the pace in the second half. My training, while decent this year, was inadequate for achieving negative or even splits at the marathon distance.
At Mile 14, the first place woman caught me and I had to let her go after staying with her for about half a mile. She ended up finishing fifth, keeping an even pace throughout the whole race. She was one of the few runners from Shenandoah and did the locals proud.
At Mile 18, I saw my last-mile split go above eight minutes per mile for the first time. No need to panic.
But then the left calf kept cramping the whole Mile 21. I even stopped running to walk three times for about 5-10 seconds to see if the leg could recover. It eventually did, but not until a mile later. Meanwhile, with literally ever footstep (so 90 times per minute), the calf seized.
Another issue was that the final miles were un-shaded, on pavement, and had some hills. Nothing major, just enough to make Mile 25 go by in over 10 minutes.
My pre-race goal was initially 3:40, but I changed it to 3:45 due to the weather forecast calling for midday temperatures over 80 degrees. The heat actually wasn't as bad as I was expecting. And in the final mile, 3:40 actually seemed achievable, if barely.
But I didn't dig deep enough. So when I hit the main street and could see the finish line two blocks away, 3:40 ticked over. Still, I put in a good sprint the final 300 meters. Final time was 3:40:50.
After catching my breath and downing a couple chocolate milks, I walked back to the hotel and took a shower. So nice to be clean! A little later, I hung out on a bench on the main street, waiting for Mel and Manuel to arrive.
Mel came first, which I expected considering this was her 29th marathon state.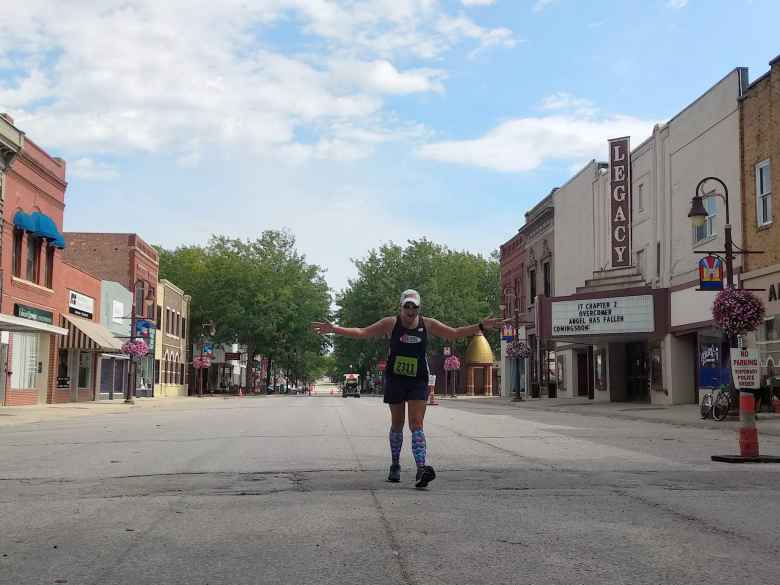 Still, I was amazed by a couple things. 1) Due to a pre-existing leg injury, she power-walked 19 of the 26.2 miles, and still finished 33 minutes before the six-hour time limit. 2) Manuel was actually ahead of her until Mile 22! So he was going to come in soon and beat the official deadline too in his very first marathon.
Indeed, he came in nine minutes later: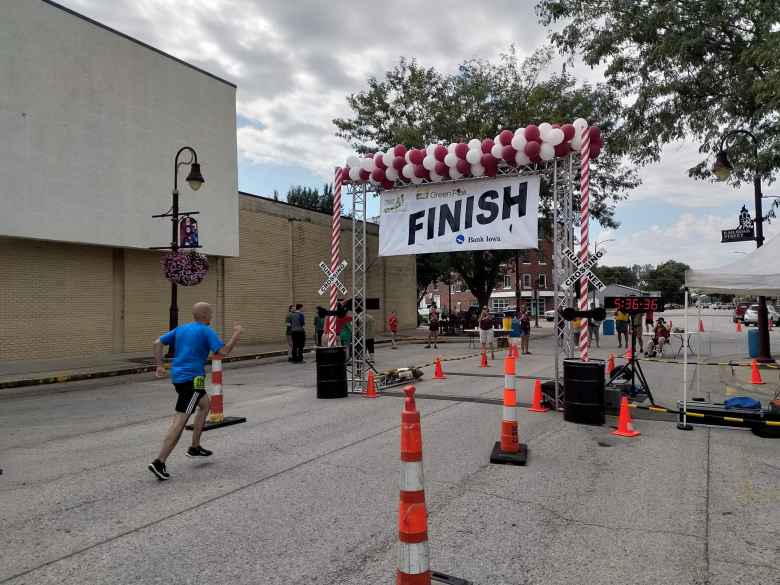 "I ran the first half in two hours," Manuel said, admitting that he thought after that, there was no way Mel was going to catch him. "But then I had to start walking at Mile 15."
With one mile to go, his left knee started hurting immensely, like it would during some runs a month ago after only 3.5 miles. He was disappointed in that, but it was good it only happened with a mile to go.
Whatever the case, I was really proud of him. Mel too. We did it!
After the Race
Both Mel and Manuel were able to get showered in the hotel before the late check-out time, and from there, we walked back to Dirt's Place for a post-race celebration. At the bar I told them I was awarded a $25 gift certificate for coming in second place in my age group.
Almost right on cue, Manuel got an email from the race organizers that he had also came in second in his age group, making him also elegible for an award. He laughed because there were only two people in his division. Which made us wonder if Mel got anything. In fact she did—first place in her age group, due to being the only one!
So between us, we got $25 + $25 + $50 in gift certificates. Since they were only got at local stores, we had to use them before leaving Shenandoah. We ended up getting drinks at Dirt's, lunch at The Depot, gas at Casey's, and junk food (like gummy worms) at that convenience store too.
Not only was it a nice haul, but one of the $25 gift certificates effectively gave Dirt's Place over a 100% tip. It was our favorite establishment in Shenandoah, after all.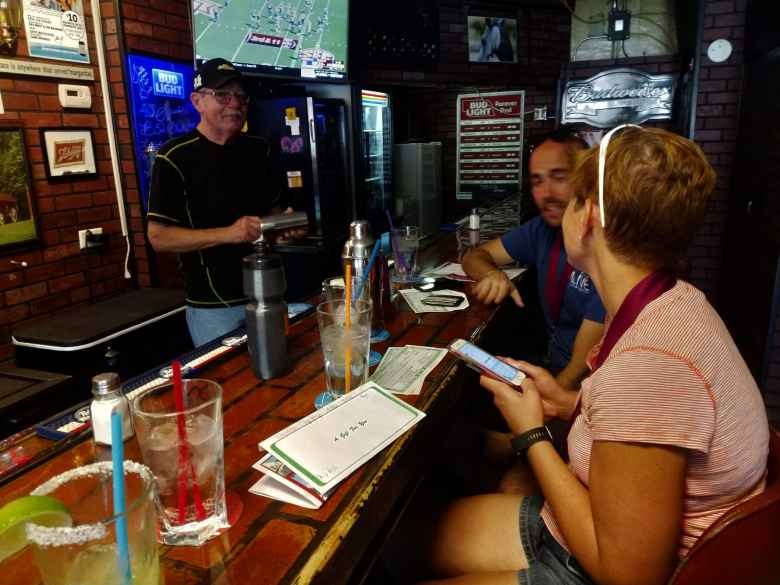 After the fill-up at Casey's, we headed to Nebraska for the next morning's Omaha Marathon.
Race Data
Finish time: 3:40:50 (8:26/mile)
First half: 1:38:xx
Second half: 2:02:xx
Overall place: 12/73
Division place: 2/11
Official results