Las Vegas likes to dub itself the Entertainment Capital of the World, and for good reason. You don't even have to attend a Cirque du Soleil show or the Menopause musical to gain amusement; just wander around, particularly near the Strip. That's what I did.
Breathe in and notice how the whole city smells like weed. Look around and see that surrounding the throngs of sloppily dressed folks and marketeers in superhero costumes or, sometimes, virtually no costume, are facsimiles of some of the most iconic sites in the world (the Venetian Canals, the Egyptian pyramids, even the Eiffel Tower). Casinos, buffets, gigantic hotels abound and nowadays so do Lyfts and Ubers.
Basically, Las Vegas is one big caricature of… life.
One thing I could appreciate were: the cars! After all, I specifically came here to attend SEMA Ignited, held November in Las Vegas. This is the after-party for the SEMA (Specialty Equipment Market Association) Show, an automotive aftermarket trade convention that is one of the biggest annual events in Sin City despite not being open to the public.
But even without SEMA going on, a car enthusiast would be in automotive heaven in this city. For one thing, I've never seen so many modern day muscle cars on the streets, including Camaros, Challengers, Corvettes, and Mustangs. There seemed to be more Teslas than Priuses. Many exotic cars—Ferraris, Lamborghinis, and McLarens—were also ripping through the gears, and at least the first two are offered by companies for hourly rent.
There are also an incredible number of car museums around the strip, many that are free and offer tours. I did not get to visit any of them this time, but apparently, these include:
The Shelby Heritage Center
Counts Kustoms, made famous by the History Channel's Counting Cars
The Wynn Automotive Collection
Hollywood Cars Museum
The Harley-Davidson dealership
The next time I'm back in Vegas, I'll try to go to one of these for sure.
Another thing I always love visiting is the Fountains of Bellagio. On the night I was there this time, the water jets were dancing to the lyrics of Lady Gaga's Bad Romance.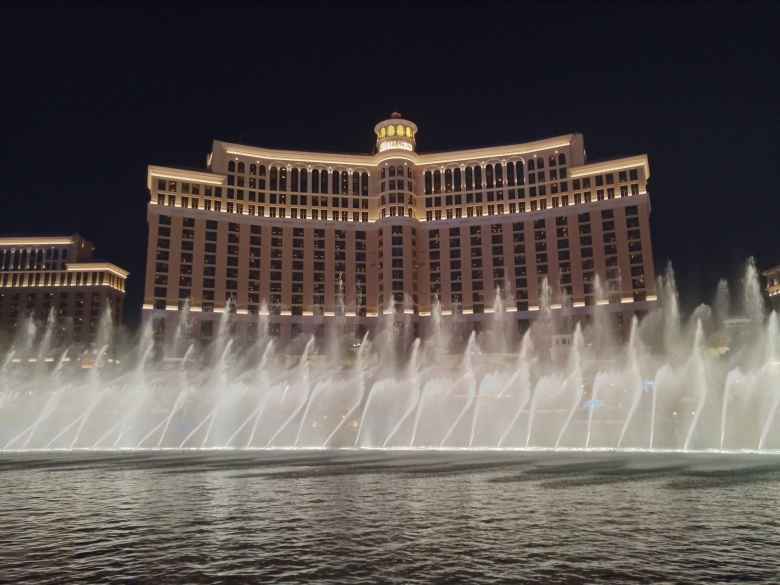 The Fountains were entertaining for sure. And yet just 1% of the amusement options here in what's also known as the Oasis of Nevada.