In Search of Comet NEOWISE
For this once-in-a-lifetime cosmic event, you can't say I didn't have plenty of warning.
My friend E was the first to alert me that Comet NEOWISE would be the brightest comet in the northern hemisphere since Comet Hale-Bopp in 1997, and that it was going to be around for nearly the whole month of July. Then came a succession of articles that raved about this celestial body.
"Don't miss it," they said. "Comet NEOWISE might be visible again from Earth, but not until around the year 8786!"
E even sent me the below photo on the night of July 17 that he took with his Google Pixel 4 smartphone, which evidently has a very good Night Mode: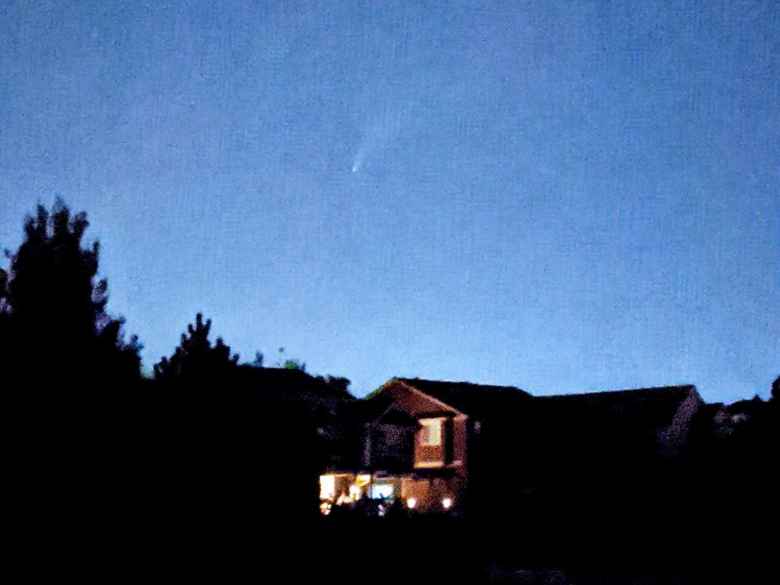 Unfortunately, I had already gone to bed when he had sent that photo. Then I promptly forgot about it until E sent another photo days later, this one taken by his friend Andrew.
It was only a few days later that I decided that I would make a concerted effort after seeing more articles that basically said that it was now or never, due to the comet getting dimmer due to traveling away from the sun, and an increasingly brighter moon that would make seeing stars hard to see.
Locally, there was a bigger concern. Clouds!
So on the night of July 24th, I was outside at 10:30 p.m. walking up and down the street, looking for an opening in the sky towards the northwest. Nope.
I then set my alarm for 2:00 a.m. to peek outside, but it was still too cloudy. The sky at 4:00 a.m. looked more encouraging, so I rolled out of bed and wandered to the open fields behind my house and craned my neck northward.
There were plenty of brilliant objects in the sky, including a really bright one which the somewhat helpful SkyPortal app indicated was the planet Venus. But try as I might, I could not locate the Big Dipper! That constellation was key to finding Comet NEOWISE.
At least I got to see nice sunrise. I'm usually not up early enough to do so, so this was a treat.
I repeated the walk-the-streets-at-10-pm-and-wake-up-at-4-am exercise the following night, but with even worse results. The sky was 100% cloudy at both hours. Discouragingly, the hour-by-hour weather forecasts indicated that during the next couple nights, there would be plenty of water vapor and droplets in the atmosphere.
It looked like the window of opportunity to see the comet with the naked eye had come and gone.
Imagine my surprise, then, when while eating a late dinner on July 27th, I realized there was not a cloud in the sky.
"There's still a chance!" I exclaimed, while hoping that the sky would remain clear for a couple more hours, when it would be dark enough to see the stars.
Sure enough, at 10:00 p.m., it was still clear. And this time I had more knowledge of where the Big Dipper would be in relation to the Little Dipper and the North Star.
Finding the Big Dipper was actually the first exciting moment since I could not locate it the previous two nights.
From there, it was only a matter of finding the comet in relation to the Big Dipper. The EarthSky.org website was extremely helpful—actually, essential—for pinpointing it.
Eureka! Comet NEOWISE.
As it turned out, the best view of the Big Dipper and the comet was just only three steps from the front door. The comet had a very slight tinge of green to differentiate it from stars, and fortunately, there were no stars in its vicinity to sow any confusion.
Good thing, because I couldn't make out its vapor tail. Even when using a cheap telephoto lens I had laying around to use as a monocular, the comet looked merely like a smudged star.
Unsurprisingly, then, I couldn't get any sort of photo of the comet, even with the telephoto lens. The best I could do was photograph the moon.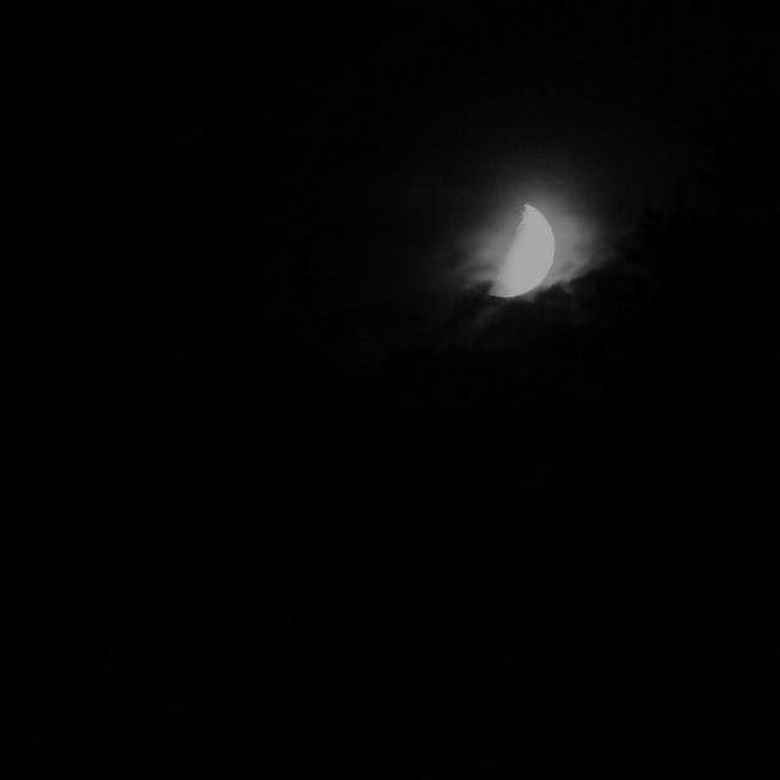 But I had finally seen a comet! It turned out the following night I could see it again too. Which was nice because I surely am not going to wait 6766 years to see it again.
Did you get to see Comet NEOWISE? You can check out amazing photos of it on Instagram.
Update August 2, 2020 10:00 p.m.: Funny, the comet is still visible from my front porch with the naked eye! But it's definitely getting dimmer.