During this pandemic year, I wasn't planning on doing a race for the rest of 2020. But then I received an email from Western Governors University—the institution where I did a couple of master's degrees—about their very first Night Owl Trot 5K to be held on Thanksgiving weekend. Because the registration fee would help their Student Emergency Aid Fund and included some WGU schwag, I entered. This was my first race since the Run Hard Columbia Marathon in March—or second if you count the FireKracker virtual 1-mile on the Fourth of July that only five people participated in.
Like that one-miler, this race was virtual, meaning that you pick your own course and start time and then submit Strava GPS data as proof of the run. I came up with a point-to-point course near my home beginning at the top of a half-mile-long, slight downhill that flattened out and went towards the Maple Hill subdivision.
Ultimately, any time gained with the slight elevation loss was nullified by a four mile per hour headwind most of the way. Moreover, I never got comfortable during the run and already felt tired after the first three-quarters of a mile. Maybe I started out too fast or was simply out of race shape; probably both.
By the time I got to the Maple Hill neighborhood I was feeling maxed out with a mile-and-a-half to go. When I finally saw Maple Hill Park—where the run would end—I was too exhausted to sprint. It didn't help that the final 100 meters was uphill.
Considering all that, I felt pretty satisfied with my finish time of 21:29. That was actually within five seconds of what I would have predicted and still marginally faster than the 5K runs I did when I was twenty years old. Solo time trials always feel a little harder than running with other people, too.
I'm glad I did the run in the afternoon instead of the morning because I was too wiped out to do anything productive the rest of the day. Guess I ran hard enough.
It turned out 600 WGU alum participated in the run and raised nearly $4000 for the Student Emergency Aid Fund. There are murmurings about a second virtual Night Owl Trot being held in spring next year. If that happens, maybe I'll participate in that one as well.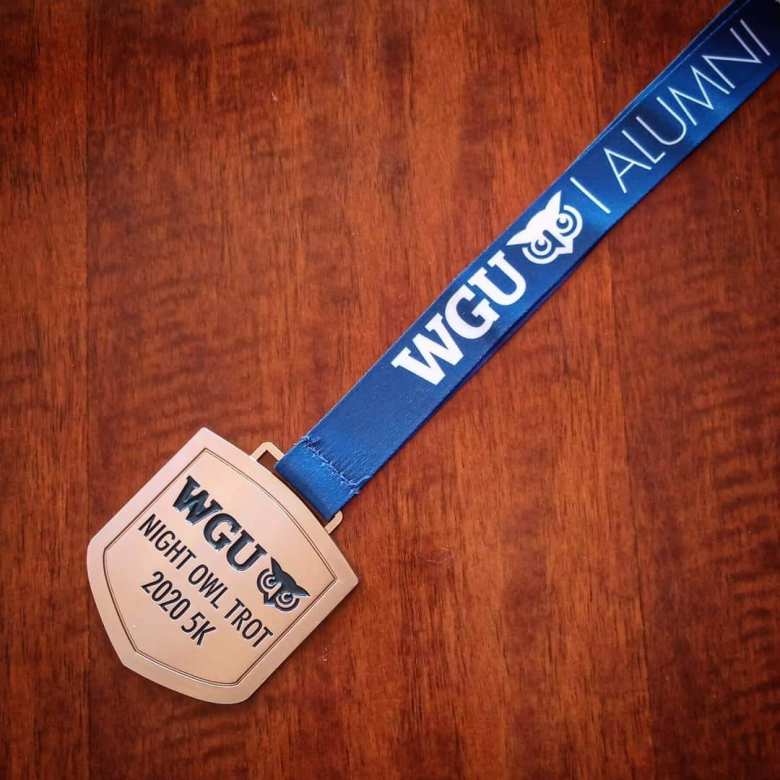 Race Data
Final time: 21:29 (6:54/mile)
Strava data