Run Hard Columbia Marathon
Late January's Arena Attack Indoor Marathon and my huge positive split (second half 25 minutes slower than the first half) reiterated two lessons I should have learned from the 50+ marathons I had already run. Namely,
You need to do more than two 18+ mile long runs to be fully prepared for a marathon.
The best marathon performances are achieved by running even splits–not by taking off took quickly and banking time in the first half.
Accordingly, between the indoor marathon and the Run Hard Columbia Marathon in South Carolina, I did long runs of 20, 21, and 22 miles. I also did some speed work by doing a few interval sessions and races like the Edora Park 8k and Lee Martinez Park 10k Tortoise & Hare races. My weekly mileage was still far from Olympian-like but decent enough that a goal of 3h30m seemed both realistic and achievable.
The other key was pacing. So for this race, I was intent on keeping an even pace around 7:55/mile all the way to the end.
My friend Mel—who is also trying to run a marathon in every state—came to run this marathon too. Maureen joined for the weekend vacation. We flew into Charlotte and drove down to South Carolina's capital city to pick up our race numbers, settle into the Hyatt Place hotel just blocks from the start/finish, and eat a Mexican dinner replete with house margaritas.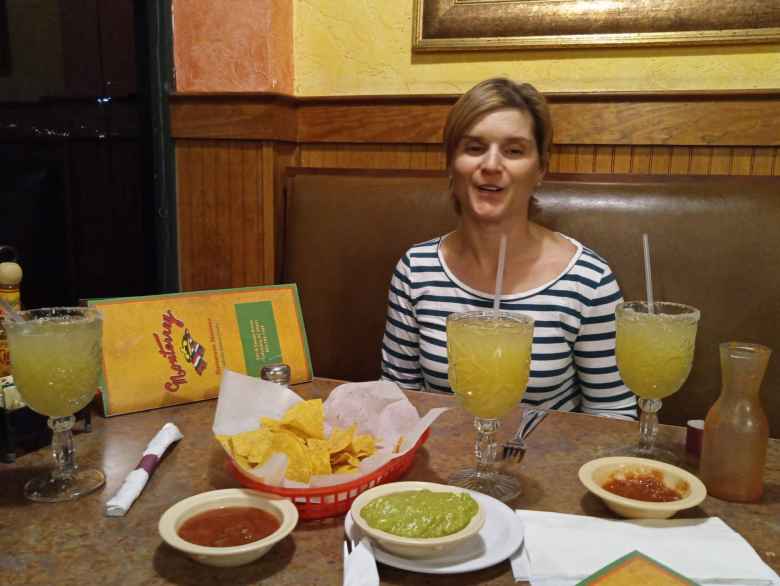 The close proximity of the hotel to the race meant that we could wake up on race day at a not-so-ungodly hour, eat breakfast, and walk over to the start. While waiting for national anthem and the official race countdown, we chatted with two friendly folks named Tim and Claire from Rock Hill, South Carolina. They were co-workers and relatively new runners doing their second or third half marathon, and we enjoyed answering their questions about how to train for a full marathon.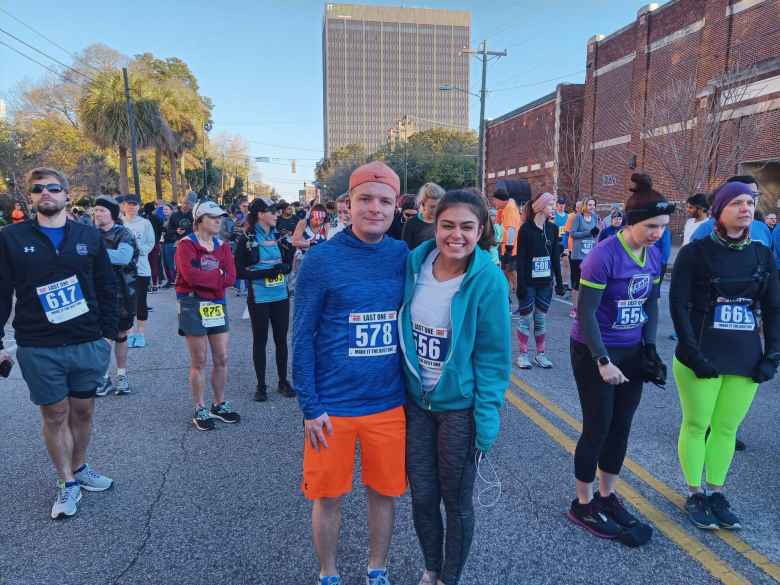 The half and full marathoners all started together, as the full marathoners were basically running the half marathon course twice. I had ample warning from the reviews on MarathonGuide.com that the course could be accurately described as anything from "rolling" to "very hilly," depending on who you'd ask.
After the first few miles I was already pretty inclined to classify this race like the latter camp. On a downhill, I caught up to a pacer. His goal pace was pinned to the back of his shirt but was not visible as it was flipped upwards in the wind, but I suspected he was someone I'd want to keep an eye on during the race.
"Are you the 3:30 pacer?" I asked.
"Yes," he confirmed. "My name is Jim. What's yours?"
His group consisted of about five people in it initially. I sort of yo-yo'd in and out of the group for the next few miles as I was intent on maintaining a constant intensity, which often meant that I was running slower than the pacer on the uphills but faster on the downhills.
After six miles the group was down to two—just Jim and a very talkative shirtless man—with me about 30-50 feet behind. At least until Mile 8. Then the shirtless man started walking, I passed him… and then I never saw him again.
Jim was now running all alone, which has got to be the first time I've seen a pacer run in solitude so early in a marathon!
It wasn't until about Mile 11 when—on a steep downhill—I finally caught and then passed the pacer. Then we were running through downtown Columbia, including a 0.7-mile stretch on Main St. lined with restaurants, shops, and spectators that would be a wonderful preview of the finish straight of the race. Only about a dozen ticks shy of 1h44m elapsed when I went by the finishing chute, confirming that I was on pace for the goal with a mere minute banked. Now for the second lap.
From Miles 13-20, I was able to stay a little bit ahead of Jim while taking note that a blister was forming underneath the arch of my left foot. At Mile 21, a woman I had not seen before passed and Jim went with her. I managed to stay with them, but only for a couple more miles.
With five kilometers to go, I got dropped but was able to keep Jim in sight. A couple of relatively steep hills came and, knowing they were the last ones, dug deep and tried not to slow down too much on the incline and even passed another marathoner who was now walking.
Then came the final stretch on Main St. I could see the finishing chute in the distance, and my watch indicated that I had 3.5 minutes to get there by my goal time of 3h30m. All that added to my motivation, despite not knowing at the time that the distance I needed to go was still 0.7 miles. I gave it my best shot.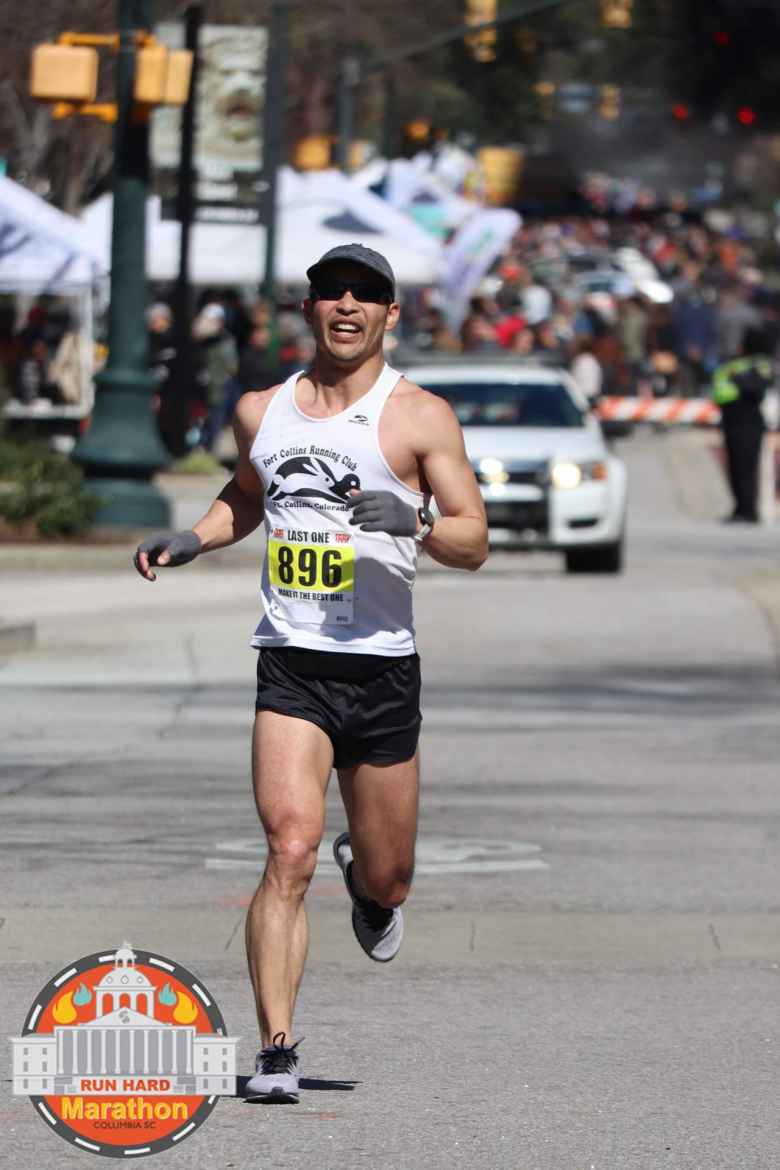 As you can see in the photo taken by a professional photographer, I was definitely doing what the name of this marathon exhorted: running hard! And when 3h29m elapsed and I could tell that there was still too much pavement ahead, I kept at it.
Shortly after the Garmin flashed 3h31m, I heard my name from someone cheering on the sidewalk. It was Maureen. On cue, I waved at her and commenced a full-on sprint.
I crossed the finish line with an official time of 3h31m37s. The course was a little long—the Garmin read 26.49 miles even though I was good about taking the shortest line and hitting nearly all of the tangents. Were it not for the extra quarter mile, I would have achieved my goal time. But officially, it is the third time I missed 3h30m by a single minute. Regardless, I was pleased with the effort.
While doing a walking cool-down in front of the state capital, I found Jim and we chatted briefly. He commended me for staying strong during most of the run, and I asked him what was his time. "Three hours, 29 minutes and 53 seconds," he responded. He was right on schedule. That's some amazing pacing.
As much as I wish I could have stayed with him those last few miles, I am proud of how I ran the final half-mile, averaging exactly 7:00/mile over that distance per Strava. That was the fastest I had gone all race, and it came after 26 miles, long after my legs are usually toast.
Moreover, I ran the second half of the race only four minutes slower than the first half. It ranks as one of the more evenly paced marathons I have run. Consider Lesson #2—run even splits—virtually achieved.
After the Race
Maureen and I walked back to the hotel, where I showered and assessed the foot damage.
"Woah," I exclaimed after taking off my socks, "this is like the biggest blister I have ever seen! But I don't think it affected me during the race."
You can see how big the blister was in this photo taken one week after finishing the marathon: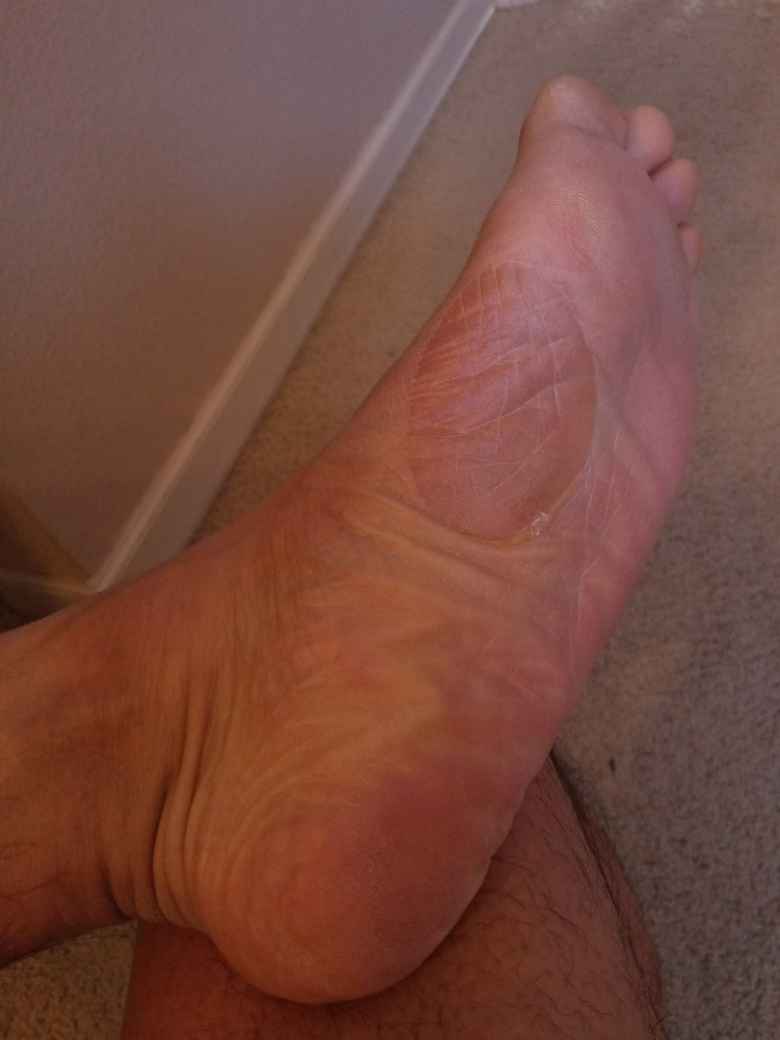 I had predicted that Mel's best case scenario—considering her marathon results from last year and the hilly course—was finishing around 12:10 p.m. Accordingly, Maureen and I walked towards the finish line at noon.
Before we got there, Mel was walking towards us with a space blanket around her body and a finishing medal hanging off her neck. "Four twenty-four!" she exclaimed, indicating her finish time. She managed to run the whole way, which was something she didn't do in the last two marathons. A very good result.
All the race bibs had the words "Last one!" at the top, emphasizing that this was the last year of the Run Hard Columbia Marathon. It turned out this marathon may have been the last race for all participants for the first half of 2020, as only half a week later a state of emergency was declared for the entire country due to COVID-19, and virtually all mass gatherings (including races) were canceled across the country.
If it was in fact the last one, I can't think of a much better race or experience for it.
Race Data
Final time: 3:31:37 (8:04/mile official; 7:59/mile per Garmin which measured 26.49 miles)
First half: 1:43:44
Second half: 1:47:53
Overall place: 13/96
Division place: 1/6
Official results