After the Run Hard Columbia Marathon, meeting up with my friend Dan at the Olde Mecklenberg Brewery in Charlotte, and dropping Mel off at the Charlotte Airport, Maureen and I continued to one of my favorite places in the whole world: Asheville, North Carolina.
These were some of the things we got to do there:
Have a light dinner and beer at Hillman Beer.
Go for a drive on the Blue Ridge Parkway. We mostly drove along the parkway until 20 miles southwest of Asheville, after which we encountered a road closure sign.
Stop by a Dollar Tree dollar store to pick up a cheap pair of sunglasses since Maureen lost hers at the security checkpoint at the Denver International Airport before coming here. (Upon returning, we were able to retrieve them at DIA's Lost & Found!)
The funny thing was after Maureen bought the dollar sunglasses and we returned to the car, my own cheap sunglasses that were purchased a year ago broke. So we went back inside and quickly picked up another pair for myself.
Walk around downtown and eat an Indian lunch at Chai Pani. Initially, I wanted to eat at MG Road (which is named after Mahatma Gandi Road in India, not MG cars) like in 2017, but that former Indian restaurant was converted into an event space while neighboring Chai Pani carried on the restaurant duties.
Enjoy a Peet's Coffee at the Grove Park Inn while Maureen also did some work and I got caught up on some phone calls.
Eat fried plantains and croquettes, and drink Hemingway Daiquiris, at Hemingway's Cuba Restaurant and Bar while enjoying a sunset.
Eat chocolate cake at the Chocolate Factory in downtown Asheville.
We also drove by Maureen's old apartment from when she was doing field work there. Here's a photo from 2017 with my very cool Dodge Charger R/T rental car:
and a photo from this visit with a decidedly less cool 2020 Chevrolet Malibu: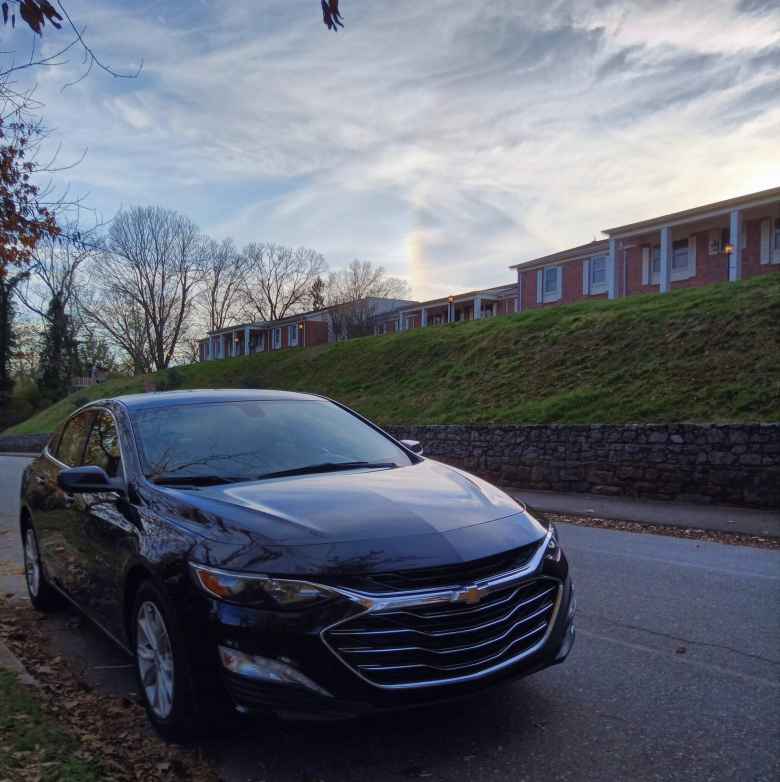 It was a short, but very fun, trip to the jewel of western North Carolina that is Asheville. I felt particularly grateful of getting to go there, as just a few days later a state of emergency of declared for the whole nation due to the COVID-19 pandemic, with social distancing and self-isolation encouraged, non-essential travel not advised, and bars and restaurants closed.