Fall Motorcycle Ride to Horsetooth Reservoir
Early on during the coronavirus pandemic I resolved to take advantage of not having to drive anywhere by reducing wear and tear on my motorized vehicles while minimizing fuel costs. The desire to get out of the house into somewhat fresh air (tarnished by wildfire smoke the last two months) could be satisfied by doing more biking and running—two activities that are generally good for your health with less impact to the environment than a car or motorcycle.
Later on, I realized one issue with that resolution: with such little driving, I wouldn't have to refill the gas tank for a long time. For example, since March 13th, I've driven about 150 miles in the last seven months, or only a little more than 20 miles/month. My car can usually go 350 miles on a tank of gas, and even the motorcycle can usually go around 150 miles. At that rate the same gas could potentially be sitting in the gas tank for a year. Or longer.
The problem with that? Gas eventually goes bad. I've never experienced that, but have heard stories of gas turning into varnish and clogging fuel injectors. How long it takes for gas to go bad depends on a number of factors, but a couple people I talked to about it suggested that it's probably around six months.
So a couple months ago I topped off the Audi TT's gas tank for $26.44. With the weather forecast to turn much colder soon, I decided today was the Buell's turn.
In the past, I had no issues getting the bike started even after it sat unused for a few months at a time. This time, however, was more difficult.
First, I needed to recharge the battery. Usually a few hours with two amps is sufficient, but this time, even four hours at that current made the battery only powerful enough to crank over the engine a few times. So I ended up charging it overnight.
Then, with the battery fully fortified, no gas was igniting. My first idea was to replace the spark plug with another one I had. In fact, that was exactly what I did to get the bike started when I was buying the bike from the previous owner twelve years ago.
It only occurred to me midway through the plug swap that maybe there was insufficient fuel in the main gas tank, and that I should have tried reserve instead. After all, based on the trip mileage reading on the odometer, there was probably less than a fifth of a gallon in the main tank left. Much of that could have evaporated during the bike's seven-month spell of solitude.
In fact, after I finished replacing the plug and switching the fuel shut-off valve to reserve, the bike started up. So was the remedy the new plug or using gas from the reserve tank? I'd later conclude it was the latter.
Then came the fun: the time to actually ride. I decided to ride over to the Horsetooth Reservoir to stretch out the bike's legs, so to speak.
Below is a short video from that ride.
It was a beautiful October day for it, with fall colors in their resplendent glory. It made me think that maybe I should have waited a couple more weeks when I did the fall colors ride on one of my bicycles during late September.
After Horsetooth, I circled back through Old Town and topped off the three-gallon tank. A whopping 2.533 gallons was required to do so for a cost of $6.84.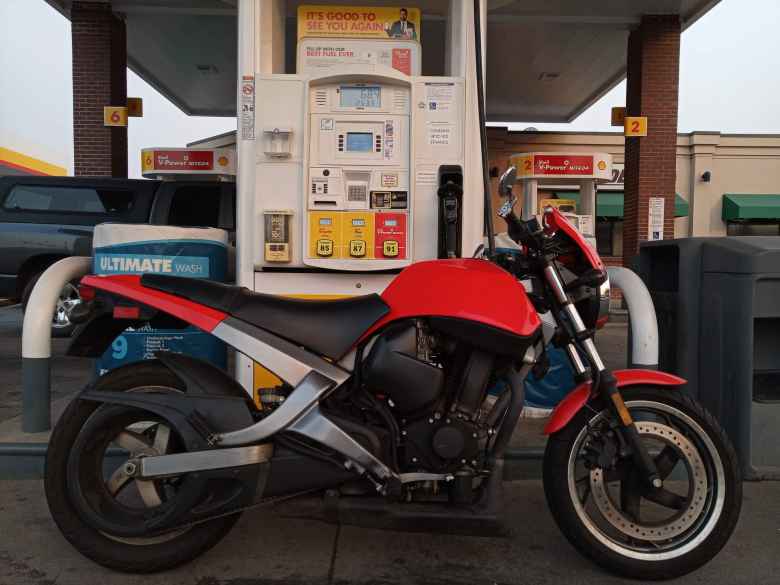 Adding that dollar amount to how much I spent to fuel up the Audi previously means I spent $33.28 in gas during the last seven months. Definitely not breaking the bank on fuel this year.
I've also driven less than 200 miles during that time. I don't think my carbon footprint has ever been lower since getting a driver's license.
On the other hand, I've biked over 3200 miles and run 400 during that time period, so I've not been exactly cooped up. It looks like my biking mileage will exceed my driving miles for sure this year, but there are still a couple months to go to see by how much.