For Best Viewing, Try My Site's Progressive Web App (PWA)
Have you read more than one or two pages on this website? If so, thank you! Also, you might be interested in a simple but superior way to enjoy the site's content: by viewing it in my Progressive Web App (PWA) instead of in a web browser!
What are PWAs, you might ask. For all intensive purposes, they behave like the dozens of apps you may already have on your phone, except they made using web technologies. My PWA in particular has the exact same content and formatting as the website—and, like my website, no ads.
But there are a number of benefits of my Progressive Web App compared to the web browser:
The PWA shows articles in full screen without the browser's address bar. The smartphone's status bar is not shown either. So it offers a much cleaner appearance while providing more content on a single screen.
On your smartphone, the PWA can be pinned to your home screen or app drawer making it quicker to access than, say, from the bookmarks of your web browser.
In Windows, when the PWA is open, the application is shown in the Windows Taskbar with an FW icon instead of the generic browser icon. Likewise, when you pin the PWA to the Start Menu, it is pinned with the FW icon instead of a generic browser icon.
Pages that you visit are cached for offline reading.
Because of the caching, loading pages in the PWA is often quicker than in a web browser, which is already very quick.
You can see many of the advantages in the following image. The PWA is shown in the right half of the picture.
The difference between web site versus PWA applies to tablet, laptop, or desktop computer as well.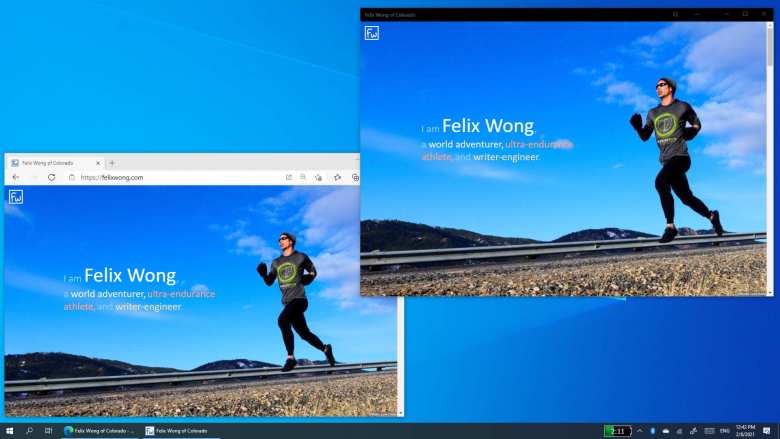 Installation
So how do you install the PWA? It is super easy! On either PC or smartphone, it's generally a two-step process:
Open felixwong.com—or any page on felixwong.com—in your web browser. If you are reading this, you already have a page open and can go to Step 2.
Go to your web browser's menu (often depicted by three vertical or horizontal dots) and click on something like "Install on Home screen" or "Apps > Install FelixWong.com."
The above steps work for Chrome and Microsoft Edge (Chromium) on PC and Android smartphones, and Safari on iPhones.
You can read more detailed instructions by Mobile Syrup if you are having trouble installing it.
I've actually had created the PWA several years ago, but I was probably one of the only people using it. I did some more fine-tuning and testing of it in the last few weeks and am only now promoting it.
Give it a try and any feedback about it is welcome in the comments section below.